5 Things You Didn't Know About Flood Insurance
Flood
/
5 Things You Didn't Know About Flood Insurance
Whether you live along the Florida coast or in the heart of the Midwest, you may think you know everything there is to know about flood insurance coverage and the flood statistics in your area.
And while you might be familiar with the flood gaps in conventional homeowners insurance or whether or not your home is located in a flood zone, there's so much more to meaning sure you have the right level of flood protection for your home.
If you're not completely familiar with the difference between a building policy or a contents policy when it comes to your flood insurance options, keep reading!
1. Flood Insurance Coverage May be Required by Your Mortgage
Roughly 13 million Americans currently live in flood zones, which are special areas of the country designated by FEMA as more likely to experience tropical storms, dangerous rains, and hazardous flooding conditions.
When you're buying a new home, living in one of these specially designated areas means you're legally required to show proof of flood insurance coverage prior to closing your loan.
Similarly, bank lenders are required to ensure their mortgage holders have an active flood insurance policy to cover any potential losses. If you live in one of these regions, knowing your flood insurance options isn't just a nice idea – it could be a requirement for closing on your home!
2. You Have Flood Insurance Coverage Options
Sure, you might live in an area where flood insurance coverage is mandatory, but you still have options to choose from.
How much coverage you enroll in is determined, in part, by the value of your home and the possessions inside.
hile you may not be able to protect the land your home is built on against the dangers of flooding, it's up to you decide to what extent to insure the foundation of the home, walls, roof, and all the contents inside.
3. There Are Exceptions to the Flood Insurance Coverage on the Contents of Your Home
If you opt for flood insurance coverage that includes the contents of your home, there are still some exceptions you need to be aware of.
Almost no flood insurance policy is complete. Many exclude the land your home is built on, and nearly as many will exclude any outdoor furniture or structures, including your pool or detached shed.
The same is true for content policies with flood insurance coverage. While your furniture, clothing, electronics, and appliances may all fall under the protection of your flood insurance policy, it can depend on where you keep these items in your home.
Many flood insurance options exclude possessions stored in a basement, including both the structure of the home and the items you store there.
If you live in a flood-prone region, you may want to be mindful of the items you keep in your basement and their value, in case they aren't protected by your policy.
4. There's a Difference Between Direct and Indirect Flood Damage
You may need to take a closer look at the fine print on your flood insurance policy to understand where you stand with direct and indirect flood damage.
Direct flood damage — the kind of loss directly associated with water damage caused by extreme weather like rain or a tropical storm — is anything the water damaged in your home instantly.
In contrast, indirect flood damage is often caused by the aftermath of flooding, including mildew, sinkholes, sewer backups, or mudslides. Your policy may not cover both equally, and it's important to know the difference in advance!
5. You May Be Able to Decide Where to Buy Your Flood Insurance Policy
Many homeowners enroll in the National Flood Insurance Program (NFIP), but you can't purchase flood insurance directly from them. Instead, roughly 80 private insurance companies offer national flood insurance for you to purchase and potentially bundle in with your existing homeowners insurance coverage.
Your property insurance agent may also be qualified to sell you flood insurance coverage, in addition to covering the different tiers of protection with you along the way.
Knowing Your Flood Insurance Options
Flood insurance coverage is one of the few insurance types regulated by a national program. Like your homeowners insurance or automobile coverage, you may live in an area where flood insurance is non-negotiable.
Just because you're paying for it doesn't mean you understand all of the fine print, though, and these flood insurance options may be news to some homeowners.
Whatever the case, it's important to familiarize yourself with your flood insurance coverage before you need to file a claim against it.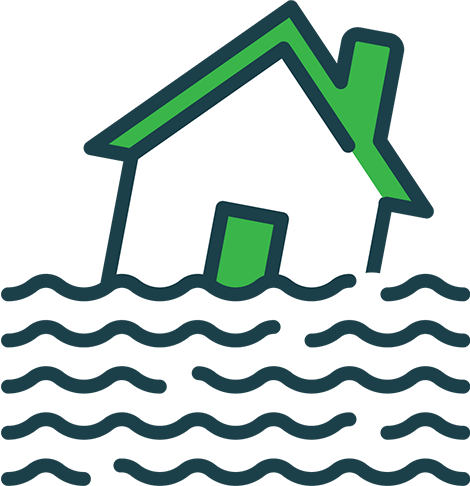 Stay Above Water With Flood Insurance
Do you want to pay for costly and common flood damage yourself or have an insurance policy pick up the tab?
The editorial content on Clovered's website is meant to be informational material and should not be considered legal advice.
Similar Articles