Landlord
/
7 Airbnb Host Tips to Get the Most Out of Your Rental
7 Airbnb Host Tips to Get the Most Out of Your Rental
40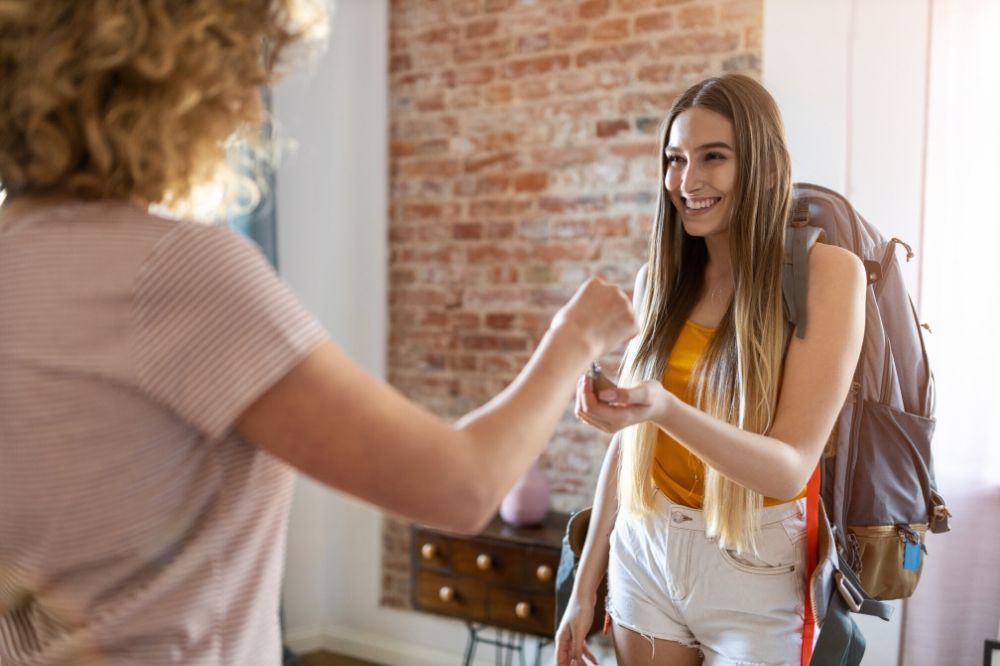 We're in the day and age of the gig economy, which includes sharing everything from your home to your car and even your kayak with your peers to make a little extra cash.
But it's not as simple as it sounds. You must operate your short-term rental similar to a hotel or resort, taking into account that if you put the guests first, the profits will begin to roll in naturally.
These nine Airbnb host tips can help you make the most out of your rental so your guests leave glowing reviews that attract even more people to your homeshare.
Keeping your place clean is the ultimate key to pleasing guests who stay there and attracting new guests to stay there. Even if you don't have the most updated, swanky or unique home listed on homesharing websites, keeping your place clean will keep you in the ballgame with other listings.
Keeping it clean doesn't mean simply sweeping, mopping and wiping things down after each guest leaves. It means cleaning the bathroom, washing the bed linens and towels, getting into the corners and crevices, dusting the fans and blinds, and so much more.
It means that your place must be nearly spotless each time a guest checks in.
If you can't handle that on your own, or simply don't want to, you'll need to hire a cleaning service to come in after each guest leaves and before the next guest arrives. Factor in cleaning costs to the overhead or charge a reasonable cleaning visit or each stay.
2. Keep Your Calendar up to Date
The worst thing that can happen to a guest is that they book your place, get all excited to visit, budget accordingly and then you need to cancel on them because your calendar isn't up to date.
If you need to conduct work on the home, or you have some friends coming into town, or something else occurs that puts your short-term rental out of commission, that's OK. Just make sure you block out your calendar accordingly so nobody can book the property during those times.
Even though listing your home on multiple homesharing websites at the same time expands exposure and can put more money in your pocket, it can cause some serious headaches when trying to keep your calendar up to date.
If you're having trouble keeping your calendar up to date, consider hiring a professional to manage your listings for you.
3. Make Sure the Listing Is Accurate
The worst thing you can do is try to spice up the place by being inaccurate about your listing. If the unit resides in a quiet neighborhood without much going on and is far away from the action, it's OK to say so.
Is it a small space? State it. Reliable public transportation isn't prevalent? Recommend a rental car. Not near any notable attractions? List the quaint coffee shops and great restaurants nearby.
It's better to be upfront in the listing than to have your guests be disappointed upon arrival. Disappointments lead to docked stars in your reviews which then leads to less foot traffic (and pocket money) regularly making the rounds through your place.
4. Set up an Emergency Contact
Have you ever been on a flight that was delayed and had to check in to your hotel or homeshare way after midnight, cranky from a full day's travel and needing to immediately rest? If you have to work bright and early in the morning, the last thing you want is your guests calling you at 3 a.m. in a sleepy daze wondering how to get to or inside your place.
Or maybe check-in is at 3 p.m. and you'll be in an important meeting from 3 p.m. to 5 p.m. When you can't step away from what you're doing to help your guests when they need you most, their trip has already started on the wrong foot.
Whether you think you'll need them or not, setting up an emergency contact can be crucial to keeping your guests happy.
If you're a good host who keeps the place clean, respects the needs of your guests and maintains an accurate listing, the guests will book your place without you having to try too hard. Remember that your guests are paying customers and, in the world of hospitality, the customer is always right.
If your guests have an issue during their stay, make sure you do everything in your power to help them out.
Maybe the AC went out on the second of five days. Maybe a storm hit the area and the power went out. There are so many things in life we can't control, but we can control how we respond to those incidents.
Maybe like an experience I had, the water unexpectedly goes out due to a main break in the city pipe. Our host graciously and quickly dropped off gallons and gallons of clean water at the unit each day to supplement the shower, toilets and something to drink.
Even though the initial experience wasn't good, our host made the best of a bad situation and deserved every bit and more of the five stars he received!
If something terrible happens during their stay, make sure you refund part of their booking fee or something else hospitable that shows you care about them — not just care about their business. A little personal connection goes a long way.
One of the best ways to get more guests to stay in your place is to review the prior guests who stayed there. Most homesharing websites make the host review the guests first in order for the reviews to be showcased to the public.
If you leave a review, your guests are far more likely to leave a review for you. Remember that every potential guest can see your review, so even if the guests were terrible, make sure you carefully craft your review to not deter future guests.
7. Treat It as a Business
Chances are good that you'd treat a long-term rental like a business. Airbnb and homesharing are absolutely no different. You need to keep track of your upcoming rentals, prior stays, maintenance costs and any overhead, along with the amount you make each month.
If you need to buy new bedsheets, that's a business expense. Paying for a cleaning crew to come out after guest leaves? Business expense. The more in detail you get with your property, the better things will be at tax time — and the more profitable your listing will become. Get a Quote
Compare multiple policies to get the coverage you need at the price you want.
Sign up for our newsletter to get the latest updates.
Please enter email address.
Invalid Email Address.
Similar Articles