Renter
/
9 Best Tips for Moving Out of Your House or Apartment
9 Best Tips for Moving Out of Your House or Apartment
2.1K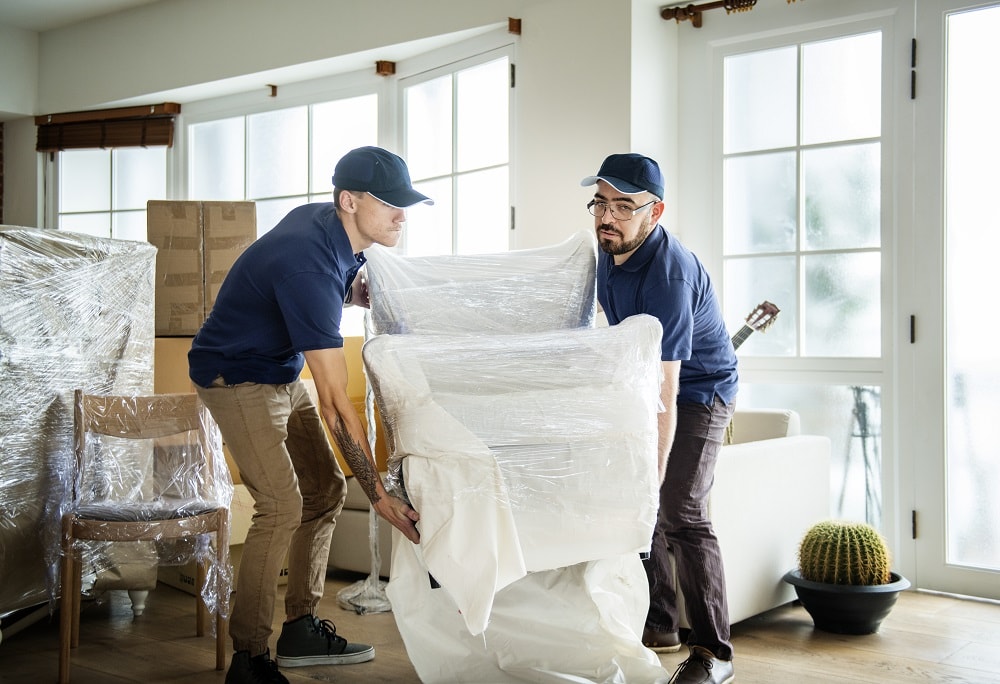 In modern times, people are moving more than they ever have before. Whether it's to go to college, start a new job, get your kids into a better school district, start fresh or somewhere in the middle, moving is more common.
But just because the internet has made it easier to find new jobs, research school districts and fun things to do in a new city, that doesn't mean moving has become easier. It's still the same old painstaking process as it's always been.
Whatever the cause or dream of the move, nobody really likes the process of moving. To make moving a more bearable and easy process, we've compiled the best nine best moving tips to make your journey seem more like a life benefit than a chore.
Preparing for a move can become extremely time-consuming, demanding and overall hectic. But if you prepare properly with the following five tips for moving out of your house or apartment, you can make moving a seamless process.
1. Get Rid of Unneeded Items
We all have things we don't need anymore. One of the toughest things to do is throw out all of your unneeded belongings — aside from the once-yearly spring cleaning you may or may not do. But moving into a new home presents a perfect opportunity for you to get rid of those things and even save some money in the process.
Some of the toughest things to get rid of are items with sentimental value. It may be OK to keep sentimental items that don't take up much space, but this could be a good time to get rid of larger items with sentimental value.
Additionally, if something doesn't serve a useful purpose, has no emotional value or just takes up way too much space, get rid of it by either donating, selling or throwing the items away. In other words, if you haven't used an item in a year, it may be time to part ways with it.
If you can't, or don't have time, to sell your items, giving them to charity is the best option. Many charity organizations take used items and either give them to the less fortunate, refurbish or recycle them.
After you've gotten rid of all the things you don't need and before you begin packing, take pictures of everything you own. This helps to detect any damage that was caused during the moving process and creates a nifty home inventory that can be used if you need to file a home insurance claim at your new place.

Related Articles:
Moving can become really expensive, so it's pertinent to set a budget for yourself. That budget should include the cost of boxes, wrapping supplies, moving trucks, gas money and, if you're going this route, the cost to hire a professional moving company.
Since moving can throw unexpected curveballs your way, you'll want to take your moving budget and increase it by at least 15 percent. This will give you some leeway in case something causes you to go over your original budget.
You should take all the help you can get to keep your moving expenses down. New boxes may sound nice, but they're also really expensive. Seriously, why does a medium-sized box seem like it costs about as much as a backpack?
OK, getting free boxes will help you save a ton of money, and it may surprise you how easy they are to get. Check out a U-Haul store, call the manager of home improvement stores or home supply stores, or check out any place you know uses a lot of boxes. After all, the worst they can do is say no.
Packing is probably the worst part of moving. It takes a long time, boxes are usually filled with items that don't necessarily go together and they aren't labeled.
Labeling is probably the most underrated of the moving tips. Labeling everything by room or by category (bathroom supplies or John's bedroom) can help to solve those problems. Using colored stickers can help to categorize all the boxes you plan on moving, too.
You can put a green sticker on the boxes you'll be using and unpacking right away and put a blue sticker on the boxes that can wait a little while before unpacking.
Some key tips for moving include leaving clothes in dresser drawers and sealing them with clear wrap; using pots and pans to hold your kitchen utensils and other items; using plastic wrap and rubber bands to prevent liquid items from spilling; and, my favorite, eating most of the food so you don't have to worry about packing and moving food.
If it's in your budget, hiring professional movers can help make your life a whole lot easier. Moving companies are fast and efficient, but they're also going to cost the most money.
We recommend using a professional moving service with positive reviews from real people. Make sure they carry efficient moving insurance just in case your belongings are damaged in the process. Also be sure to give the movers detailed instructions on how to pack, where to put your items and which things can be easily damaged.
Planning ahead can turn moving from a headache to a breeze. If you plan properly with these tips for moving out of your house or apartment, your transition between homes will go off without a hitch.
6. Get Your Mortgage or Lease in Order
If you own your home, make sure you have renters lined up to take over the monthly payment or that the contract with the new buyers is successfully in place prior to your move-out date. You don't want to be stuck paying for two mortgages at once.
If you're renting and your lease isn't up yet, make sure to iron out the details with your landlord. Maybe they'll let you skip out on the lease if you find a replacement or maybe they'll let you pay a small fee for breaking the lease early. Whatever it is, it's important to do this as early as possible.
7. Cancel or Transfer Utilities
While this moving tip is relatively easy to do with a single phone call, it's oftentimes the one the most forgotten moving tips in the moving process. Make sure to cancel your utilities for the day you move out of your home and have the new utilities start a few days prior to the move-in date.
This will ensure you don't pay for somebody else's utility usage and that your new home has running water, electricity and internet when you move in. Starting this service early can help to ensure you sort out any problems you may face.
It's also important to note that your utilities may simply be transferred to your new address if you're moving to a new home with the same jurisdiction of the utility companies.
8. Update Your (Digital) Paperwork
You may not even notice it, but your address is attached to a ton of different things in life. You'll need to update your address on things like your bank statements, credit and debit cards, postal service delivery, gym memberships, streaming services, home insurance policy and so many more things!
The best way to go about this is to start making a moving out checklist of everyday items that need your address, then add in important papers you keep and combine both. By that point, you should have a pretty good idea about most of the things you need to change your address for.
9. Check Your Home Insurance Policy
One of the key best moving tips people leave off their moving to-do list is checking their home insurance policy. You're going to need to call your insurance agent as soon as possible and update your coverages.
Chances are good your old home and new home won't have the exact same coverage amounts. To ensure you stay adequately covered, instead of under- or over-insured, you'll need to update your policy to reflect any new features and, potentially, new personal belongings.

Get a Quote
Moving can leave you exhausted and ready to never go through it again. If you're waiting for the day you can hand over the keys to the rightful new tenant, it's right around the corner! Make your move easier with this list of nine tips for moving out of your house or apartment.
Similar Articles