Home Improvement
/
7 Casual DIY Outdoor Patio Lighting Ideas for Your Home
7 Casual DIY Outdoor Patio Lighting Ideas for Your Home
1.7K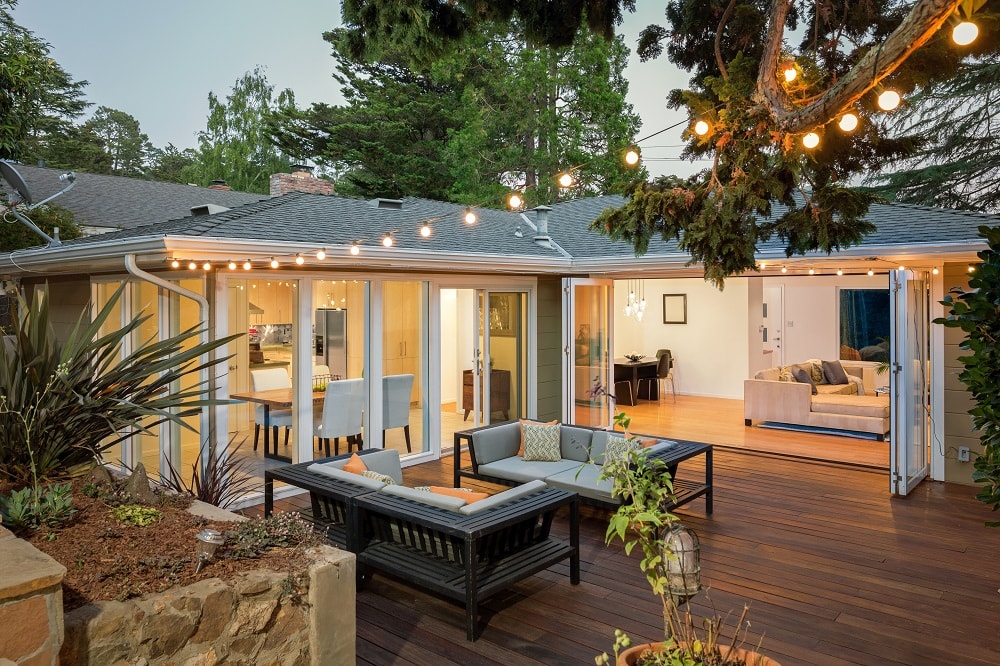 Summertime is all about grilling, hanging out with your friends and enjoying life under the clear night's sky. It's even better if you can make your backyard be the spot to hang.
Keeping things casual with your outdoor lighting is all about not going overboard with your backyard light ideas. You want to keep all your lights out of eyeshot or go with dimmer lights to enhance the casual state of mind they will surely create.
So let's begin with seven do-it-yourself outdoor patio lighting ideas that can spruce up your backyard and still keep things casual at the same time.
Using a single light that shines brighter than the rest, and then finishing off the rest with smaller, slightly dimmer lights gives your outdoor patio area an appealing place designed to draw your guests to a single focal point and enjoy their night!
This can be done with a light under the dinner table, above a fire pit or the middle of your patio.
Wherever you decide to place your focal point light, make sure it shines down on something other than one of your guests. This adds the perfect touch of symmetry to whatever you're doing outside.
Placing lights — preferably outdoor string lights — behind the outdoor seating and in the corners of your patio creates the perfect amount of illumination to kickstart the night.
If you have outdoor sofa couches, try lining them around the backs to give a nice glow off the walls or fences.
3. String It All Together
Outdoor string lights are among the most commonly used and versatile outdoor lighting that exists. For good reason, too.
They easy to put up, easier to take down or move, and they fit perfectly in so many spots where other lights wouldn't. Plus, you can string together stands of the same lighting to make the lights shine wherever you want!
There are so many different vibes you can create with string lights. Wide gaps between lights create more of a cafe feel, while something tropical exudes a laid-back lifestyle, and a clean exterior circle or rectangle makes it feel like you're in an outdoor room under the night's stars.
If you have a fence surrounding your backyard, string lights are the perfect addition to illuminate your entire backyard and make it seem larger than life.
Lights that aren't too far off the ground do two things: they light up a pathway and create a faint glow that can become a staple of your outdoor area.
Try lining the patio, landscape and any pathways that traverse around your backyard for a dual-purpose finish.
5. Kinda like Christmas (But Not Really)
I'm a firm believer that Christmas lights can stay up all year long. Well, kind of. Don't keep your traditional Christmas lights up around your house and landscape. They can be used for a different purpose.
Similar to string lights, Christmas lights can be strung around the exterior of your yard or patio. It really does create a great vibe for anyone hanging around them. Even better if you opt for a single color strand or two.
For a tropical vibe, opt for a strand of green lights and a strand of brown or white lights.
Tying a string to a tree branch with a light at the end is really cool, especially if the branch begins really high and hangs over your patio or outdoor table.
You can take it a step further and line the string with lights — or use string lights or Christmas lights.
If your outdoor area has a fair number of trees surrounding, or directly in it, lighting the tree trunks is a great idea. You can do this with string, hanging or Christmas lights — but definitely not candles.
Try adding a hammock between two of the trees to find your new favorite place to hang out.
If you go with one of the previous seven backyard light ideas, your house with surely be the place everyone wants to hang out!
Similar Articles