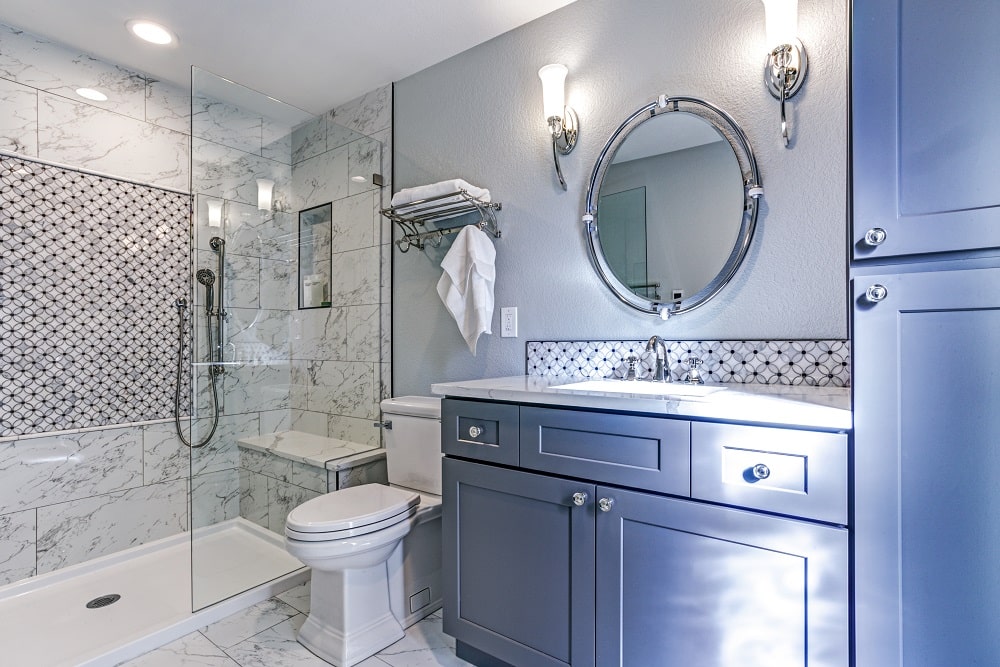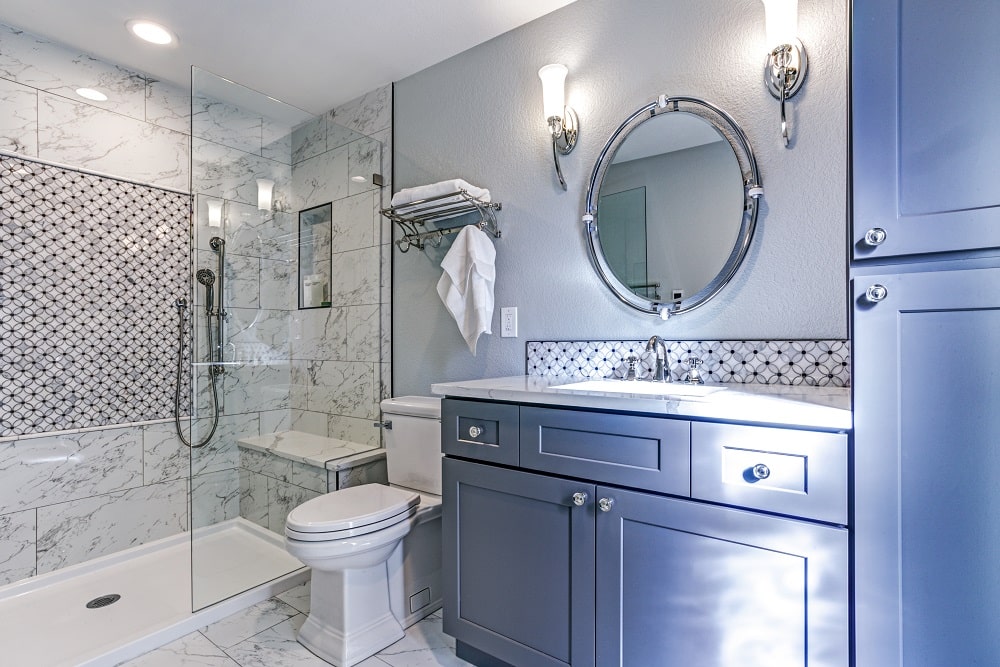 The Best $5,000 DIY Bathroom Remodel for Beginners
By: Jarrod Heil
10 min read
You may have seen a reality TV show or two where the remodelers spend $10,000 to $30,000 on a single bathroom renovation like it's chump change.
But who has that much money lying around to remodel one bathroom? And what are they really getting for their money?
A prettier bathroom with cool gadgets — that's just as efficient as many other bathrooms out there. The last part is key, especially if you're spending a ton of money.
But remodeling a bathroom doesn't have to cost you an arm and a leg. Yes, it will still set you back a few thousand dollars. There's really no way around it.
Though the average minor bathroom remodeling budget was around $19,000 in 2018, we can help you spend far less. Here's how to do it!
Small Bathroom Remodel Cost
To remodel a small bathroom (5 feet by 8 feet), you should budget at least $5,000. That amount can get you much more than you ever thought possible.
If you're willing to settle for some second-hand materials and put in some of your own elbow grease, you can get a really nice bathroom remodel for this price.
Even though the $5,000 budget may be more than you'd like to spend, keep in mind that this is only a budget of a maximum amount you're willing to spend. If all goes well, your new bathroom will come in under this threshold.
Everything You Need to Complete a DIY Bathroom Remodel for Beginners
There are many things you may want in a newly remodeled bathroom, and you can have them all for the right price if you're willing to stay away from high-end materials. All of the following additions easily fit within a $5,000 budget.
As a matter of fact, your budget would be enough to hire two professionals for about 75 labor hours, but don't count on that too heavily.
Many contractors wouldn't bat an eye at a $5,000 bathroom remodel (even though they can complete for under that amount) because it wouldn't leave them enough profit.
And thus we have it, you're stuck remodeling your own bathroom for a fraction of the cost, while paying a friend or family member in pizza and liquid refreshments for helping out.
1. Tub/Stand-Up Shower
The most expensive item on your bathroom renovation list is going to be the tub or stand-up shower. If you only have one water hookup in your bathroom, we suggest you choose one or the other. But whatever you choose, skip the tub with jets.
Jets require extra permits and work, which leads to more money for something you'll probably hardly use and that turns into a collection pool for mold and mildew. Our advice, go for a realistic tub or stand-up shower that looks good and is priced fair.
2. Tile Flooring
Since the tile flooring is the first thing people are likely to notice upon entering, it becomes a key focal point of your bathroom. Picking out a nice bathroom tile that's long-lasting and probably somewhere in the middle of the price spectrum.
You definitely don't want to go with the cheapest tile you can find, but you don't want to sway on the extremely expensive side. You'll want it to pop around the tub or shower, as well as be able to last long under the pressures of hot showers and a damp environment.
Budget

: $250 to $500 for 100 square feet
3. Toilet
Assuming you're not searching for a bidet or some other fancy toilet, you'll be surprised at how affordable they are. When picking out a toilet, there's not too much innovation in the last 100 years, so this is likely the easiest choice of your remodel.
Plus, they're pretty easy to install, so it's a win-win.
4. Sink/Vanity
You can either get a bathroom vanity with or without a top. If you get one with a top and a sink, it could wind up saving you more money in the long run because you won't have to worry about installing countertops.
Since the bathroom is a cozy 5 feet by 8 feet, a 35- to 45-inch vanity should do the trick. Keep in mind that choosing a vanity with a built-in sink doesn't mean you must keep that same faucet.
You can always swap it out for something you like better and sell your "lightly used" set online.
5. Cabinets
Since the vanity already comes with cabinets built in, this allotted budget can be used for a medicine cabinet, a cabinet over the toilet or any other cabinet you'd like to put in your bathroom. If you don't want more cabinets, you can always allocate it to the pizza budget. Your helper will appreciate that.
6. Countertops
If you choose to buy a vanity without a top (or you just don't like the countertop yours came with), your countertop budget will come in handy. Since you're dealing with a smaller bathroom, which will have less room for a vanity, you can really stretch your money for something nice.
Although you won't be able to comfortable a double sink, you can opt for extra countertop space instead. That always comes in handy.
7. Light Fixtures
Last but not least are the light fixtures. If you haven't done any shopping at your local home improvement store recently, you may be shocked when you finally do. Bathroom light fixtures aren't too expensive.
You can get two really nice light fixtures for about $250, so you've got one over the bathroom mirror and one overhead. And, boom, that's a nice-looking, newly remodeled bathroom you've got there!
With this budget, all the expensive things on this list would set you back $4,000 and you'd still have $1,000 for all those miscellaneous things that are bound to pop up throughout the project.
If you went on the low end for everything, it would only set you back $1,500. You'd have plenty of your budget leftover for random things or to splurge on the things that matter most to you, like nice countertops and floors, which are the natural eye-grabbers.
Chances are, you're not going to be as cheap as possible on everything because there are some items you'd rather spend a little extra on so your newly remodeled bathroom looks nice.
If you splurged a little, you could still get your bathroom remodel accomplished for under $3,000 — a nice savings compared to the $10,000 many contractors will quote you.
How Long Does It Take to Remodel a Bathroom DIY?
If you must train yourself on the proper DIY bathroom remodel, the research and subsequent work can take you anywhere from two weeks to about two months. But the latter really only applies to weekend warriors who put in a few hours here and a few hours there.
The average amount of time, from start to finish, to complete a 5-foot by 8-foot bathroom is about 75 working hours between two people. So if you and a body get cracking, you can knock it out in less than five business days.
Clovered Email Alerts
Get Clovered insights in your inbox.
Please enter email address.
Invalid Email Address.