Claims 101
/
The Best Disaster and Emergency Preparedness Checklist
The Best Disaster and Emergency Preparedness Checklist
227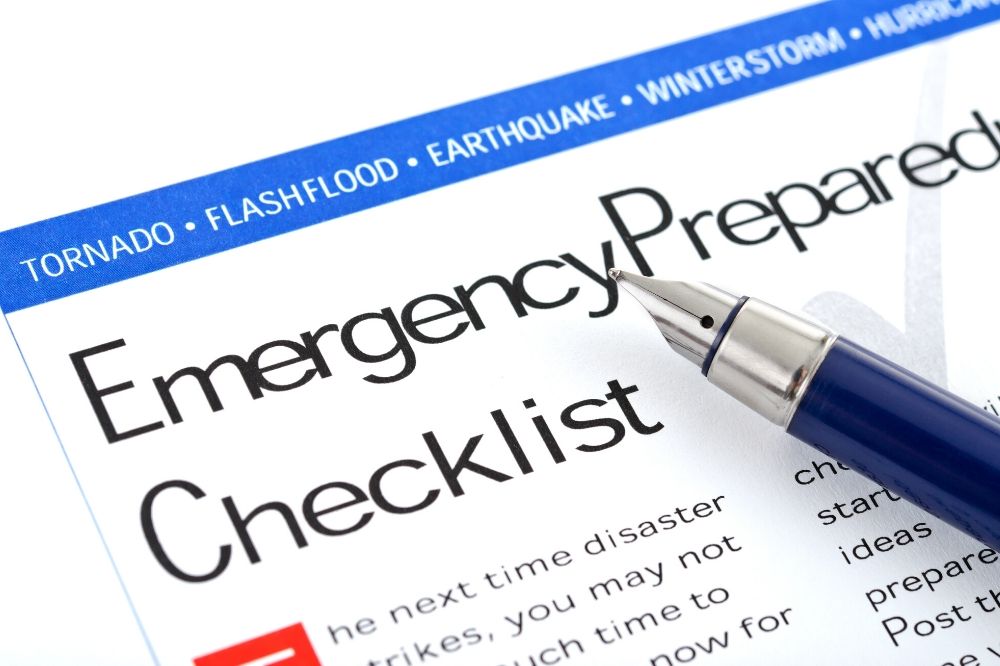 Disasters are bound to happen. Since the beginning of mankind, there have been hurricanes, tornadoes, floods, wildfires and many more natural phenomenons that cause complete and utter chaos and destruction.
But you could help your family and yourself stand a better fighting chance against disasters by making an emergency preparedness checklist with a solid plan to put in action and items you'll need along the way.
The good thing is that many of the items you should put in your emergency and disaster preparedness kit are easy to find at your local store and are fairly inexpensive to buy.
Remember that after a disaster, if you don't evacuate beforehand or get rescued in terrible disasters, your family may need to survive on your own for 72 hours to a few weeks. That means you won't be able to get to the store to buy food and water and you may be living without electricity and running water.
The best plan of action to deal with disasters in emergency situations is to create a disaster preparedness kit with the items below, allowing your family to survive comfortably while regular order is being restored.
Prepare an Emergency and Disaster Preparedness Kit
Whether you decide to evacuate or not, you should always keep these everyday supplies on hand. After all, they're the easiest — and most affordable — part of creating your disaster preparedness kit. There's a good chance you already have some of these items in your home.
If you do, it's always a good idea to go through them before the storm season starts. That you'll know exactly what types of materials you already have and how long they'll be able to last if something catastrophic were to occur.
Water (one gallon per person for at least 3 days)

Non-Perishable Food (at least a 3-day supply)

Extra Batteries

First Aid Kit (Bandages, Adhesives, Hydrogen Peroxide, Etc.)

Flashlight

Napkins, Towels, Garbage Bags

Hand Sanitizer

Portable Power Chargers for Cell Phone

Prescription Medicine

Copies of Important Documents

Cash (a couple hundred dollars in small bills)
The everyday supplies on this list have the chance to save your life if something catastrophic occurs. But keep in mind that there will likely no stores open to purchase these items after a storm, especially if it's bad enough to knock out the power for a few days.
In the days and weeks leading up to major disasters, stores tend to sell out of these items extremely quickly, so it's best to purchase them a month or so in advance and store them in a safe space so they're ready to use when you need them.
Extra Supplies for Non-Evacuators
If your area issues a mandatory evacuation for its residents, you need to quickly and safely evacuate to keep your family safe. You can replace a home and belongings, but you can't replace people — so the most important part of an emergency preparedness checklist is staying safe through everything.
If you do decide to ride out the storm in the comforts of your home, things may get pretty uncomfortable. You may lose electricity and running water for multiple days or weeks directly following the storm, so you need to be properly prepared.
In addition to the everyday supplies listed above, you should also consider buying the following items to make your life a little easier, while making your living situation a little safer.
Generator

Extra Gasoline

Battery-Powered Radio

Sleeping Bag

Waterproof Matches

Household Chlorine Bleach (can be used to disinfect water and other things)

Fire Extinguisher

Home Repair Items (plywood, two-by-fours, tarps, etc.)
The previous items can help you temporarily return power back to your home, communicate with the outside world if you've been almost completely cut off, and safely keep warm if the temperatures drop.
How to Maintain Your Emergency Preparedness Kit
To properly maintain your kit, you must reevaluate your family's needs and purchase supplies before each storm season begins. If your area is heavily hit by hurricanes, make sure you purchase your items well before August.
The last thing you want to occur is to wait too late to compile your emergency preparedness kit and go to the store to find out everything's already been sold.
Where to Store Your Emergency Preparedness Kit
Storing your emergency preparedness kit is just about as important as creating one in the first place. Keep your kit in a cool, dry place that's high off the floor and away from windows and doors. There's a chance your home may flood, so keeping everything in the same safe place may be pivotal to your survival. Get a Quote
Compare multiple policies to get the coverage you need at the price you want.
Sign up for our newsletter to get the latest updates.
Please enter email address.
Invalid Email Address.
Similar Articles