Homeowner
/
1 Essential Emergency Preparedness Kit Everyone Needs
1 Essential Emergency Preparedness Kit Everyone Needs
173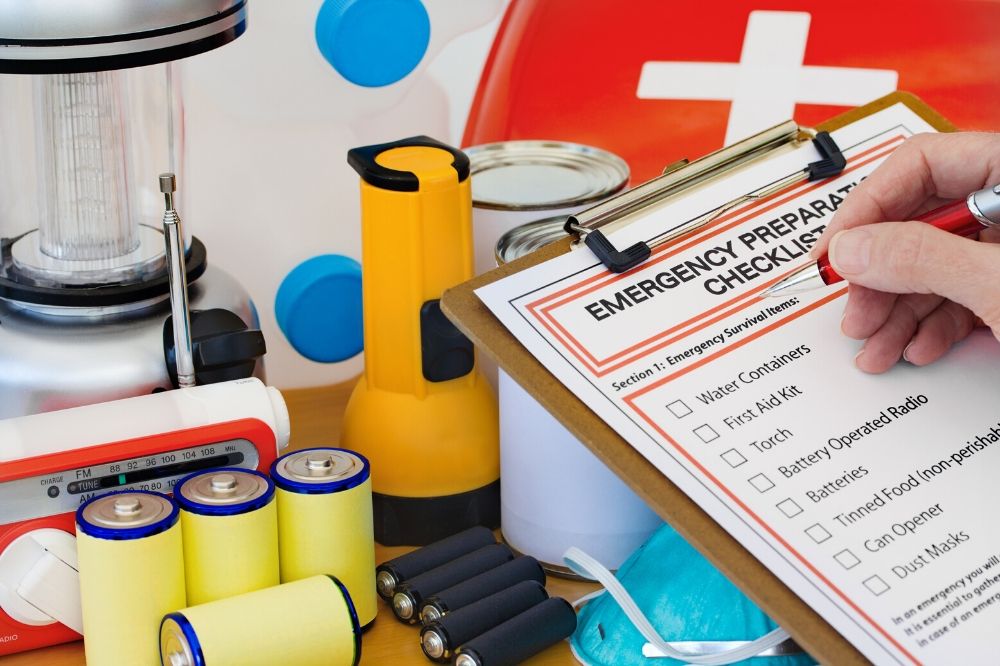 There's no way to predict the future, but you can make sure you're ready if disaster strikes. An emergency survival kit isn't just nice to have in the middle of a hurricane, wildfire, earthquake or another natural disaster – it can be the difference between being prepared in a time of crisis and not knowing where to turn.
As a homeowner, these survival supplies should be non-negotiable household items. And if you're building an emergency preparedness kit for the first time, here's what you need to know to make sure you're prepared when the time comes.
Emergency Survival Kit (Disaster Preparedness Kit)
Generally speaking, your survival supplies should be easily accessible and stored in a bag or container that's portable iF you have to evacuate your home with little or no notice.
According to the American Red Cross, every emergency supply kit should have these basic elements in it:
A gallon of fresh, filtered water for every person in your family for every day that you might need to evacuate or be without access to a grocery store.

Non-perishable food and snacks that are easy to prepare.

A functioning flashlight. Make sure it's out of the packaging and has fully charged batteries

A first aid kit with enough supplies for your entire family, including any special medications you might need.

Easily accessible sanitation and personal hygiene items.

Cell phone chargers, including portable battery packs.

Cash for payment if credit cards aren't accessible.

A state map with your

evacuation

and shelter routes marked.

An emergency blanket.

N95 or surgical masks.
Some items in your emergency preparedness kit might depend on the kind of natural disasters that are common in your area, including hurricanes or wildfires. Consider adding these items so your family has access to them in the event of an emergency or an evacuation:
Home improvement supplies, including plastic sheeting, duct tape, and scissors.

Rain gear, including towels and ponchos.

Cleaning supplies, including disinfectant and household bleach.

Blankets and pillows or sleeping bags.
Because an emergency can leave you on the road or without electricity for an extended period of time, you might also want to consider adding some entertainment items to your survival kit list, especially if you have small children.
Don't forget that many states consider leaving pets behind in an emergency a legally punishable form of animal cruelty. If you have pets, you'll want to factor in any food they'll need any extra water for them to drink.
Every emergency supply kit needs first aid supplies, but what should go into your survival first aid kit? Here's what you should have on hand:
At least a one-week supply of any additional medication that your family may need. (Because you may not have access to a pharmacy, make sure you keep at least seven days worth of medication on hand at all times.)

At least two pairs of sterile gloves

Burn ointment

Soap or other sterile cleansers

Eyewash

Aspirin or some other type of non-aspirin pain reliever

Sterile dressings for cuts or wounds, including adhesive bandages
Creating a Disaster Preparedness Kit for Emergencies
At the beginning of 2020, it would have been almost impossible to predict exactly what the global health crisis triggered by COVID-19 would look like. While your emergency preparedness kit might not have included a month's supply of toilet paper, it is possible to prepare for the kind of disasters that are common in your area.
There are three basic elements to every emergency supply kit you'll want to make sure are put together and easy to access at all times: basic survival supplies, a first aid kit, and an emergency supply of items specific to your family needs or location. If you live in an area where wildfires are more common than hurricanes, make sure you have supplies to help control the spread of smoke or fire.
In contrast, if you live in a hurricane or flood-prone area, you may want to ensure that you have waterproof materials in your survival supplies kit, including plastic sheeting and water-resistant wearables (like a poncho or rain jacket).
Emergencies happen when you least expect them, and the most important part of being prepared is making sure these items are put together and easily accessible.
Every year as a part of your spring cleaning routine, check on your emergency supply kits to replace anything that may not be fully functional anymore, and check for materials or food that may have expired. Your future self may thank you for it! Get a Quote
Compare multiple policies to get the coverage you need at the price you want.
Sign up for our newsletter to get the latest updates.
Please enter email address.
Invalid Email Address.
Similar Articles