Insurance 101
/
Everything You Need to Know About Movers Insurance
Everything You Need to Know About Movers Insurance
500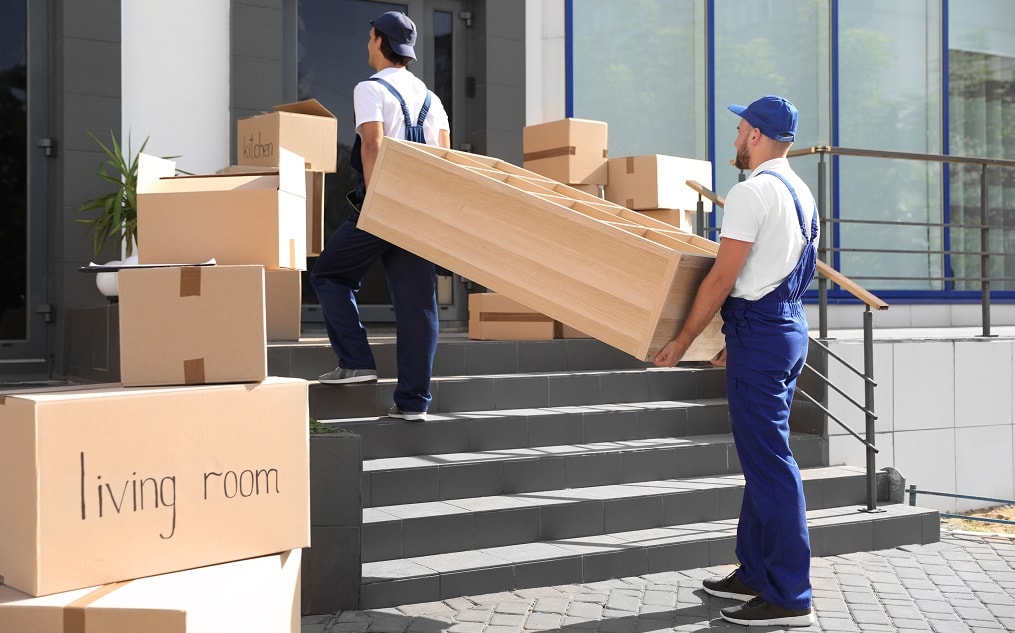 Moving is already one of the most time consuming and stressful events we endure, but almost nothing is as stressful as watching someone pile all of your property up into a van and waving goodbye until you see it again.
No matter how much research you did to select the best moving company with the best online reviews, there's still a sinking feeling when all your worldly possessions drive away without you.
When you're in between homes and homeowners insurance policies, you might be wondering if your property is covered during a move.
Let's take a look as we explore how insurance for moving works and whether you should invest in moving insurance before the big day!
What Is Movers Insurance?
Basic Carrier Liability (Release Value Coverage)
This is considered the most basic type of moving insurance required by law. Basic carrier liability is free, and asses value based on the weight of your possessions.
While it won't cost you anything to enroll, you might want to consider some of your most expensive possessions and their light weight before settling for basic coverage.
As an example, imagine you had a diamond ring that was unfortunately lost in the shuffle during your move. You bought the ring for $4,000 originally, despite it's high value, only weighs just a few grams – well under a full pound.
With Release Value Coverage, your possessions may only be insured for $.60 per pound. Under this coverage, your $4,000 ring would only be insured for a total of $.60 if lost during a move.
Full Replacement Value Protection (Full Value Protection)
Unlike basic carrier liability, full replacement value protection comes at a cost. One of the most recommended forms of movers insurance, full replacement value protection ensures your property is covered for the entire amount that it's worth or the amount necessary for repair.
With the same $4,000 diamond ring, if an expensive possession were lost or damaged during the move, Full Value Protection would insure the ring for the current market value cost of the item.
Under this level of coverage, it would be imperative to show documentation regarding the cost and specific details of the ring.
In this scenario, the moving company might offer to provide a cash settlement for the the current market value of the ring or to replace it for you.
Separate Liability Insurance
Not offered by every moving company, separate liability Insurance acts as a gap coverage between the basic carrier liability coverage and the full amount needed for replacement or repair.
With Separate Liability Insurance, the moving company would still only be obligated to pay the $.60 per pound for any lost or damaged items. Instead, you would purchase an additional insurance policy to supplement the full value of your possessions.
With Separate Liability Insurance, you could receive the entire $4,000 value of your diamond ring if it was lost in a moving accident.
Do I Need Insurance for Moving?
A certain level of moving insurance is provided by law. You won't have to do anything special to ensure your property is protected on a basic level when you enlist a moving company to help get you from point A to point B.
Still, basic insurance for moving may not be sufficient to fully protect you and your family from the perils of property loss, theft, or damage. When deciding how much insurance to invest in for your move, it's important to think about some of your most expensive possessions.
Imagine having coverage that only offered $0.60 per pound and your tablet or laptop was damaged during the move. The basic carrier liability coverage wouldn't be nearly enough protection to have those electronics repaired or replaced.
Where to Get the Best Moving Insurance
Unlike conventional homeowners insurance, your movers insurance will be provided by the professional moving company coordinating either the packing or transportation of your possessions.
Even though these companies are required by federal law to offer some type of moving insurance, you may want to consider the exact terms and conditions of their coverage before you commit to a brand or service.
In addition to getting the specifics of their movers insurance policies in writing, you may want to read online reviews for a first-hand account of what you can expect if you enroll in additional insurance for moving. Get a Quote
Compare multiple policies to get the coverage you need at the price you want.
Sign up for our newsletter to get the latest updates.
Please enter email address.
Invalid Email Address.
Similar Articles