Renter
/
Everything You Need to Know Before Moving into a College Dorm
Everything You Need to Know Before Moving into a College Dorm
953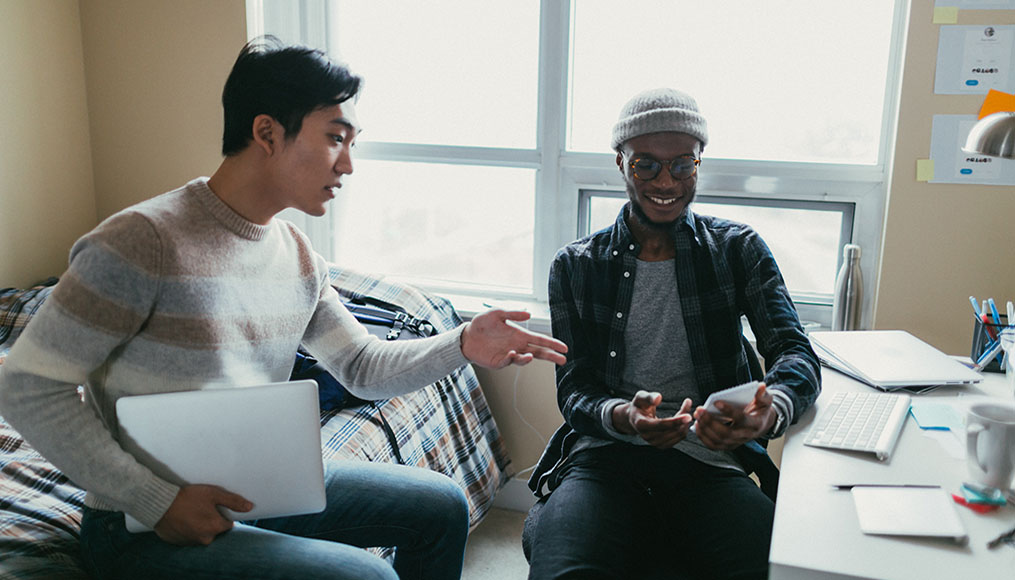 Going off to college and moving into your very first dorm is one of the great life experiences that helps transition you out of adolescence and into adulthood.
While it may seem like an adventure at first (and it is!), the more you start preparing your class schedules, thinking about the stress of final exams, and grabbing all the items on your college dorm checklist, the more overwhelming it can start to feel.
Before the semester starts, the best thing you can do to prepare is make sure you have all your college dorm stuff ready to go well before move-in day. Here's what you need to know now before moving into a college dorm.
Your College Dorm Packing List
Before you start your shopping spree, the absolute first item on your dorm packing list should be determining what items and amenities your housing will provide for you.
Will your college dorm provide basic furniture items most students have come to expect: a desk, a bed, a dresser, and curtains? If not, these should some of the first items on your list.
Other smaller necessities, including bed linens and closet hangers, may also be provided, so it's important to double check the official details before you start buying the stuff you think you need.
Outside of the basics, you may have furniture items of your own not offered by the school that you consider college necessities. Generally speaking, if the amount of stuff on your dorm packing list won't fit inside a traditional minivan, you're probably bringing too much stuff.
More importantly, additional furniture items may be prohibited inside the dorm, according to your school. Double check all the rules before cementing your college packing list!
The most important consideration when determining what's on your dorm packing list should be functionality.
Space is a major issue, and if you spend too much time focusing on your favorite home amenities than what's actually practical while you're away at school, you may end up bringing fewer of the real college necessities than you anticipated.
After you've sorted out the furniture that's provided by your school and the extra furniture you're allowed to bring with you, the next items on your dorm packing list should be small appliances.
You may only have a limited number of electrical outlets in the room, so plan to use some of them for things like a television, small refrigerator, or a hotplate. Before you buy any more stuff, double-check which appliances are allowed in the first place.
Here are a few other items that should get priority on your dorm packing list:
Linens and laundry

: Don't forget to pack pillows, a mattress pad, towels, sheets, pillowcases, and a laundry bag.

School supplies

: No different than all the years you spent shopping for supplies in high school, making sure you have enough paper, notebooks, and pens before the start of the term can save you from having to buy things at the pricey on-campus bookstore.

Personal electronics

: College dorms are typically shared spaces, so you may want to have personal electronics, including headphones or portable speakers, to help drown out the noise from your roommates.

Kitchen items

: For what may be the first time in your life, your personal living space will have its very own kitchen. While you may be sharing with other roommates, you'll still want to add some household and kitchen items to your dorm packing list. Utensils, storage containers for food, and cleaning materials are typically a good place to start.
Insurance for Your College Dorm
Congratulations, you're headed off to college! This is a monumental step towards independence and adulthood for millions of people every year, and the journey is only just getting started.
While it's important to understand what your college dorm will provide for you, what's prohibited, and what actually qualifies as the college necessities, there's one more consideration to keep in mind: renters insurance.
Most students don't get the entire dorm to themselves, which means you'll be surrounded by people you've only just met.
Before moving day, talk to your parents or dorm RA about the importance of insurance for your college dorm and whether this kind of coverage is a good idea for protecting all of your college dorm stuff. Get a Quote
Compare multiple policies to get the coverage you need at the price you want.
Sign up for our newsletter to get the latest updates.
Please enter email address.
Invalid Email Address.
Similar Articles