Renter
/
The Ultimate First-Time Renters Guide Checklist
The Ultimate First-Time Renters Guide Checklist
3.4K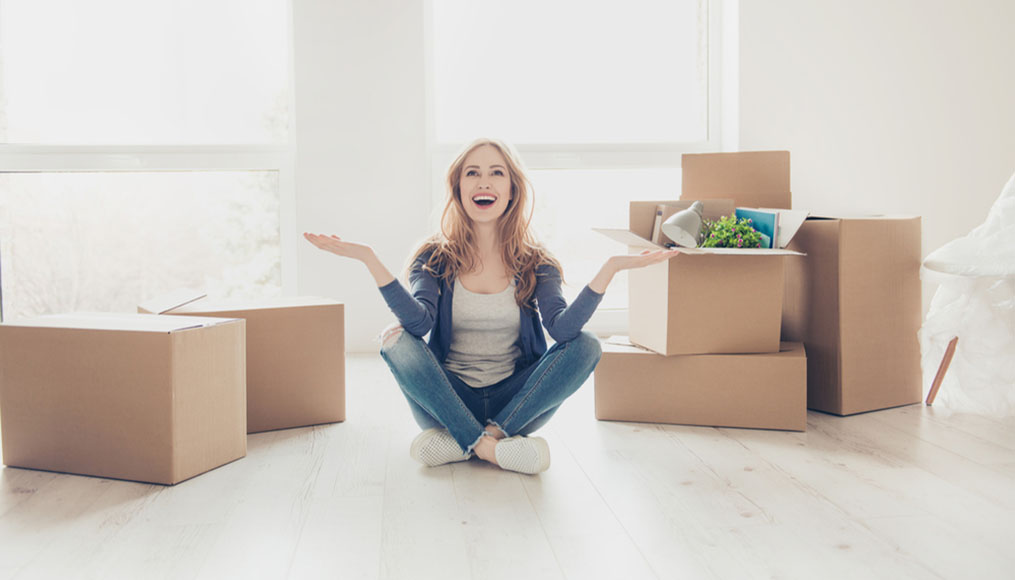 The time has finally come. After years of waiting, maybe even dreaming about this moment, you're moving out of your parent's house (or your college dorm) and getting your very own apartment.
Insert all of your favorite, excited emojis here!
That is of course after you navigate the sometimes confusing world of renting an apartment for the first time, figuring out how to pay your rent, and buying everything you'll need to survive on your own from scratch.
Insert slightly less excited emojis here.
The process can be daunting, but we've got your back. Whether you're trying to decide where to start in the apartment hunting process or deciding how to manage first-time renters insurance, we're covering the four most important aspects of renting your very first apartment.
How Much Can You Afford When Renting an Apartment For The First Time?
The process of renting an apartment for the first time and buying a house are worlds apart in some regards, but there's one thing they have in common: monthly payments.
Before you start looking at apartments or buying new furniture, you'll need to determine how much you can afford to pay every month to cover your rent and living expense. While most financial experts recommend keeping your rent below 30 percent of your monthly income, you may want to consider going even lower for your first apartment.
It's important to remember that just like buying a house, there are more expenses to keep in mind than your rent. One of the most important parts of your apartment checklist is recognizing the cost of regular and extra expenses, including first-time renters insurance, keeping the lights on (your utilities), and even what it will cost to keep the refrigerator filled on your own.
Setting Priorities for Your First Apartment
Now that you've set a reasonable budget for yourself, the fun part begins!
There's nothing quite as exciting as finding a new place to live and getting to turn that empty apartment into your home – especially when you're renting an apartment for the first time! But don't let all of that excitement go to your head. Instead, make a list of priorities for your apartment checklist.
Is it more important to live close to where you work or go to school or to have a walk-in closet big enough to store all your clothing? They may not seem related, but these are the kinds of decisions you could find yourself making throughout the renting process.
Before you start touring potential apartment buildings, decide what you can't live without and what you're absolutely unwilling to pay extra for. You might think you've found the perfect building with a desirable location and modern amenities, but the landlord may want you to pay extra for a unit with a pool view.
Setting a budget first and a list of priorities second will help ensure you get the best possible apartment with a monthly rental price that won't break the bank.
The Fine Print for First Time Renters
Before you sign on the dotted line, it's important to consider all of the fine print before you're locked in with keys in hand.
Qualifying for a lease when you're renting an apartment for the first time doesn't just involve a credit check. It can negatively impact your credit score if you're evicted or fail to comply with the contract. For those reasons (not to mention any type of deposits you'll be required to put down), you want to make sure your lease is something you'll be able to abide by.
Ask about any repercussions for breaking the lease early so that you understand your financial obligation for vacating early, and if you're signing a lease with roommates, you may want to ask about removing one tenant from the lease early in case things don't work out.

Get a Quote
First-Time Renters Insurance
A very important item on your first-time apartment checklist is your first-time renters insurance!
Renters insurance will likely be required by your apartment complex, and that's a good thing! Even though the company or landlord certainly has insurance of their own, that coverage won't extend to you or your possessions in the event of a fire, flood, or some other type of damage.
The good news is renters insurance isn't overwhelmingly expensive. You may pay as little as $15 or $25 a month for coverage based on your policy and location. Since this is likely your first time purchasing renters insurance, make sure to ask about discounts for bundling other insurance policies (like your car insurance), and any gaps in coverage you might want to know about in advance. Get a Quote
Compare multiple policies to get the coverage you need at the price you want.
Sign up for our newsletter to get the latest updates.
Please enter email address.
Invalid Email Address.
Similar Articles