Home Improvement
/
9 Top Tips to Remember When Hiring Professional Repair Help
9 Top Tips to Remember When Hiring Professional Repair Help
399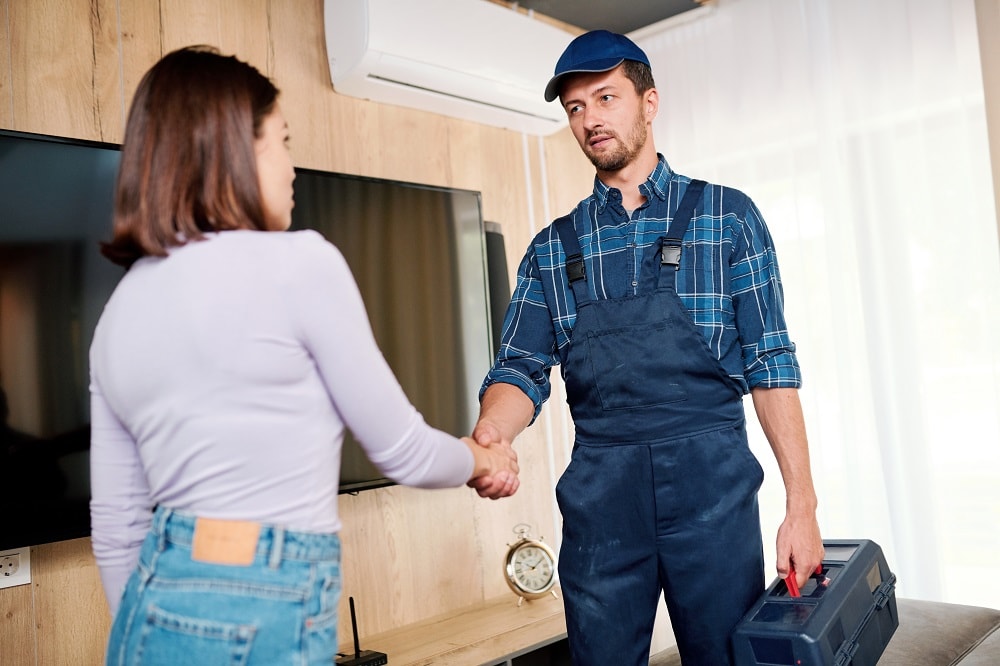 Nobody likes it when something in their home breaks or gets damaged and they have to call a general home repair and maintenance services company. And it always seems to happen at the most inopportune times, too.
It's laundry day and you've gone a little longer than usual — when all of a sudden your washing machine pipes burst and water is flowing everywhere.
So what do you do? You panic while scrolling through your phone, looking for the nearest handyman service that has good ratings. You're flustered because it needs to be repaired quickly so you can get on with your life.
Well, hold on just a minute, because that's when your common sense could fly out the window and leave you paying way too much for repairs, in need of more repairs after a half-hearted job or trusting someone you shouldn't have from the start.
Thankfully, these nine top general home repair and maintenance tips about what to look for in a contractor can help you save money and choose the right people for the job!
1. Research Average Cost in Your Area
Before you even think about handing over any sort of payment, you need to do some research to see what the average cost of labor and supplies are in your area. After all, if you're not up to speed on the average costs, how can you expect to pay the right price?
You can do this by looking online for home contractor prices and local materials (for more populated areas) or, if you live in a smaller town, go to the local hardware store, jot down prices for materials and talk to the workers to see if they have a good idea of the going rate for labor.
If a worker asks you to pay them upfront before the work has been completed, it may be time to find yourself a different repairman. Never, ever pay upfront for all the work that hasn't been completed yet.
While you may be responsible, and expected, to pay for supplies related to your home before the repair has been completed, you should never pay for all the actual work itself before it's completed. It is common to pay 30 percent upfront in good faith, but you can negotiate that number on an individual basis.
Whether it's a big job, like replacing a roof, or a smaller job, like painting the exterior of a one-story home, you should also get multiple bids. Securing a bid from multiple different home contractors will help you evaluate how much the job will cost and if you can strike a deal for a lower price.
It's also important to note that if one contractor bids a significantly lower amount than all the others, the work may reflect the price you pay. So always be cautious. If a price sounds too good to be true, it may be.
4. Verify License and Credentials
Before you hire any general contractor or handyman, you need to verify that they possess a valid license and a sufficient amount of insurance. You can call or search your state's directory online or ask them to provide documentation.
The amount of insurance they cover is just as important as their licensing credentials, so make sure they carry enough insurance to replace the item from another contractor in case something goes wrong.
Some important things to consider before hiring a professional contractor is how long they've been in business and if they provide warranties.
5. Get Customer References
Reviews are solid gold. They let you know key details about a contractor's work without having to hire them first. Get customer references from your contractor and then follow up with those customers. If they claim to have put the roof on three houses down, check out the quality and ask your neighbors if they recognize the company.
Once you've confirmed customer references and see their work, it'll give you a lot more peace of mind knowing that you're probably going with the right fit.
6. Communicate Clear Goals
Communication is key in almost every facet of life — and hiring a professional contractor is no different. Let them know exactly what you expect from their work (show them pictures of what you want, if possible) and how quickly you need things finished.
By communicating a standard and timeline with your contractor, they'll understand your needs better and can help you achieve them.
7. Get Warranties for Services
Warranties are a huge aspect in contractor work, especially since you'll probably be paying a pretty penny to complete the job.
Many home contractors offer warranties on their work for a certain period of time, so be sure you pick a contractor who can give you a guarantee. And if that guarantee falls through, then you'll have the warranty to fall back on.
The next to last step is to actually sign a contract. You shouldn't sign a contract until you've been thoroughly completed steps one through seven. But you should always sign a contract with the handyman or handyman services company you hire.
If you don't sign a contract, it's your word against theirs. They could try to collect more money than necessary from you or you could be stuck paying full price for a portion of the work. Signing a clear contract with no blank spaces is key to a successful contractor relationship.
9. Keep the Relationship Professional
Speaking of relationships in the contractor lingo, it's always important to keep the relationship professional between yourself and your contractor.
They'll be spending a significant time at your home, so treat them respect but don't try to buddy up with them. This will help you stick to exactly what you want without thinking you're hurting their feelings.
All nine of these top tips are absolutely essential to remember when hiring professional repair help. Stick to them and you'll have the greatest opportunity of getting your projects finished without a hitch! Get a Quote
Compare multiple policies to get the coverage you need at the price you want.
Sign up for our newsletter to get the latest updates.
Please enter email address.
Invalid Email Address.
Similar Articles