Home Improvement
/
5 Maintenance Tips for How to Care for Hardwood Floors
5 Maintenance Tips for How to Care for Hardwood Floors
17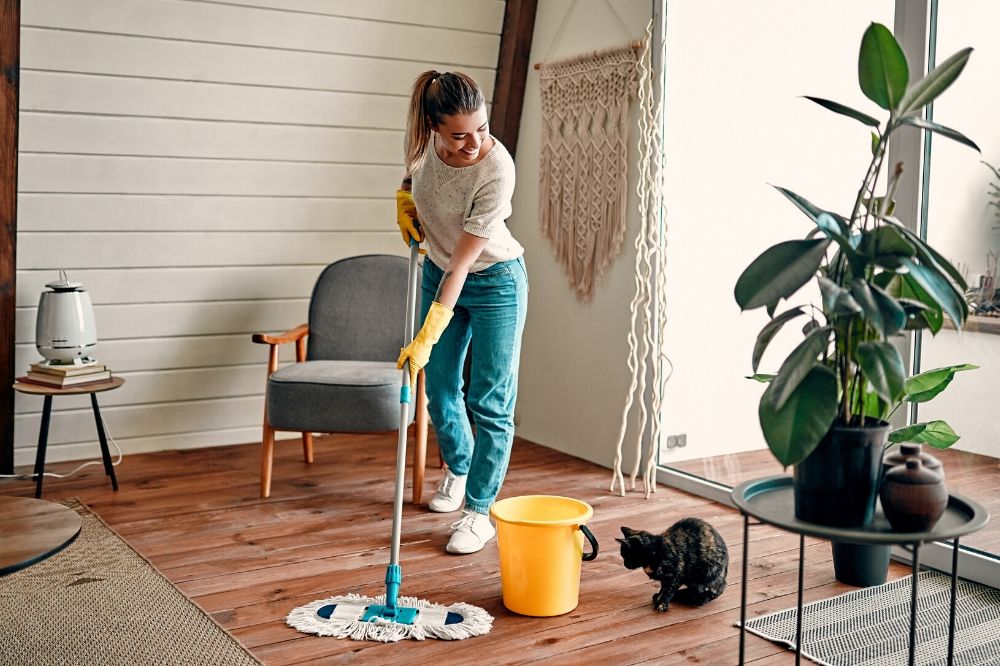 Whether you were lucky enough to buy a home with wood floors already installed, or you've finally had enough of that dated carpet lingering in the family room, wood floors are virtually guaranteed to help increase your home's value.
Even better, hardwood floors will add a new level of comfort and sophistication to your space, which means you'll love looking at them for years to come. And while there's almost no reason you wouldn't consider putting in new wood floors (except perhaps the cost), it's important to recognize wood floor maintenance is nothing like caring for carpet.
Hardwood floors are a major investment that can pay off over time, but you have to keep them in good shape for that to work out. Not sure how to care or your new wood floors? Here are five simple tips to ensure your shiny new floors stay sleek and beautiful for years to come.
How to Maintain Hardwood Floors
When it comes to caring for carpet, there are really only two things to consider: vacuuming and the occasional deep clean. For wood floors, you have to change your mindset to consider the things you should be doing on a daily, weekly, and yearly basis.
Wood floors start off far different from their final form; sanded and finished into a material that's both safe and comfortable to walk on, which is why you'll need to change your cleaning routines to care for them properly.
How to Care for Hardwood Floors
Here are five simple tips for optimum wood floor maintenance. Note that each cleaning solution should happen at different frequencies so you don't accidentally strip your finish or flooring by over-cleaning.
1. Daily and Weekly Wood Floor Maintenance
Dust and debris accumulate throughout our homes on a near-constant basis and nowhere is that more true than the floors we walk on.
Sweeping and dusting should happen every day in rooms where you have hardwood floors. Not only will this help reduce the level of dirt building up around your home, but it will also help reduce small particles from becoming trapped in between and on top of the wood finish.
While you might need a different vacuum than the one you're using on carpeting, vacuuming should still happen on a weekly basis, in addition to sweeping and dusting. A buildup of dirt over time can scratch hardwood floors.
2. Pick the Right Cleaning Solutions
More than sweeping and vacuuming, you'll need to make sure you have the right, wood-safe cleaning solutions for hardwood flooring. A monthly cleaning will make sure your floors stay shiny and looking new for years to come.
Too much ammonia can strip the finish, so invest in cleaning products that are specifically designed for hardwood. Make sure you clean under furniture and any rugs you might have in rooms with wood flooring.
3. Invest in Furniture Pads
Even the biggest pieces of furniture in your home, like sofas or media consoles, get moved around from standard use. Investing in felt furniture pads or protectors will help ensure that heavier pieces aren't scratching the surface of your hardwood floors unknowingly.
4. A Rug Will Help Pull the Room Together
Sure, the advantage of hardwood floors is that you won't have to deal with carpet anymore, but adding a rug to high-trafficked areas in your home will do more than add color or design to the space.
A rug can be helpful in avoiding scratching to hardwood floors that are naturally more sensitive than other surfaces.
5. Plan to Refinish in the Future
Every three to five years, you should plan to refinish your hardwood floors. Adding a fresh coat of wood floor finish will help protect the surface from becoming dull over time and helps to add an extra layer of protection that might naturally diminish over time.
If your hardwood floors are over 10 years old, you may want to enlist a professional to help resand and refinish the floors to make them look like new again.
The Importance of Caring for Hardwood Floors
New wood floors will look beautiful in your home for years to come, and proper wood floor care will help ensure they stay that way for as long as possible. On average, wood flooring can be resanded 10 times over its lifetime, which means you should get decades of use out of your investment! Get a Quote
Compare multiple policies to get the coverage you need at the price you want.
Sign up for our newsletter to get the latest updates.
Please enter email address.
Invalid Email Address.
Similar Articles