Homeowner
/
Holiday Fire Safety Tips You Need This Winter Season
Holiday Fire Safety Tips You Need This Winter Season
202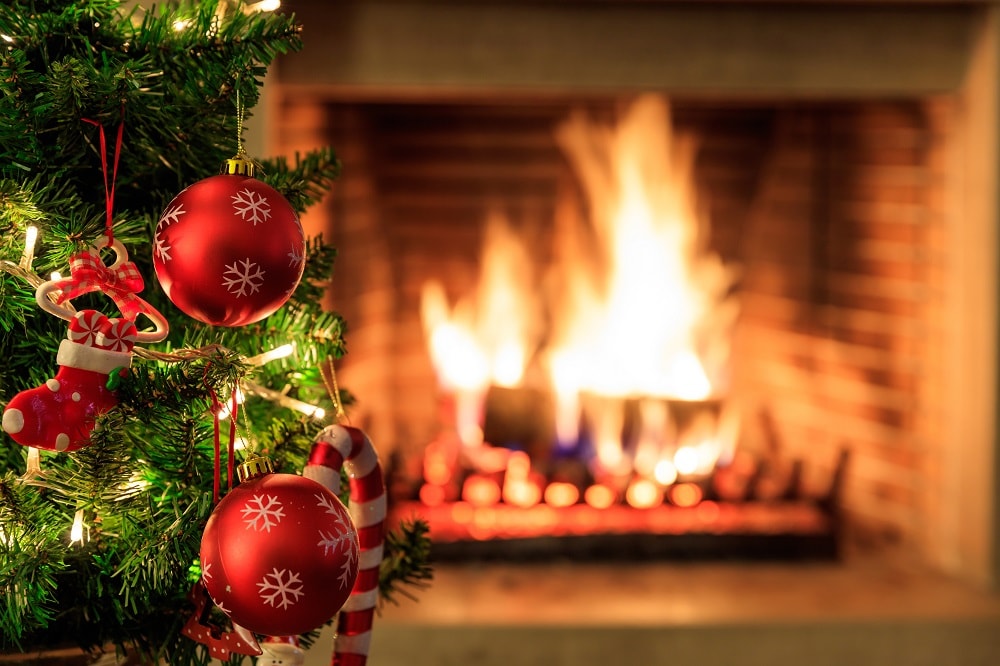 Tinsel and wreaths will only go so far to set the holiday mood this season. If you really want to embody the spirit of the festivities, you'll need one thing for sure: lights.
From burning candles to a glowing hearth or a Christmas tree, it's the twinkling and warmth from your lights that will get your family ready for the winter season.
If you want to keep your traditions going with the real deal but you're committed to avoiding Christmas tree fires, these are the holiday fire safety tips you need to make sure the only thing burning this year is festive energy.
How to Avoid a Christmas Tree Fire
No time of year is more dangerous, or even deadly, for house fires than the holiday season. In the midst of gift-giving and decorations galore, families need to take extra precautions to help ensure they're protected from Christmas tree fires.
According to the U.S. Fire Administration, there are hundreds of Christmas tree fires every year, the vast majority of which are totally preventable. From electrical fires to open flames too close to the tree, here are some of the most important holiday fire safety tips this season:

Get a Quote
1. Ensure your smoke alarms are in good working order and consider replacing the batteries at the start of the winter season as an extra precautionary measure. If a fire starts in your home, you want to guarantee you and your family won't be exposed to the dangerous conditions and have enough time to evacuate and respond.
2. As you're unboxing holiday decorations, be cognizant of the frayed or split wires in any of your electronic decor. Electronics are responsible for a majority of Christmas tree fires, so throw away any decorations that look damaged or overly worn this year.
3. As you start to put your decorations on display, never connect multiple extension cords to one another. Overloading the socket can cause dangerous malfunctions that spark fires and spread.
4. No matter how important your favorite candles are to establishing the holiday mood, decorations should never be within three feet of an open flame. Equally as important, an open flame should never be left unattended, especially if you have small children at home.
5. If you prefer to keep a real tree, you must be extra careful to monitor the health of the branches, dropping needles, and water levels in the basin. Together, these signs will help identify how dried out your tree has become, and thus how flammable (and potentially dangerous) it would be around an open flame.

Get a Quote
Other Holiday Fire Safety Tips
A Christmas tree fire isn't the only danger you need to be mindful of during the holidays.
Because the weather will likely have turned much colder by the time peppermint lattes and holidays hams hit the shelves, you'll be looking for ways to stay warm through the much longer nights.
If you use a space heater to help keep the temperature higher in your home, you must never leave them unattended. Even small space heaters are still incredibly powerful and capable of causing catastrophic fires.
Similarly, it's typically recommended that you leave a window open whenever your fireplace is burning, but if that isn't possible during the wintertime, make sure you burn only dry and well-aged wood. Clean the ashes after every burning, and make sure you have a professional inspect your fireplace before lighting it for the first time this year.
Lastly, your kitchen is even more likely to be the source of a home fire during the holiday season than any other time of year. No matter how many meals you have to cook, never leave your stovetop or oven on if you aren't in the room.

Get a Quote
The holidays can be hectic and stressful. With even more to manage in your day-to-day than any other time of year, you're liable to forget some of the finer details occasionally. This guide of holiday fire safety information can help you avoid dangerous accidents and expensive mishaps. Get a Quote
Compare multiple policies to get the coverage you need at the price you want.
Sign up for our newsletter to get the latest updates.
Please enter email address.
Invalid Email Address.