Homeowner
/
5 Things to Know for a Hot Water Heater Inspection Checklist
5 Things to Know for a Hot Water Heater Inspection Checklist
320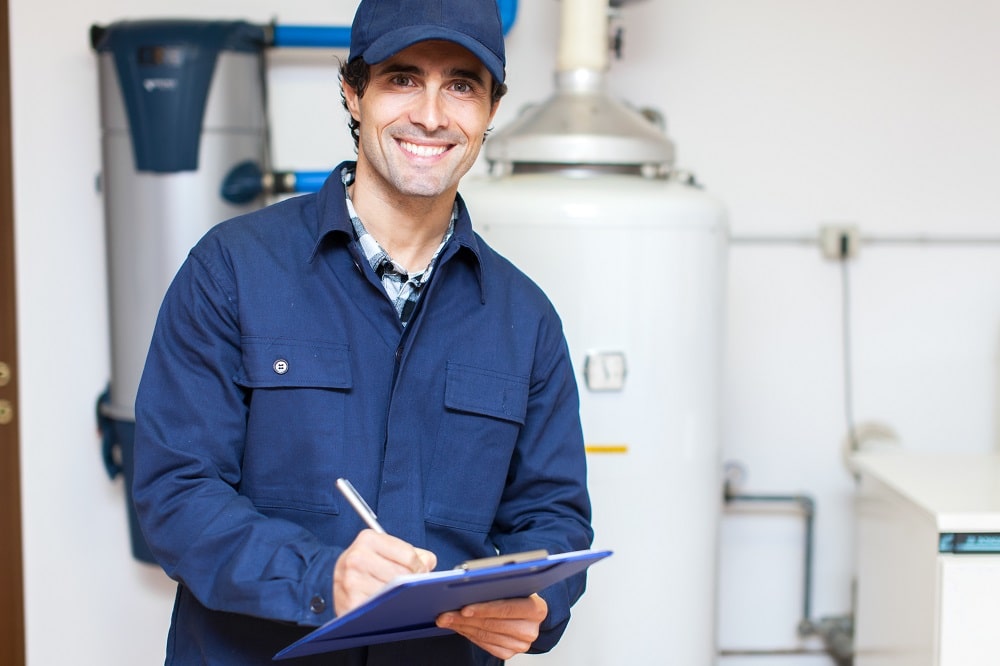 An average hot water heater has a 10-year lifespan, which doesn't sound like much in the long run. But, think about it, your water heater is working overtime every day to pump out hot water for your showers, dishwasher, washing machine and the sinks.
A hot water heater is such a pivotal appliance to many homes. So why is it they're often overlooked and taken for granted on a daily basis?
If you don't conduct inspectors, regularly flush the tank and clean the filter, your unit is almost guaranteed to not last the entire 10 years. Or even worse, it could explode or start emitting deadly carbon monoxide into your home.
These are the five most important things to remember about one of the most important appliances in your home: your hot water heater.
When you're dealing with anything that could cause harm, you should always exercise extreme caution. The same thing goes for hot water heaters. The Centers for Disease Control and Prevention recommends a yearly inspection for everyone with water heaters that run on gas, oil or coal.
This is mainly to check for any carbon monoxide leaks in the structure, which could lead to serious health concerns if not caught early. In addition to a yearly water heater inspection, we recommend installing a carbon monoxide detector near your hot water heater.
2. Comply with Building Code
Whether your hot water heater is located in your own home or within a commercial building, it needs to comply with the building code. No ifs, ands or buts about it.
We highly recommend hiring a professional every few years to do a thorough review of your unit and to keep you up to date on the latest code compliances. If you're in charge of a commercial location that has a hot water heater, you may want to do this yearly.
Complying with the building code makes sure your hot water heater is properly flushed, cleaned and maintained — because it's about more than just the preventative maintenance.
Conducting hot water heater preventive maintenance is good for a ton of different things. Extending the life of your hot water heater is one of the best things that comes out of maintaining it properly.
Over the months and years mineral deposits occur and sediment builds up inside hot water heaters, which deters them from properly heating the water and can cause dangerous situations to arise, such as carbon monoxide emissions or entirely exploding.
If you're wondering how often to flush the water heater, you've come to the right place. Homeowners should flush their hot water heaters at least once every six months to ensure mineral content doesn't build up too badly.
If your home has hard water (like those in Florida), we recommend flushing your water heater every three months or so.
Flushing your system and doing a thorough water heater filter cleaning can extend the life of your unit by a few years. And that means you save a few thousand dollars you would've spent buying a new unit.
Before flushing your unit or cleaning its filter, make sure the hot water is in the off position. Then you'll want to connect a hose to the drain valve and begin draining all that water into the backyard (or wherever you dispose of it).
You'll want to make sure most of the water is out (you may have to use a vacuum-powered hose) or the flush's entire purpose is defeated. After draining all the water from the tank, turn on the cold water supply to rinse out any additional sediment.
You'll want to remove all that water from the tank as well because it's filled with all the bad stuff you don't want in the tank. After removing the water for a second time, turn your cold water supply back on and, once the tank is filled, reset the thermostat back to its hot setting.
4. Increase Energy Efficiency
Don't you just love it when things work and run like well-oiled machines? Yup, so do we. And proper water heater maintenance leads to increased efficiency over the life of your unit — not to mention it adds years to your unit's life.
By properly maintaining, flushing and cleaning your hot water heater, you can ensure the water spigots in your home pump out hot water time after time — and so you're never stuck taking a cold shower when you don't want to.
5. Decrease Chances of Home Insurance Claim
Should your water heater be damaged by a covered peril, like a hurricane or fire, it may be covered under the Dwelling protection of your home insurance policy. But that portion of your policy doesn't protect against negligence from improper upkeep.
Hot water heaters have the ability to emit carbon monoxide, a potentially flammable substance, into the air of your home or actually blow up and start a fire if not cared for properly.
These instances likely wouldn't be covered under your home insurance policy, so proper water heater preventive maintenance is key to avoiding unnecessary home insurance claims.
To protect your actual water heater from having to pay out of pocket to replace it when it dies out, you may also want to think about purchasing a home warranty. Get a Quote
Compare multiple policies to get the coverage you need at the price you want.
Sign up for our newsletter to get the latest updates.
Please enter email address.
Invalid Email Address.