Home Improvement
/
How Much Do Solar Panels Cost to Install?
How Much Do Solar Panels Cost to Install?
184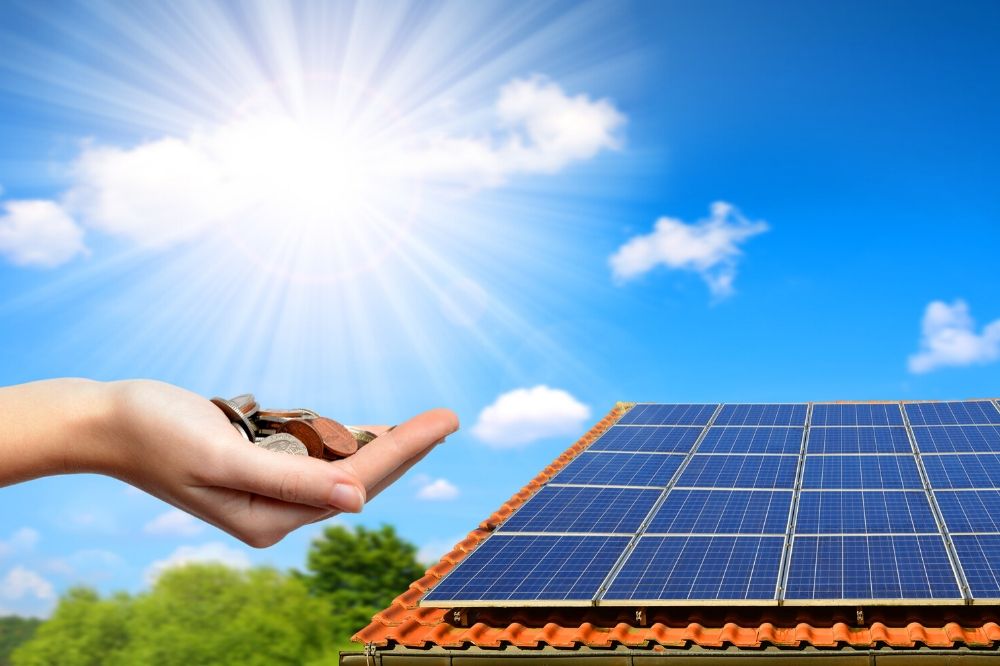 If you're a homeowner, it's hard to escape the hype around solar panels. Whether it's the idea of installing them yourself, watching them being installed on a neighbor's house, or the general frustration of your fluctuating electricity bill, you've probably considered the cost to go solar on more than one occasion.
You've probably also wondered how much do solar panels cost? Considering that the federal tax credit on the installation of new solar panels expires at the end of 2021, you may be thinking more seriously about the cost of solar energy and how much to install solar panels in your own home.
Whether you realize it or not, the cost of solar energy may be cheaper than paying for traditional electricity, but the cost of installing solar panels can set you back a fairly pretty penny. Not to mention figuring out what type of solar panels you need.
Just how much does it cost to go solar? Let's take a look!
How Much Do Solar Panels Cost?
The reality is that the cost of installing solar panels may be much higher than you're expecting. Because every home and location is completely unique, there's no one-size-fits-all answer to the question of how much you'll save – or how much you'll spend.
In general, there are four main considerations when pricing out your solar power system cost:
1. The Shape and Size of Your Home
A bigger home likely has a bigger roof surface. But, more importantly, a bigger home needs more electricity to stay powered. As you probably guessed, installing solar panels on a bigger home often costs more all around.
2. How You Choose to Pay for Your Solar Panels
Most manufacturers offer financing solutions to help ease the cost of installing solar panels, but if you're paying monthly interest in addition to the principal, the total cost of your solar project is going to increase.
Federal tax incentives are the only additional savings you may qualify for. When it comes to the cost to go solar, you have to factor in the tax write off you might get at the end of the year, issued either federally or on a state level.
4. Type or Brand of Solar Panels You Buy
There's no plug-and-play solution for determining how much the cost of solar energy will be for you. In total, solar energy panels can cost between $8,000 and $18,000 on average depending on where you live and the size of your home.
In some extreme circumstances, the cost of installing solar panels can get as high as $30,000 for some homes.
Do Solar Panels Save Money?
Yes, solar panels should save you money in the long run, but you may not recoup the cost of your solar panels for many years. When it comes to the cost of solar energy and the potential for savings, you have to think about the long-term investment rather than the immediate savings to your electricity bill.
Like the cost of installing solar panels, there are many variables to consider if you're trying to calculate the potential savings. Understanding the full expense of buying and installing solar panels is one part of the equation, but your monthly electricity expense is another.
How Much Do You Save With Solar Panels?
On average, families may see a reduction in their monthly electricity bills of $100 or more. Over the course of 20 years, you could save $24,000 (or more, depending on the state you live in) by transitioning to renewable energy sources.
Without a doubt, how much money you can expect to save with solar panels will depend on how much money you spend buying and installing them in the first place.
It's not uncommon for the cost of solar energy, including installation, to cost between $8,000 and $18,000, which means you won't be saving very much (if anything at all) in the first few years.
Still, depending on how much your average electricity bill costs – and how much it could go down with solar energy – you could pay off the up-front costs in the first 10 or 15 years after installation.
After that, the savings are all money in your pocket. While you might not be thinking about selling your home any time soon, it's worth noting that having solar panels already installed can help increase the overall value of your property when the time comes! Get a Quote
Compare multiple policies to get the coverage you need at the price you want.
Sign up for our newsletter to get the latest updates.
Please enter email address.
Invalid Email Address.
Similar Articles