Homeowner
/
7 Cheapest Steps for How to Fireproof Your Home from Wildfires
7 Cheapest Steps for How to Fireproof Your Home from Wildfires
2.4K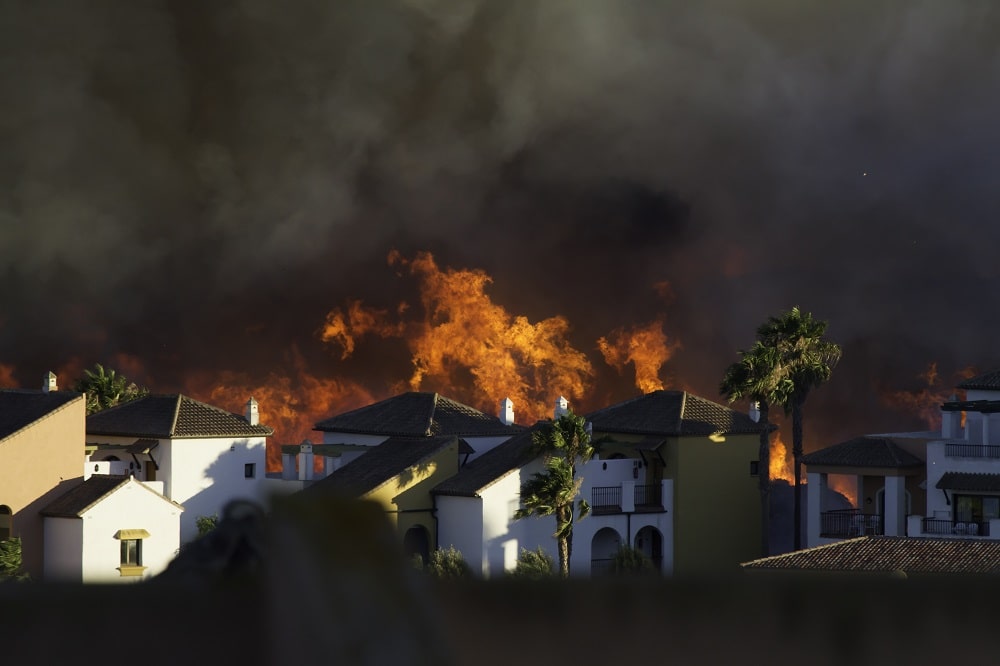 Wildfires are seemingly becoming more common each year in the Western and Eastern United States. And if you live in an area prone to them, wildfire home protection should be at the forefront of your mind.
The California Camp Fire in 2018 destroyed more than 18,000 residential and commercial buildings alone. While there's not much you can do to stop the spread of wildfires, there are certain precautions you can take to prevent your home from going up in flames.

Get a Quote
How to Fireproof Your Home from Wildfires
The best way to fireproof homes is by building it entirely from non-flammable materials. Although this is by far the most expensive method, it's also the most fool-proof.
Unfortunately, if your home is already built, it's way too expensive to knock it down and start from scratch (who on earth has the money to do that?!?!).
But there are a few more affordable additions you can make to kickstart your wildfire home protection project.
1. Invest in Fire-Resistant Glass for Your Windows
Investing in fire-resistant glass, like double-paned and tempered, for every window in your home is one of the most effective initiatives on the list. By doing this, you're increasing the amount of heat your windows can effectively take without cracking or breaking entirely.
When heat from wildfires gets too intense for windows to handle, they break and allow that fire to move inside your home, which is by far the most flammable area.
Although tempered glass is heat-treated and can withstand a higher temperature than average windowpane glass, fire-resistant dual-paned glass is the best option.
Investing in windows made from fire-resistant glass may be the best place to start and the cheapest addition to a fireproof house, but it's not going to solve all your fears. You must be willing to make some serious changes to your home, including the next five items on the list.
2. Cover Your Home's Exterior Walls
Although it may not be the cheapest item on the list, covering your outdoor walls with fire-resistant materials is extremely effective for wildfires that spread near the ground.
If your home is built with wood, you don't have to tear down the walls entirely to get wildfire proof houses. All you need to do is upgrade your siding to fire-resistant materials like concrete, stone, stucco or old-fashioned brick.
These materials can take higher levels of heat and can effectively keep wildfire flames from getting into your home.
The worst possible exterior siding option is vinyl. It melts and catches fire extremely easily in high heat, which will cause your home to go up in flames quicker.
In addition to siding, installing steel frames around every window ensures the area where each window meets a wall is airtight and won't allow flames to get through.
Although covering your home's exterior walls with fire-resistant material will help keep low-burning wildfires at bay, it won't entirely protect your home from flaming debris flying through the air or burning trees that could fall on your home. But the next item can help.
3. Use Non-Combustible Roofing Materials
Choosing the right roof type for your home can be tricky. But if you live in a wildfire-prone area, the best non-combustible roofing materials on the market are slate, metal, concrete, clay and copper.
Each material offers extremely high melting points (if they melt at all) that keep your roof safe if your home were to encounter a wildfire.
Replacing your roof is expensive. There's no way around it. But if you live in an area where wildfires occur, using non-combustible roofing materials may be the difference between your home remaining intact through a wildfire or having to rebuild because your home was completely destroyed.
One of the common elements in fire-resistant homes tile roofs. Metal tiles may be the best for wildfire home protection because they are typically made of copper, steel or zinc that simply do not ignite.
Slate tiles are also nearly indestructible — and fight fires better than hydrants and hoses. However, metal and slate tiles can be pretty expensive for the average homeowner.
Clay and concrete tiles offer a more affordable alternative, and you'll typically see these on most tile-roofed homes and commercial properties. The material is not only fireproof, but it's extremely durable and offers one of the most fashionable finishes to fireproof homes.
4. Rethink Your Deck's Materials
Sure, wood decks catch the eye. That's why wood has been used to build decks for decades. Although you can pressure treat wood with fire-retardants and other chemicals, those processes typically fade over time and aren't good for the environment. So building a wood deck in a wildfire-prone area may not be the best option.
Even though they will surely cost you more money, a better option would be to utilize fire-proof materials like concrete, stone or steel.
If you simply can't afford to go with one of these non-combustible items and stick with a wood deck, make sure you treat it yearly with fire-retardants and don't keep anything flammable under your deck.
5. Utilize Spark Arrestor for the Chimney
While a spark arrestor won't, technically, prevent wildfires from funneling into your home through the chimney, it's a vitally important addition to every chimney. Spark arrestors prevent flammable debris from emitting through your fireplace.
It usually takes the shape of a fine mesh screen, which prevents sparks from your chimney from landing on your roof. It also works adversely by helping to keep ash and other flying debris from wildfires out of your chimney.
6. Install Fire-Resistant Materials to Your Home's Exterior
In addition to covering your home's exterior walls with non-flammable material like concrete, replacing your roof with fireproof tile or metals and replacing your windows with double-pane glass, making sure you use fire-resistant materials to update your home's fascias, eaves and any other parts that access to the outside world is crucial to wildfire proof houses.
7. Live by the 30-Foot Rule
The 30-foot rule in fireproof housing relates to securing the perimeter of your home and creating defensible space. It is strongly recommended that you keep flammable objects, especially propane grills, at least 30 feet from your home.
These items have a high tendency to easily catch during a wildfire and can be an extremely dangerous threat to the integrity of your home.
If these items are pushed toward your home, the flames will be hotter than a few leaves burning next to your window. This puts more pressure on your already vulnerable windows and fireproof crevices.
It's also recommended to cut down any tall trees that are tall enough to fall on or within a 30-foot radius of your house. If a tree catches fire and falls on your roof, it will likely tear up the roof.
At that point, it doesn't matter whether you have a completely fireproof home or not. It will certainly make its way into your home after creating space through the roof or walls.

Get a Quote
Home Wildfire Protection Systems
Heavy-duty exterior sprinklers that are triggered by heat is pretty much the only viable defense protection system to help protect your home from wildfires. Average sprinklers likely won't work and, since they're often made of plastic, could actually catch fire.
It's recommended that the heavy-duty sprinklers be directed at the home to create a wet layer that inhibits the spreading of fire. It's also good to have them on your home, near the roof, to help protect against errant embers and flaming debris.
Even in wildfire proof houses with the utmost in protection, there's always a chance stones are left unturned, allowing flames to enter your home. In every case, you should always have an adequate homeowners insurance policy that protects your home's entire value.
Similar Articles