Homeowner
/
Hurricane Preparation Checklist: Everything You Need to Stay Safe
Hurricane Preparation Checklist: Everything You Need to Stay Safe
3.9K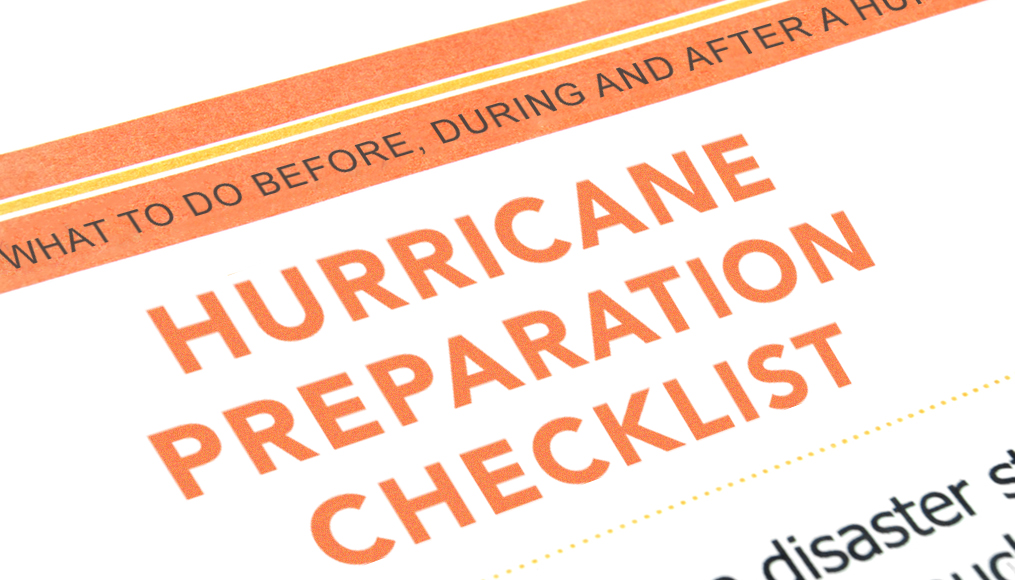 From the day a major storm is announced to the moment it lands in your area, you may not have a lot of time to get your home and family in order to weather the storm safely. In addition to things like putting up shutters and making sure all of your patio furniture is stored somewhere out of reach, you might start thinking about all the things you need for a hurricane preparation checklist.
Because you might go days or even weeks without power, depending on the strength of the storm, having a hurricane prep list ready as you make your final trips to the store is imperative. These hurricane essentials will help make sure you and your family have all of the fundamental ingredients to get through a hurricane from start to finish.
One of the most important elements to your hurricane prep list is making sure you have enough of the right kinds of food and water to last through the storm and the aftermath
The average person needs to drink a half-gallon of water every day, and that amount can increase during warmer months. Make sure you have enough water to last at least a full week, and store it in plastic or other non-biodegradable containers.
Prepare a similar amount of non-perishable food items, and ensure you've stocked up on items that don't require either heating or refrigeration. Canned goods (including fruit and vegetables), granola bars, nut butter, and other high-energy foods are a good place to start.
Avoid stocking up on too many comfort foods. Chips and snacks are nice, but if you and your family are without power for an extended period of time, snack food may not be enough to keep your properly energized after the storm has passed.
If you have small children or infants in the house, make sure you have plenty of baby food available that requires little to no preparation to be edible.
Hurricane Checklist Tip: If you live in a coastal area that experiences a higher volume of tropical weather, you may want to put an emergency stockpile of these items together at the beginning of hurricane season. Last-minute shopping can be stressful, and it's not uncommon for some hurricane essentials (like bottled water) to sell out quickly.
Hurricanes are extremely unpredictable, and what you might expect to be a minor storm can sometimes cause catastrophic damage. Ensure you have a first aid kit available that includes these basic items:
Bandages of various sizes
Alcohol wipes or hand sanitizer
Antibacterial salve or ointment
A snap-to-activate cold pack
Adhesive tape and gauze
Pain relievers (like aspirin or ibuprofen)
A full week supply of any regularly used prescription medication
Miscellaneous Tools And Supplies
In addition to food, water, and first aid, making sure you have miscellaneous tools and supplies handy as your hurricane essentials can help make the time during and after the storm as comfortable as possible:
A full week's worth of clean laundry including clothing, undergarments, and blankets
Toilet paper and flusha towelettes
Any necessary personal hygiene or feminine care products
Functioning flashlights and extra batteries
Fully charged portable power stations for small electronics
Paper products including plates and cups
A severe weather alert radio
A fire extinguisher
A generator with extra fuel stored in a safe place
Hurricane Checklist Tip: Many people assume they have these items readily available in their homes but may not have used them recently (or ever). At the beginning of hurricane season, identify your uncommonly used storm essentials (like a weather alert radio), turn them on, and make sure they're still functional.
Hurricane Prep List For Your Home
When you know there's a storm coming, there's a lot to do in order to get your family ready. Making sure you have the things you need to prepare for a hurricane is important. But what about your home?
Hurricanes can cause an overwhelming amount of damage to your home, so making sure you have an adequate level of homeowners insurance is an important part of being fully prepared for the storm.
If you don't know how much coverage you have, whether your current policy covers flooding or damage to your external property like the patio or pool, it might be time to double-check your coverage and explore the options offered by other providers in your area.
Similar Articles