Home Improvement
/
6 Easy Kitchen Backsplash Ideas That Pop
6 Easy Kitchen Backsplash Ideas That Pop
627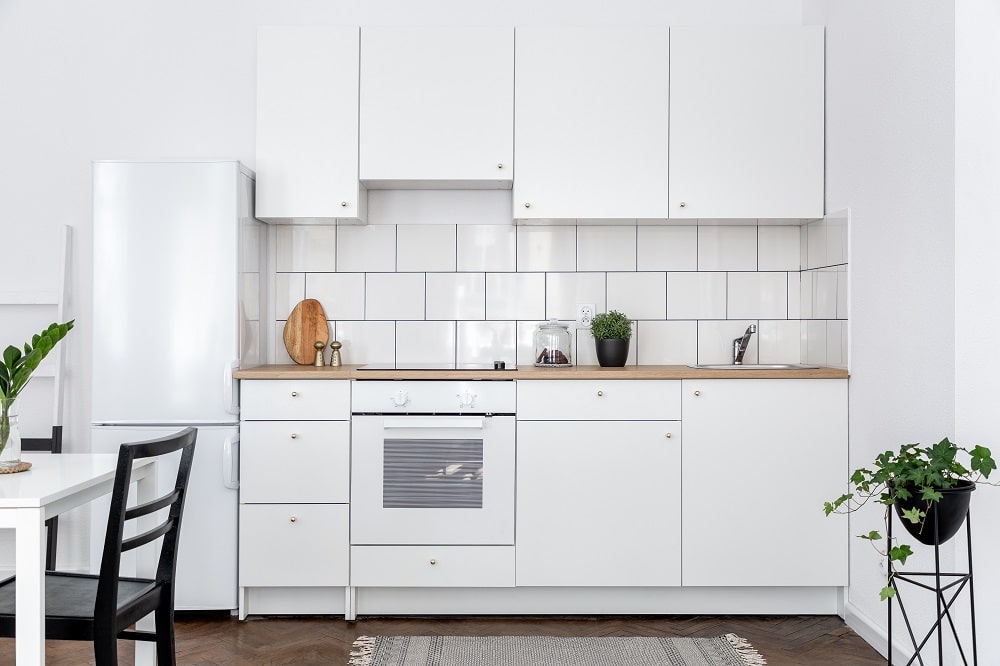 Whether you're remodeling your kitchen or deciding what kind you'd like in your new home, some easy kitchen backsplash ideas can really make your home pop! From painted wood to tile, there are so many choices.
When it comes to your kitchen, every little detail matters. From the color and texture of your flooring to the hue of the lights, everything combines to create the perfect ambiance for your home's ultimate gathering space.
If you want one single element that can help create the biggest impact in your kitchen, it isn't the cabinets or counters. It's a beautiful backsplash.
Whether you want a large tile kitchen backsplash or more modern backsplash ideas, the following six suggestions for your home are sure to be the focal point of your kitchen!
1. Large Tile Kitchen Backsplash
From mosaic to glass and natural stone, particularly if you're looking for an easy kitchen backsplash to DIY, large tiles can help to make a bold statement without as much of the tediousness of installing more smaller tiles over the same space.
If you don't have a lot of wall space between your counters and your hanging cabinets, consider lining up a large tile kitchen backsplash to create a seamless contrast and to help elongate the appearance of the space.
If you decide to install large tiles over smaller tiles, consider opting for a solid color over a patterned design to reduce the appearance of a tight or cluttered area.
2. Modern Backsplash Ideas
The beauty of the modern backsplash is that there are no rules and almost anything goes. As long as you're willing to see the vibe through in your finishes, appliances, and furniture, a more modern design means you can take bold risks with the idea of what a backsplash can be.
From bright, bold colors to floor-to-ceiling tiles, a modern kitchen backsplash isn't always for the faint of heart. Modern designs need complementary fixtures and hues to work if you want your kitchen to stand out for the right reasons.
If you have a passion for all things rustic, you may like the idea of a wood backsplash in your kitchen to really make a statement.
You can create a warm environment in your kitchen with textured, natural wood or shiplap. Want something more modern? Consider a painted wood displayed in a chevron pattern.
You can even create popular backsplash ideas (like the penny tile or the herringbone design) with wood elements to add your own personal touch to a more common style.
Perhaps no kitchen backsplash idea is as authentic or original feeling as exposed bricks. If you're lucky enough to have them lurking behind your drywall, this backsplash idea may come as a welcome convenience.
If not, you have plenty of options for installing a brick veneer in a single layer without having to completely redo your kitchen wall. If you want to go all the way and you don't already have a brick home foundation, there are no shortcuts here.
Solid, authentic brick backsplashes require laying brick over the original foundation of your home. It may not be easy, but you'll be sure to enjoy the fruits of your labor for years to come.
Regardless of the style, most kitchen backsplashes have one thing in common: they're repeating. Even kitchen tiles with intricate designs are typically laid out in a repeating pattern, meaning every few feet of wall space. The design simply repeats itself.
If you want to break out of this standard, cookie-cutter aesthetic, drop the idea of repeating tiles altogether. Whether it's the way you decide to place the tiles, the specific hue or color, or the way they're painted, install your kitchen backsplash with tiles that don't repeat.
Not only will this create a more visually appealing design, but it can also help make your space look larger at the same time.
If you're not interested in taking short cuts and you've got the patience for laying large quantities of very small tiles, a penny tile backsplash could be for you.
In addition to adding a broader depth of color and texture, penny tiles often combine to create a more elevated, expensive look. Because penny tiles are typically seen in different spaces (like the bathroom), you'll immediately create a bold ambiance in your kitchen with the small, glossy tiles.
Building Your Beautiful Backsplash
If you're going to put in the effort to redo your kitchen backsplash tile, there's no reason not to do something that truly fits your style. In today's market, the options are truly endless.
Whatever you're dreaming of for your fantasy kitchen, there are no right or wrong answers where the backsplash is concerned.
As long as you're willing to see the design through and match it to other elements in your kitchen, the world is your oyster. Go big and bold or small and elegant. Just make sure it's beautiful. Get a Quote
Compare multiple policies to get the coverage you need at the price you want.
Sign up for our newsletter to get the latest updates.
Please enter email address.
Invalid Email Address.
Similar Articles