Home Improvement
/
6 Kitchen Refresh Ideas That Don't Require Remodeling
6 Kitchen Refresh Ideas That Don't Require Remodeling
438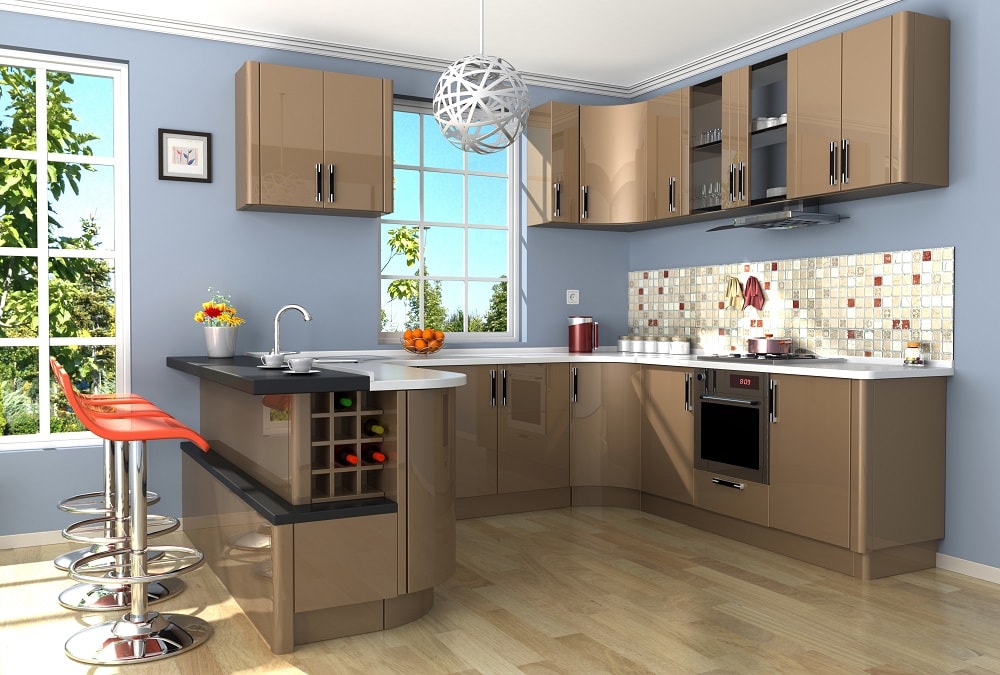 If you're thinking about taking on a new project at home, your mind may immediately float to renovating or updating your kitchen.
Whether you wish your cooking and prep space had a more open-concept feel or fancy new appliances, a refresh can sound like a good idea until you find out how much it can cost to redo the kitchen from top to bottom.
Thankfully, there are options for a more affordable kitchen remodel that don't exactly involve the process of remodeling.
If you aren't ready to shell out the $40,000 to $60,000 (or more) it can cost to completely overhaul your kitchen, take a look at these six budget suggestions for breathing new life into a fundamental area of the house without having to kill your wallet in the process.
Planning a Cheap Kitchen Remodel
By some estimations, the average cost of completely remodeling your kitchen is roughly $60,000. For most families, that's a sizable commitment and sometimes has to be done in more projects rather than all at once.
If you'd rather plan for a cheap kitchen remodel, you may need to turn your attention to smaller projects that can pack a bigger punch aesthetically.
These ideas for refreshing your kitchen may sound meager on paper, but they can have a powerful impact on the way your kitchen looks and feels. Let's take a look at six different ways you can execute a kitchen refresh on the cheap.
Kitchen Refresh Ideas That Won't Break the Bank
1. Add a Fresh Coat of Paint
You don't need an artistic expression in order to use a little bit of paint to completely revamp the overall vibe of your kitchen space.
As long as you're willing to learn – and have a fair amount of patience – the process of adding a fresh coat of paint to your kitchen can be a relatively inexpensive remodeling suggestion.
Even if you want to keep the coloring the same, a fresh coat of paint can help liven up your kitchen space. If you want to completely overhaul the energy in your kitchen, a new shade of paint (particularly something bold, like a jewel-tone color in an accent wall) can be a game-changer.
2. Shop Around for New Countertops
Depending on how old your kitchen countertops are, they may create vintage energy in your kitchen that makes everything feel just a little bit older. Even if the style or material isn't completely out of date, older countertops may show a tremendous amount of wear-and-tear.
Buying brand new countertops can be a pretty hefty expense. Instead, if you're looking to take on a more affordable kitchen remodel, shop around for a better deal on kitchen counters or raw materials, and be prepared to strike when the price is right.
To get the best rate, you may want to be a bit more flexible in terms of the coloring or the finish you're looking for.
3. Enhance Your Kitchen Lighting
Beauty is in the eye of the beholder, but bad lighting can cast a pretty nasty shadow on an otherwise beautiful space. A simple kitchen refresh idea that won't cost you an arm or a leg involves replacing or updating the lighting throughout the space.
Consider replacing old bulbs for newer, more neutral or cool-toned lighting to help your kitchen feel more modern. If you want to go the extra mile, you can even install strip lighting under your cabinets that are controlled by an app on your phone to elevate the energy.
4. Replace Smaller Finishes
Sure, you may not have the bandwidth to take on all of the appliances in your kitchen or to rip out and replace the cabinets, but you might find that smaller finishes create a massive impact.
If you're looking to update your kitchen cabinets on a budget, consider making small changes by swapping out the handles or knobs with newer, more modern options. Not only do smaller finishes cost far less to completely replace, but they're also an easy way to add more personalization to your affordable kitchen remodel.
5. Install a New Backsplash
One of the most popular adjustments people make during kitchen remodeling is in the backsplash – and for good reason! Replacing (or installing) a new backsplash in your kitchen can change the entire aesthetic with a minimal budget and little to no downtime.
Installing modern, inexpensive subway tiles can help your space feel revived with very little financial cost. Or you can opt for a more colorful, unique style for your backsplash to help infuse your personality throughout the area.
If you opt to install a backsplash, you'll find the options are virtually endless and the cost is more than a little palatable.
6. Strategically Replace Your Appliances
At the end of the day, there are lots of options for affordable kitchen remodel ideas that don't entirely involve remodeling the space – but you may eventually want to replace your appliances to help the bigger pieces in your kitchen match the overall style you're trying to create.
When it comes to keeping costs low, you need to be strategic about the way you purchase and prioritize buying new appliances. Look for sales and discounts, and don't get overwhelmed by bells and whistles that will likely cost you more.
Keeping the Cost to Redo Your Kitchen Down
Almost everyone wants a fancy, new kitchen, but most people don't want to pay the tens of thousands of dollars it costs to completely renovate the space.
If you're looking to refresh your kitchen, but you're worried about the cost of renovations, these affordable ideas will help you reimagine what your kitchen could look like without overwhelming you with dollars and cents. Get a Quote
Compare multiple policies to get the coverage you need at the price you want.
Sign up for our newsletter to get the latest updates.
Please enter email address.
Invalid Email Address.
Similar Articles