Renter
/
7 Great Tips to Make the Transition to Off-Campus Living
7 Great Tips to Make the Transition to Off-Campus Living
53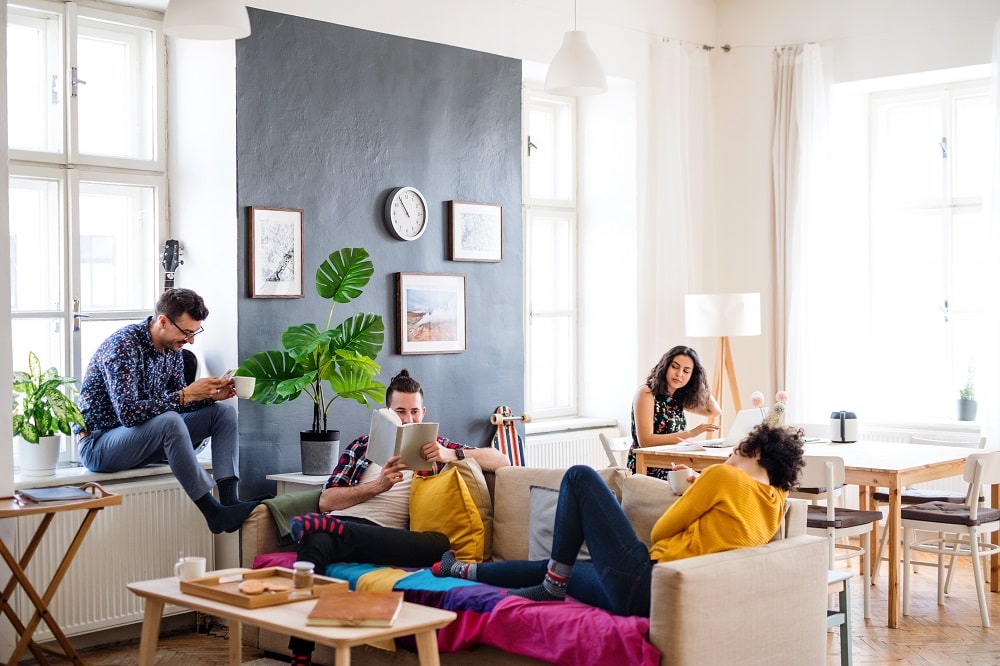 Going to college presents freedom, the ability to set yourself up for future success and staying up late eating a bag of flaming hot chips with chopsticks on the couch without a care in the world.
But when it's time to ditch the dorm and make the transition to off-campus living, that's when you've really got to dig in and channel your inner adult.
If you're not careful, moving out of the dorms into an off-campus apartment or house, which is supposed to be a tremendous experience, can turn sour real quick.
But if you take these seven tips and put them to good use, your off-campus living experience can be smooth sailing.
1. Choose Your Roommates Wisely
Freedom from the dorm life, and adult supervision, is a tremendous thing. But there are some people who handle it better and more responsibly than others.
While it may be a fun time rooming with someone who's always the life of the party (and likes to throw parties of their own), it'll get old and distracting after a while.
Choosing the right roommates is probably the most important decision you can make. You may not see it now, but great roommates who are respectable, clean up after themselves and focused on their academics can make life a lot easier for you — and influence you to do the same.
2. Find a Home With Reasonable Rent
You'll have plenty of time after college to fork over way too much money for rent each month or splurge on an updated apartment. College is not the time to do that.
Due to the influx of apartment buildings and places to live near college campuses, monthly rent in many college towns is typically cheaper than you'll see in your after-graduation days.
Take advantage of that cheap rent. You'll thank yourself for it later, especially if monthly rent money comes from scholarships, grants or student loans.
Now we're not saying opt for the cheapest, most rundown place you can find. But getting a four-bedroom apartment and sharing it with three others is going to be a whole lot more affordable than opting for that one- or two-bedroom home.
3. Read the Lease Carefully
You may be in a hurry to sign on the dotted line as quickly as possible to rid yourself of dorm life forever, but you should read through the lease carefully to make sure you fully understand it.
For instance, if you plan on going home for the summer and trying to sublet your room, make sure the lease allows someone to temporarily move in and take over your part of the rent.
If there are four roommates in the home and everybody has a car, you'll want to make sure the lease allows you have four parking spots in the complex.
Leases are typically bogged down by a bunch of legal jargon, so make sure you understand the termination policy, maintenance services and pet policy before you get in over your head.
4. Conduct a Move-In Walkthrough
Now that you're living off campus, there's that pesky security deposit. You want your security deposit back, don't you? You'll need to conduct a walk-through of your new home before you start moving everything in.
Take pictures and videos of every wall, door, mirror and appliance in the home. This documents the state it was in when you moved in so you can get your security deposit back when you move out.
If there's a stain on the carpet or scuffs on the wall, you'll want to document that damage from the previous tenants so you don't get charged for it.
Accidents happen, especially in college. Now we're not saying you're going to burn down the apartment with the cooking skills you're trying to hone, but don't sleep on your neighbors leaving the oven on all night after a long day.
If that happens and your apartment catches on fire, renters insurance can protect your personal belongings like your laptop, overpriced school books, clothes and any other electronics.
Renters insurance also provides liability coverage in case someone is dared to do something risky in your apartment and gets hurt because of it.
Depending on how much value you've invested in your personal belongings, you can get the perfect amount of personal property coverage. Have $5,000 worth of stuff (add in the value of all your clothes and school books), you need $5,000 worth of personal property coverage.
Maybe you're in organic chemistry, quantum mechanics and calculus this semester and your books alone totaled $3,000. You'll want to up your personal property coverage by that much as well.
The best thing about renters insurance is it usually costs less than $10 per month. That includes protection for all your personal property and usually $100,000 in liability coverage — you know, for that friend of yours who's always doing crazy stuff.

Get a Quote
6. Consider a Tenant Agreement
A tenant agreement may not seem necessary at first, but do you really want your security deposit to be used for the hole your roommate accidentally put in their bedroom wall? We didn't think so.
Tenant agreements are legally binding agreements that dictate which bills each roommate responsible for paying, how potential damage will be paid for upon moving out, leasing responsibilities and so on. It's an imperative piece of the off-campus housing puzzle that can help you tremendously when in place.
7. Pay Your Bills on Time
This may seem like a no-brainer, but paying bills on time is critical. Late payments typically come with extra fees, which you're legally obligated to pay.
Plus it could have a negative effect on your credit score, which you'll need in the future to secure loans, buy a home and maintain a good price on your insurance premiums.
Enjoying the Non-Dorm Life
After moving off campus, you'll have a lot more freedom since there will be no RA breathing down your neck, security checking curfews at the door or parental figures making comments about your every move.
But you'll need to be smart about your off-campus living situation in order to set yourself up for the future. Get a Quote
Compare multiple policies to get the coverage you need at the price you want.
Subscribe our news letter to get letest update.
Please enter email address.
Invalid Email Address.
Similar Articles