Home Improvement
/
9 Home Renovations That Aren't Worth It If You're Planning to Sell
9 Home Renovations That Aren't Worth It If You're Planning to Sell
313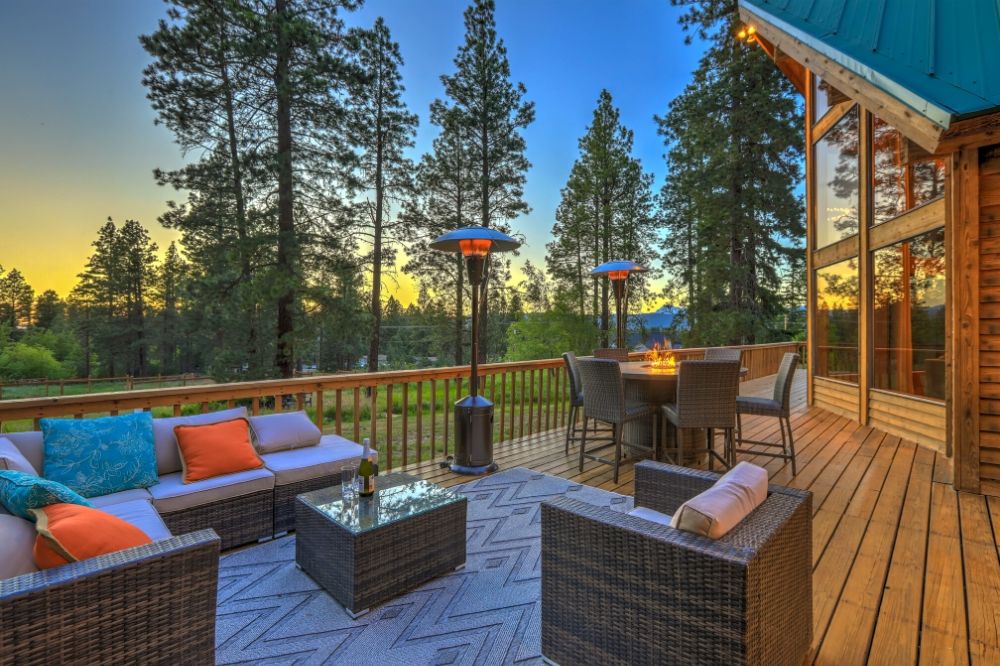 The thought races through the mind of nearly every homeowner: "we've got to do some renovations to get this place into selling shape!"
While you may not think your home is in selling shape, the new homeowners may be ecstatic with the features you have. Adversely, the renovations you make may not suit the new homeowners, and may actually deter them from buying.
So keep your money in the bank on the following nine home renovations because they're likely to dig you deeper into a financial hole than actually increase your property value or help to sell your home.
Decks are a severely underrated part of the summertime schedule, and having the right one can make your home the house of the party (if you even want that). But building a backyard deck is pretty expensive and won't appeal to every buyer.
It's just like the barbecue grill in your backyard. Maybe the new homeowners are more meat smokers than grillers. Maybe they want railings on the deck and you don't. The fact of the matter is that decks are an expensive addition and everyone likes them differently.
2. Landscaping Extensively
Sure, extensive landscaping can make your home look extraordinary! It may have passers-by doing a double-take, but the large cost may have you doing a double-take when it's time to sell.
Landscaping your home isn't cheap. And landscaping to the point of which you impress your fellow neighbors will be an enormous cost and project to undertake. So let's leave the landscaping to the new homeowners and let them get exactly what they want.
Just because you like the look and smell of gardenias in the springtime doesn't mean the people buying your home will. Put pollen into the picture and your new landscaping may actually be a deterrent to a homeowner with allergies.
3. Digging a Swimming Pool
Swimming pools are perfect for those sweltering summer days, but they aren't right for everyone. If you plan to move out of your home in less than five years, it may be best to skip the pool and take a dip in the local pool when you feel the urge to swim.
Pools can deter some homeowners, like those who have small children, and it can significantly increase the cost of homeowners insurance on the property. A good rule of thumb about pools is that if you're planning to leave, leave the swimming to the newcomers.
Sunrooms are pretty amazing. They keep bugs away during insect season, give you an outdoorsy four-season room and let in all that natural light you've been seeking for so long. But they're also one of the most expensive additions to any home.
Not even getting into any of the permits you must secure and additional living space you'll need to pay for in your home insurance policy, sunrooms typically tip the scale at around $50,000 per project — and you can assuredly not get back most of that investment.
5. Putting on Solar Panels
While solar panels are a tremendous long-term investment to conserve energy and save on your electricity bills, they typically take anywhere from 20 to 30 years to pay themselves off in reduced energy consumption.
Plus, if you put $30,000 worth of solar panels on your roof, the buyers may be wondering why you're asking $30,000 more than the house down the road. People aren't up to speed on the actual cost — and long-term savings — of solar panels, so it's best to leave this long-term investment up to the new homeowners.
6. Finishing the Basement
Finished basements are amazing for homeowners because they add a ton of living space. They can be converted into a space in the home that allows for a home office, workout room, pool room or endless possibilities.
But slow your roll if you plan on selling. As you probably already know, finishing a basement doesn't add a single square inch to the total square footage of your home. Plus finishing your basement could actually have a negative effect if it prices you out of the neighborhood.
Finishing a basement isn't cheap, and spending that extra $30,000 to complete everything could leave potential buyers scratching their head as to why you're asking $230,000 for your home and the neighbor only wants $200,000.
Plus if you're planning to move anyway, you may as well let the new homeowners come in and decide exactly how they'd like their finished basement to look after they've completed it themselves. The blank slate could actually garner a little more than Bob is asking next door.
7. Opting for Customizations
From wallpaper to floor tiles and Spanish roof tiles to asphalt shingles, renovating your home before selling may feel like a necessity, but there is such a thing as too much customization. If you put Spanish roof tiles on your home, which require much more care than asphalt shingles over the life of the roof, the new homeowners may not want to deal with them, or even like them.
The same can be said for painting the interior walls. It's better to go with muted colors, like white or grey, than to go all out and paint the living room blue with white and grey accents. It'll cost the new homeowner money in paint and they'll have to wait until the paint's done drying to move their belongings into the home.
So when you're remodeling for those new homeowners you haven't met yet, it's best to believe they're going to like plain Jane and John colors and features and let them make the essential house-to-home upgrades that make them feel comfortable.
Similar to the customizations, the style of renovations can seriously turn off potential homeowners. That late 1920's style may be all over the latest magazine covers, but that doesn't mean everyone will adhere to the trend.
Aside from marble countertops and the best tile floors, renovating the bathrooms, bedrooms and kitchen to the chic high-end side of the spectrum can make the homeowners want to buy the house more, but it may not make them want to buy it for more.
When you're doing renovations and plan on selling your home in less than five years, it may be best to opt for middle-of-the-road upgrades and appliances so you can keep more of that money in your pocket for your next place.
While there's no right or wrong way to improve your home for resale, the things on this list will likely be the most expensive home upgrades with the least payoff. We're not suggesting to pinch pennies on upgrades that may not look as well, but it's always best to determine the cost-benefit analysis before starting upgrades. Get a Quote
Compare multiple policies to get the coverage you need at the price you want.
Sign up for our newsletter to get the latest updates.
Please enter email address.
Invalid Email Address.
Similar Articles