Commercial Property
/
Rolling into the Food Truck Business with the Right Insurance
Rolling into the Food Truck Business with the Right Insurance
1.6K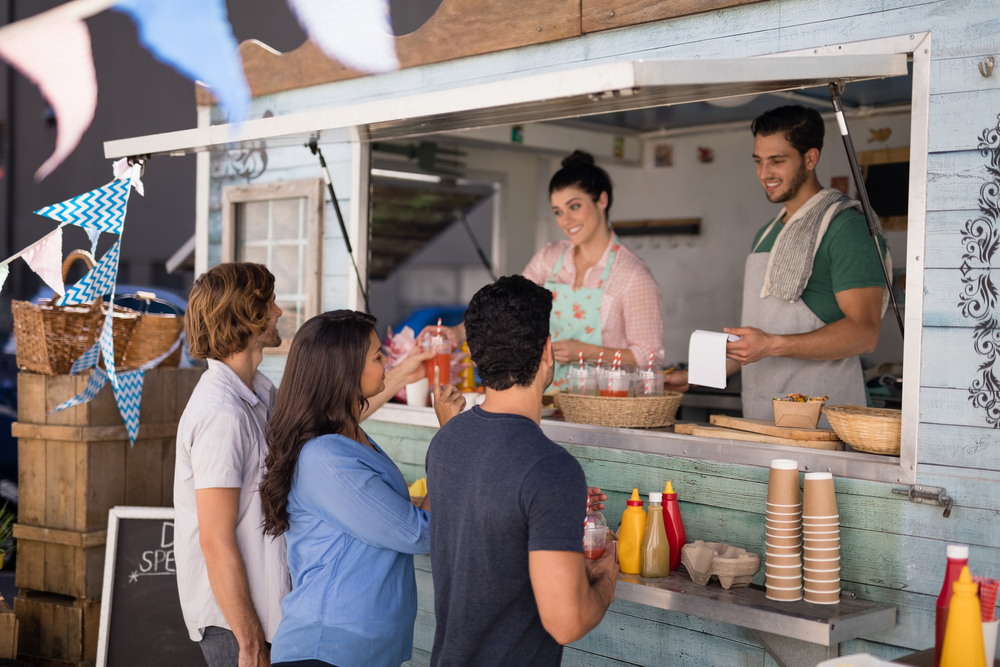 So you're thinking about getting into the food truck business?
Handing a perfectly concocted, equally salty and savory meal down to your first customer through the sliding window may seem like it's just within reach.
But, for your business to truly thrive on all four cylinders, it's about more than tuning up a truck, grabbing a mobile-payment device and taking to social media to disclose your location to the world.
You're going to need insurance. And you may need lots of it. Although buying a food truck is much more affordable than opening your own restaurant, many of the same risks still apply.
You need coverage for everything from foodborne illnesses to property damage, food loss, theft and even lost wages or medical expenses for employees and yourself.
As a food truck owner, your insurance options are many. Choosing the right policy is pivotal to the growth and protection of your business. Let's weigh your options. There are four types of coverage you'll need, so let's look at each:
Commercial Auto Insurance
It's not easy to maneuver those big rigs through traffic, around tight turns and in parking lots. Your food truck needs to be protected every step of the way — on the road and while you're sitting stationary.
Regardless of who's at fault during an accident, it's important to ensure you're covered for damage and injuries to everything and everyone involved. By purchasing commercial vehicle insurance, you're protecting your food truck against the following:
Collision coverage helps pay repair or replacement costs if your food truck is damaged due to an accident, which could involve another vehicle, fence, tree, pole or many other things you may unintentionally run in to.
Property damage is a form of liability coverage that helps pay for damage you've caused to another vehicle or someone's property.
Comprehensive coverage picks up the bill if your food truck is damaged in an incident not due to a collision, such as hail, fire, a fallen tree or vandalism. Speaking of vandalism, it also helps pay repair or replacement costs if your food truck is stolen.
Personal injury protection is part of an auto insurance policy that covers medical expenses and sometimes lost wages, regardless of who's at fault.
Bodily injury pays costs for other people involved in a vehicular accident when you're legally responsible. It also provides legal defense if you face a lawsuit.
Medical payments coverage will pay for your medical bills, funeral expenses and sometimes injuries to passengers involved in the accident, regardless of who's at fault.
Uninsured or underinsured motorist coverage falls under both damage and injury. When an accident wasn't your fault, but the responsible party either doesn't have insurance or is vastly underinsured to cover all expenses, this coverage is your saving grace. It'll cover costs to repair or replace your food truck and pay medical bills associated with the accident.
Outfitting a food truck can get relatively expensive. You may think your grill, fryer, fridge, freezer and other materials are covered by commercial vehicle insurance. Unfortunately, they aren't. They're not considered part of your food truck, so you're going to need extra coverage for all the things that keep your business cooking smoothly.
Nobody hopes bad things happen. It's always good to be prepared in the event they do occur, though. Foodborne illness falls in that category. It's one of the most devastating negative results of the food industry, and it strikes without warning.
Even if you maintain the cleanest work station in the world, there's a still chance somebody gets sick from your food. Whether it's a foodborne illness or an allergy relating to peanuts, dairy or gluten, it's better to be safe than sorry.
Liability insurance also protects you against lawsuits derived from the above incidents — and legal expenses caused by a vast variety of things like bodily injuries, property damage, copyright infringement and other matters that have the potential to bankrupt any small business owner.
Workers' Compensation Insurance
A self-explanatory, but oftentimes neglected insurance coverage is workers' compensation. It covers your employees' medical bills, lost wages and lawsuit expenses if they're hurt on the job. If you don't have any employees, you may not need coverage.
Insurance premiums for your food truck could begin piling up very quickly. It's important to keep in mind that location, make and model of your vehicle, driving history and other key elements factor into your overall premium. Get a Quote
Compare multiple policies to get the coverage you need at the price you want.
Sign up for our newsletter to get the latest updates.
Please enter email address.
Invalid Email Address.
Similar Articles