Homeowner
/
15 Steps on How to Prepare Your House for a Hurricane
15 Steps on How to Prepare Your House for a Hurricane
1.8K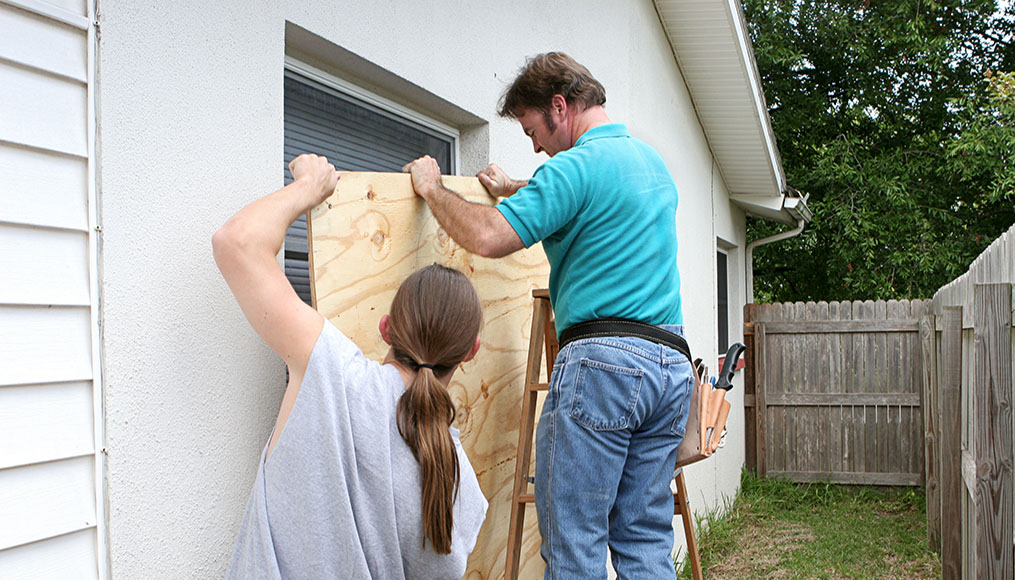 Preparing your home for a hurricane is the best way to help prevent the need to file an insurance claim after the winds die down and the rains dissipate.
But if you wait to prepare your house when the hurricane is already bearing down on your area, you've already waited too long. The best hurricane preparedness list for homes is put into action months in advance.
Since the United States' Atlantic hurricane season begins on June 1st each year, it's best to begin preparing your home for a hurricane around that time each year.
How to Prepare Your House for a Hurricane Months in Advance
It's important to take the proper steps to protect your biggest investment well before a hurricane even has a possibility of striking. This will give you ample time to check everything and then make repairs before any danger is imminent.
1. Review Your Insurance Coverage
Reviewing your home insurance policy is probably the single most important item on your home hurricane preparedness list. Check to see how much you have in coverage and what your hurricane deductible is months before a hurricane is set to hit.
This will give you enough time to evaluate whether you need more coverage or you're well protected. You may want to reduce your hurricane deductible, which works a little different than a normal deductible.
Hurricane deductibles are a set percentage of your overall home coverage. So if your hurricane deductible is 5 percent of your $250,000 dwelling coverage, you'd have to fork up $12,500 for a hurricane claim before your insurance company picks up a single penny.
It's also extremely important to realize that flooding is not covered by home insurance. You'll need to purchase a separate flood insurance policy, which is usually a lot cheaper than homeowners insurance. Flood insurance takes at least 30 days to go into effect, so buying it as soon as possible is crucial.
It's also important to gather all your insurance documents and keep them in a safe place, including a waterproof and fireproof container if it's feasible.
2. Document Home Possessions
While we really hope you and your home remain OK through the hurricane season, it's important to go through your home and document your items well before a hurricane hits. This allows you to refer back to items and their value should they be damaged or destroyed in a hurricane.
We recommend taking pictures of each item so you can prove you had it and the condition it was in before the hurricane. If you have receipts, take pictures of those and keep the hard copies in a waterproof box for safe keeping.
3. Buy a Generator or Test Yours
If you've lost power before, you know how terrible it can be. The lack of electricity makes everyday living essentials, like cooking and cleaning, really tough to do. Candles will give you light, but generators will provide you power and the essential living tools to make getting through the storm a little easier.
Buying a generator during sales will help you save a ton of money on last years' models. Plus, you'll have enough time to figure out the generator before a hurricane hits. You'll want to turn on and test your generator a few times per year to keep it in good running condition.
If a hurricane hits badly enough, gas stations will be closed with no gas to sell. It's imperative to make sure your generator has enough gas — and gas reserves on hand — to last a few days. The average 5,500-watt generator can typically run a full eight hours with 5 gallons of gas.
If you have impact-resistant windows and doors, you may be able to skip this step. They should hold up just fine against heavy winds, but may not be able to stop flying objects from breaking through.
The best way to prepare your windows and doors is to purchase and install storm shutters. They can be expensive, though, so opting for a plywood alternative is going to be much cheaper. If you're going the plywood route, make sure you buy marine- or exterior-grade plywood at least five-eighths of an inch in thickness.
5. Test Drains and Sump Pumps
Sump pumps and drains can be the primary level of defense against those intruding flood waters. It's imperative to make sure all drains and sump pumps are working properly to deter water from entering your home.
Keep in mind that this kind of flooding is usually not covered by home insurance, so you may want to look into buying a flood insurance policy to err on the safe side of the storm. Check the batteries in each and make sure you have spares ready to go before hurricane season hits.
6. Check for and Repair Roof and Foundation Issues
The roof is the most vital piece to protect the rest of your home. If it has leaks or is in bad shape, a hurricane could make things a lot worse and very quickly. Make sure all shingles or tiles are firmly secured and staying in place.
If you need to replace your roof, it's smart to do it months before hurricane season so everything is ready to go when the storm hits. Be sure to check out our Roof Selection Guide to find the right roof for your home.
The foundation of your home is the most likely place to allow flood waters to seep in and damage everything on the ground level of your home. Walk around your home and check for any cracks or damage in the foundation. If you find any, seal them with the proper material.
If you can go inside your attic, check to see if there are metal roof straps attaching the beams. If there are, you're likely good to go. You may still want to check the structural integrity of each. If you don't have roof straps, you can add them about $500, which will pay dividends to make your home more secure.
8. Create an Evacuation Plan
If an evacuation order is in place, you should evacuate. You can replace your home and belongings if they get damaged or destroyed, but you can't replace your life. The good thing is that doing everything on this list can help greatly reduce the chances of damage or destruction.
Knowing how many days in advance you'll evacuate, where you'll go, which route to take and what you'll bring with you is crucial. Everybody's evacuation plan is likely a little different, so be sure to create one and discuss it with family and friends months before a hurricane.
This plan includes all of your pets. If you have pets, take them with you. You can either find a shelter outside of a hurricane zone they can stay at while you remain evacuated, stay at pet-friendly accommodations or take them with you to a friend or family member's home.
9. Create a Hurricane Essentials Inventory
Creating a hurricane essentials inventory is crucial if the power goes out for days or weeks. This inventory includes a stockpile of water bottles, canned and non-perishable foods, first aid kit, batteries, candles, flashlights and many more items.
Check out our Hurricane Safety Checklist for a more detailed look at everything that should be on your list. You should buy these items months in advance because they're the first things that are sold out within weeks of a hurricane strike.
How to Prepare Your House for a Hurricane Weeks or Days in Advance
While preparing your home for a hurricane begins months before landfall, there are certain things you may have to wait to complete until you know exactly what dates the hurricane could hit your area.
10. Find Water, Electricity and Gas Shutoffs
While this task should be one of the first things you do when you move into your home, it's especially important to do in the days and weeks leading up to a hurricane. If the power goes out, you'll need to switch each off to make sure the storm doesn't surge and damage them. Also, if you plan to evacuate, remember to shut off all of these before you leave home.
11. Prepare Windows, Doors and Garage Door
If you're taking this list to heart, then you've already purchased storm shutters by the time you get to this point. This is the part when you install those storm shutters or cover your windows, doors and garage door with that strengthened plywood you bought.
12. Trim Trees and Shrubs
Trimming trees and shrubs, especially any that hang over your home or are within falling distance of your home, is an extremely important task. This will prevent large limbs from falling on and damaging your roof. It'll also prevent your gutters from getting clogged with leaves and limbs.
Tie down any small trees in the days leading up to the hurricane's arrival, too. This will help prevent the trees from being ripped out of the ground by their roots.
Clogged gutters can cause costly leaks through the walls of your home. Cleaning and unclogging the gutters weeks or even days before a hurricane is set to hit can be one of the easiest ways to prevent damage to your home.
A hurricane doesn't have to be extremely powerful to whip leaves and twigs around, drop tons of rain and clog gutters. So it's imperative to make sure your gutters are pristine and spotless before a hurricane hits.
14. Move and Anchor Outside Objects
Chances are good that you have patio furniture and many more things nonchalantly sitting outside of your home. Smaller, lighter objects should be moved indoors and larger, heavier items should be tied down or anchored outside to prevent them from moving and, potentially, flying through your home's windows.
15. Turn Freezer and Refrigerator to Coldest Setting
This is more of a hack that not many people realize. Turning your refrigerator and freezer to the coldest settings possible will help keep your food good for longer if you lose power. If you can, try to keep them both closed while the power is out, too. This helps keep the cold air secured inside and makes your food last longer.
Similar Articles