Claims 101
/
5 Tips to Protect Yourself & Your Belongings While Traveling
5 Tips to Protect Yourself & Your Belongings While Traveling
1.4K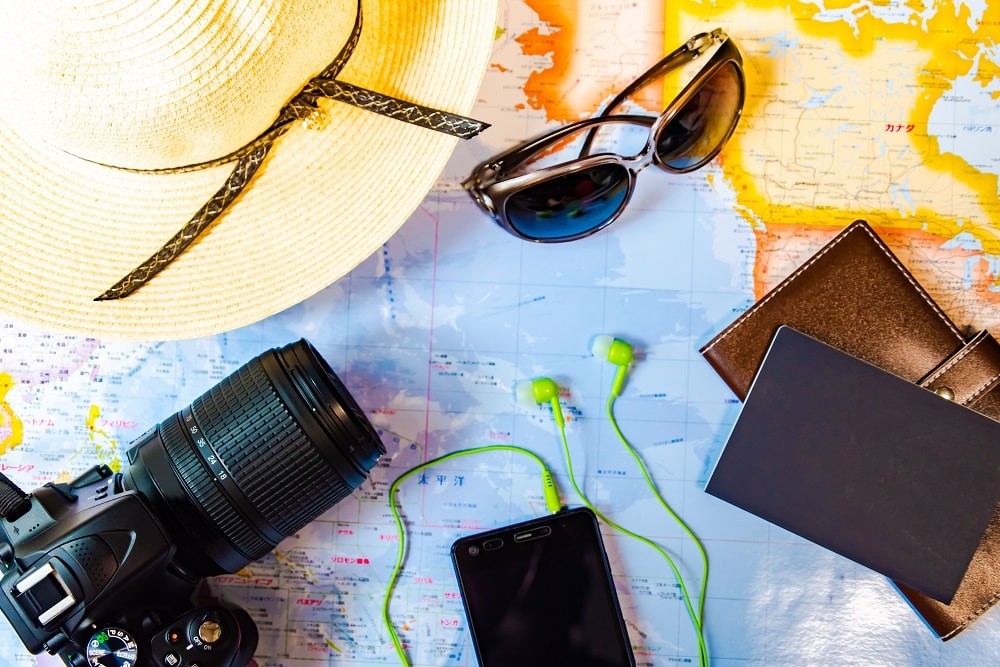 With the influx of home-sharing, ride-sharing and budget airlines, traveling has never been more accessible and affordable than in the modern era.
But just because travel is more accessible and affordable than it used to be, doesn't mean that every facet is as safe.
When you're traveling, you still want to take precautions to assure that you and everything you bring with you stays safe through the length of your vacation.
These five tips will help protect yourself and your belongings whether you're traveling abroad, close to home or somewhere in between!
Did you know your home insurance policy can extend coverage to your personal belongings while you're away from home on a trip?
Yup, homeowners and renters insurance policies have many a claim to people who have had their personal belongings stolen, damaged or lost while on vacation.
The personal property portion (Coverage C) of your homeowners or renters insurance policy covers your personal belongings (like laptop, headphones and digital cameras) against theft, vandalism and loss — at home and while you're traveling.
Your coverage limits will remain the same, which will likely be more than enough coverage since you won't be lugging around your furniture and TVs on vacation.
For jewelry, it's important to schedule each item if you're traveling with expensive pieces. It'll on add a few bucks onto your policy each month, but it's well worth the few bucks you'll pay to ensure your jewelry.
You'll want to keep a list of everything you're bringing along with you, and try to keep receipts in a safe place at home to prove the value and that they're actually yours.
If your possessions are stolen, you'll want to file a police report as soon as possible.
If you don't have time to file because you're leaving the area and can't be late for your transportation, let the front desk or someone in charge know what happened. Your home insurance company may use them as a reference to prove what happened.

Get a Quote
If you're heading abroad or more than 100 miles from home and you're concerned about unexpected injuries, travel delays or stolen travel documentation, you may want to consider purchasing travel insurance.
If you already have home insurance protecting your valuable personal belongings on vacation, travel insurance just doubles down on that coverage.
It also provides medical, dental, emergency evacuation coverage and offers protection for canceled, interrupted or delayed trips.
It's a great way to ensure you and your belongings stay safe on the road. We always recommend looking through the policy before purchasing so you're familiar with the coverage and break through all the fine print.
In many cases, travel insurance is a great thing to buy when traveling abroad because your home and health insurance policies may not extend coverage to you and your belongings while visiting foreign countries.
3. Carry Your Items Instead of Storing Them
The easiest way to prevent items from being stolen from your hotel room is to carry them with you! Never leave valuables like credit cards, IDs or cash in the hotel room because everyone on the hotel staff has access to your room.
While we hope everyone has good intentions, that's just not the case. Even keeping these items on your person instead of in your luggage helps prevent items from being stolen from your luggage.
When you're in hotels, airlines and entities like that, your home insurance may not cover your belongings because they're in possession of a third party.
Hotels and airlines will also not be held responsible for your belongings if they're stolen, damaged or lost in their possession.
There's nothing worse than something bad happening that could've been prevented. If you want to keep your belongings safe while traveling, it's important to get the right gear to carry and protect your belongings.
Invest in lockable luggage or two-zippered luggage that you can place a lock through. This prevents people from being able to open the pockets of your luggage and sneakily take your valuables. It keeps everything inside your bag safe when it's with you.
Money belts may also be a good idea to prevent pickpockets from getting away with your wallet and everything in it. They go around your waist and typically under your shirt, so nobody can access it except for you.
Going a step further to get one with RFID protection is crucial so your credit card info can't be stolen with technology.
Getting the right gear also applies to creating locks on your phone and passwords on your computer that people can't easily guess.
Since it's a good idea to keep photos of your ID and passport on your phone during a trip, this will protect all your personal data and information if something does happen to your phone or computer.
5. Bring Only What You Need
If you're going on a quick weekend trip and are only planning to check your email once, is it really worth bringing your laptop with you?
Probably not. Those emails can wait till you get home, so you don't have to bring your laptop and risk having it stolen, damaged or lost during your vacation.
The best way to protect your things while traveling is to leave them at home. They'll be safer there than on the trip with you because you negate all those unfortunate circumstances from occurring.
This applies to cash, too. There are ATMs all over the world now, and many banks offer cards without fees, so you can take out a day's worth of cash at a time instead of taking out a trip's worth of cash and worrying about where to put it to keep it safe.
Don't get us wrong, traveling is safe more often than not. But if you take all these tips with you on your vacation, you'll cut down the margin for error that resides on the road! Get a Quote
Compare multiple policies to get the coverage you need at the price you want.
Sign up for our newsletter to get the latest updates.
Please enter email address.
Invalid Email Address.
Similar Articles