Commercial Property
/
5 Ways to Prevent Slips, Trips and Falls at Your Business
5 Ways to Prevent Slips, Trips and Falls at Your Business
1.5K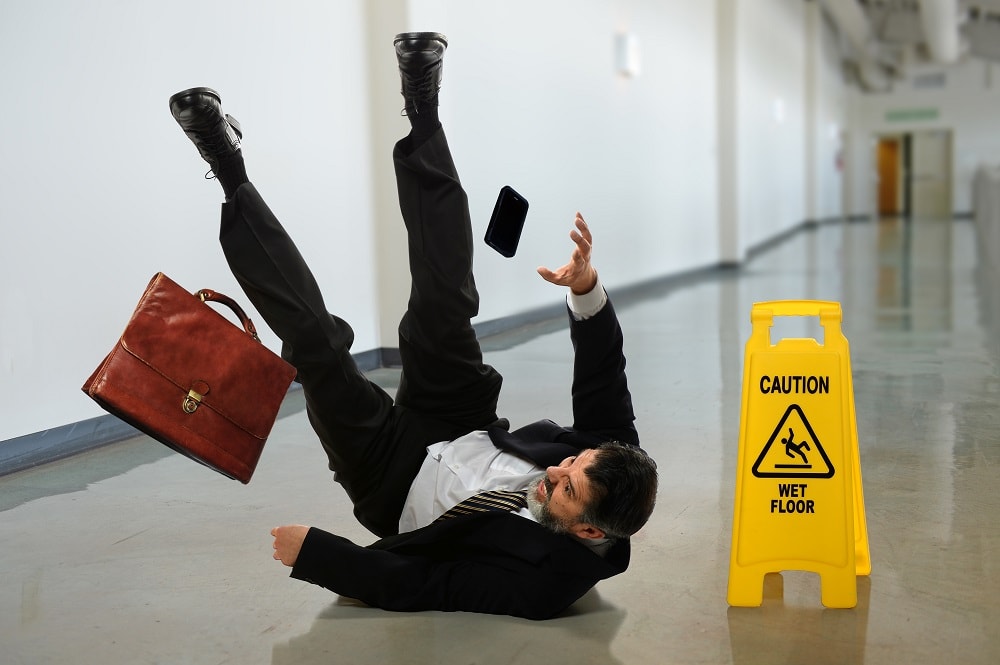 As a business owner, one of your primary concerns should always be keeping employees and customers safe on your property.
Not only does reducing tripping hazards create a safer environment, but it can help you avoid a slip and fall lawsuit as a business owner.
In most cases, slip, trip and fall scenarios are accidents you may become liable for. The best way to manage them is often to prevent them in the first place and consider investing in slip and fall insurance as a backup plan.
To help, we're covering five easy ways you can help prevent slips, trips and falls at your personal business and why you might want to consider enrolling in slip and fall insurance, too.

Get a Quote
Avoiding a Slip and Fall Lawsuit for Your Business
Despite being an accident that neither you as business owner or the potential victim planned for, slip and fall accidents can be both extremely dangerous and costly.
From a freshly cleaned floor to a slippery surface after a rainstorm, here are five ways you can work toward slip, trip and fall prevention before they occur.
1. Keep Warning Signs on Display
In this case, the most common solution is one of the best. You should always have a sign available at your business to help denote when a floor is wet or has become slippery.
Whether it's been cleaned recently, or customers are accidentally tracking rain in from outside, a brightly colored sign will help identify a slippery floor as a tripping hazard to help prevent someone from hurting themselves at your business.
Keeping a warning sign on display can also be a key factor in helping you win a slip and fall lawsuit if your business is sued due to an injury.
2. Make Sure Walkways Are Well Lit
If people can't see that a surface has become dangerous, they may never know to avoid it or to tread carefully.
Ensure all walkways in your business are well lit to avoid accidents and a potential lawsuit as a result of limited visibility.
3. Install a Security System
Installing a security system can help you avoid an unnecessary slip and fall lawsuit in more ways than one.
Not only will it serve as evidence in the event that an accident does occur, but as a business owner, you can use a camera security system to help monitor walkways and public spaces on your property.
You may become more aware of heavily trafficked areas that need better lighting, or potential tripping hazards you didn't know existed.
4. Require Non-Slip Footwear for Employees
Depending on the kind of business you run, you may want to consider requiring proper footwear for your employees.
If you know certain surfaces are more likely to become wet and slippery, requiring employees to wear shoes that provide better support and traction can help avoid an accident before it happens.
Requiring footwear is especially common in the restaurant industry, where spills are fairly common and slips can become disastrous.
5. Schedule Regular Inspections
More than anything else, you should schedule regular inspections of your business property to make sure the building and surrounding areas are safe for the public.
Having a professional examine your business and look for areas that may be more dangerous may help you identify hazards you weren't otherwise aware of, including uneven walkways, cracks in the flooring, and wet surfaces.

Get a Quote
Slip and Fall Insurance for Small Business
You've done your due diligence and made a committed effort to preventing slip and fall accidents at your business – but accidents can still happen.
In order to protect both your business and the people who visit your property, it's important to have slip and fall insurance for your company in case you're ever involved in a lawsuit with an employee or a customer.
You can't be everywhere all the time, and having proper coverage can help give you peace of mind that your business will be protected in the event of a slip and fall lawsuit.
Similar Articles