8 Pros and Cons of Independent Insurance Agents
Insurance 101
/
8 Pros and Cons of Independent Insurance Agents
When you're shopping for insurance, the very first thing you have to decide is how you're going to shop. Will you buy directly from an insurance provider online, or will you go through an agent? If you decide to use an agent, should you choose an independent agent or a captive agent?
In this guide, we'll explore one of those options in-depth as we go over the biggest pros and cons of independent insurance agents.
What Is An Independent Insurance Agent?
An independent agent is someone who writes insurance but doesn't work for a particular insurance provider. Independent insurance agencies are their own businesses, separate from any carrier, and they can access policies from multiple providers they have connections with. 
5 Pros of Working With An Independent Insurance Agent 
There are many benefits to working with an independent agent vs. a captive agent, from a wider variety of coverage options to having an unbiased guide through the murky waters of the insurance world. Let's look at some of the best reasons to find insurance through an independent agent. 
1. More Policy Options With Less Hassle 
When you shop through an independent insurance agency, you'll put in your personal information one time and get a wide selection of policies from different insurance providers. If you were to look for insurance by yourself online or work with a captive agent, you would have to go through the quoting process over and over again to compare options from different providers. 
Since independent agents aren't limited to one provider, they can find you the best coverage at the lowest premium. When you work with a captive agent, they can only offer policies from the provider that employs them, even if there are lower rates out there from someone else. 
Independent agents don't care which policy you buy. They simply look for the best policy for your situation, and that's the one they'll suggest to you. They can walk you through the reasons one option might be better suited for you than another, without an ulterior motive. 
Captive agents, on the other hand, are more like a sales team for their employer. As with any sales team, they may be required to promote certain products offered by the company they work for. 
4. Ability to Switch Providers and Keep the Same Agent
Insurance rates are constantly shifting. When it comes time to renew your policy, your agent can help you shop around to see if you could get the same coverage for less money from a different provider. With an independent agency, you can continue working with the same agent even if you decide to switch providers. 
5. Tailor-Made Solutions for Unusual Circumstances 
Because independent agents offer their customers more options than captive agents, they're usually the better option for homeowners, drivers, or other customers with unusual circumstances. 
For example, if you have a low credit score, a bad driving history, or another issue that drives up the cost of insurance, an independent agent is your best option for finding a policy that gives you enough coverage without breaking your bank. With a captive agent, your choices would be more limited, and you might end up paying more for the same amount of coverage. 
3 Cons of Working With an Independent Insurance Agent 
There are also some downsides to working with an independent agent. It's up to you to weigh the pros against the cons and decide what kind of insurance shopping experience seems like a good fit for you. Here are the biggest reasons not to work with an independent agent. 
1. Unfamiliar Insurance Providers 
The largest insurance companies – names like Geico, Allstate, and State Farm that you know and trust – usually have their own captive agents and don't work with independent agents. An independent agent is more likely to connect you with a smaller insurance company, maybe one you've never heard of. 
It's important to note that bigger doesn't always mean better, and the size of an insurance company isn't enough to judge its quality. However, some people may be uncomfortable purchasing a policy from a provider they aren't familiar with. 
Local independent insurance agents are usually available only during office hours. This makes sense since independent agencies are typically small businesses that can't have someone manning the phones round-the-clock. What that means for you, though, is that if something happens with your insurance after-hours or on the weekend, you're on your own. 
Availability isn't a problem with online independent agencies like Clovered. You can get quotes and sign up for a policy from your own home, at your own convenience, and our agents are standing by to assist over the phone, through email, or through our live chat feature. 
3. Less Expertise on Specific Policies
The good thing about captive agents working for a single company is that they undergo training on that company's policies and procedures. Again, like any sales agent, they're expected to know every detail about every product their company offers. 
Independent agents are stretched a little thinner because they work with multiple providers, and in some cases, there may be a few gaps in their knowledge about how a provider operates in a specific scenario. 
How Do Independent Insurance Agents Work?
When a customer (such as yourself) comes to an independent agency for a quote on insurance, the agency asks for personal information such as your address, the size and age of your home, what kind of car you drive, or your auto accident history. The agency uses that information to match you with policies from a variety of insurance providers that they think would best fit your needs and budget. 
Then, you choose which provider you want to go with and purchase your policy. When you purchase a policy from an independent agent, the agent receives a commission from whichever provider you choose.
What Is a Captive Insurance Agent?
A captive insurance agent is essentially the opposite of an independent agent. Captive agents work for one specific insurance provider – such as Geico or Allstate – and they can only access policies from that one provider. Captive agents are usually either employed by their insurance company directly, or they work as independent contractors. Like independent agents, captive agents usually work on commission. 
How to Find an Independent Insurance Agent
Good news! You've already found one. Clovered is an independent insurance agency that works with more than 20 different providers to help customers find the best homeowners, auto, renters, flood, condo, landlord, boat, or RV insurance for them. With our online quoting tool, you can compare and purchase insurance policies in just a few minutes.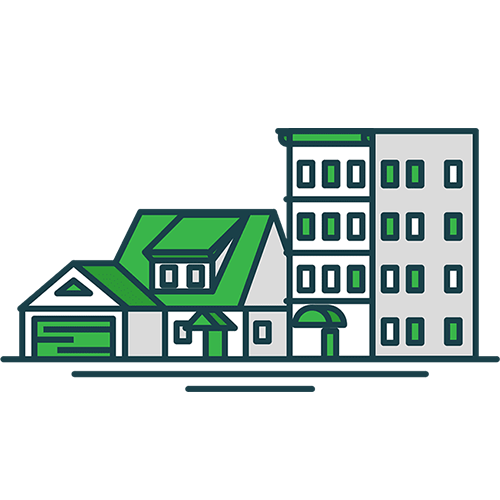 Home Protection Is Just a Click Away
We partner with the nation's top home insurance companies so you can get an excellent policy at an affordable price.
The editorial content on Clovered's website is meant to be informational material and should not be considered legal advice.
Similar Articles
5 Min Read