If you talk to any recreational vehicle (RV) or travel trailer owners and enthusiasts, they'll probably tell you that a home on wheels beats taking a flight, renting a car and staying in a hotel. Plus you get to see more of the country in the process.
But what about your insurance needs? Since all RVs aren't created equally, can a single RV insurance policy suffice for your coverage? Just like any insurance policy, RV insurance must be customized for your specific needs. Let's take a look at everything you need to know.
RV insurance is a type of policy that protects a wide variety of recreational vehicles Class A, B or C models, such as luxury drivable coach models, converted camper vans and travel trailers. RV insurance is designed to protect both part-time and full-time RVers, van-lifers or pull-behinders.
Class A

: These are the largest form of drivable RVs, typically flat-faced, up to 75 feet long and able to live in comfortably full time.

Class B

: These are the smallest kinds of campers, most well known for van life and being able to double as a daily driver.

Class C

: These are mid-size RVs, usually defined by a truck- or van-like front end, that are a bit more spacious than Class Bs.

Travel Trailers

: These are larger pull-behind campers, usually at least 10 feet in length, that can be hinged on by a trailer hitch or within a truck bed.

Truck Campers & Pop-Ups

: Truck campers fit in the bed of a truck, usually containing an over-cab structure, while pop-ups are pulled behind in a compressed fashion and set up at the campfire.
What Does RV Insurance Cover?
RV insurance is similar to auto insurance in that it covers damage to your recreational vehicle and other vehicles involved, as well as medical expenses to any affected party, if you're involved in an accident. Depending on the type of coverage you need or what may be required by your lender, you can choose between liability and full coverage, with an option to add coverages for things like roadside assistance, towing & labor, and vacation liability.
RV insurance provides coverage for Class A, B & C motorhomes as well as travel trailers, fifth wheel campers and pop-up campers. You can also choose between coverages designed for part-time or full-time use.
However, depending on your auto insurance policy — and your vehicle's towing capacity, your daily driver's liability coverage may transfer to travel trailers and pop-up campers that you pull behind it. So you may already be covered if your pull-behind unit causes damage to someone else's vehicle, but that coverage may not protect your pull-behind unit from the damage it sustains.
Also similar to auto insurance policies, the following coverages can apply to recreational vehicles:
This is designed to pay for medical bills for those parties involved in an accident if you're at fault. It's broken down into two categories: per person and per accident. So if you had $25,000 per person and $50,000 per accident, your policy would max out at those numbers.
If you were involved in an accident with a vehicle carrying four people and they all had somewhat serious injuries, that minimum coverage may not be sufficient. If each person had $15,000 worth of medical bills, your policy would pay for each, but it would max out at $50,000 for the accident, leaving you to pay $10,000 out of your own pocket.
Property Damage Liability
Similar in a sense, this pays for repairs to any vehicle or property you were in an at-fault accident with. So if your rig hit and totaled a car valued at $30,000, your insurance would likely pick up the tab for the vehicle. However, if you hit and totaled another RV that was worth $100,000, you'd be legally responsible to pay the remaining $50,000 out of your own pocket if you didn't have full coverage.
Furthermore, that basic property damage liability leaves your own RV uncovered. So you'd have to pay for any repairs to it out of your own pocket as well. That's why the state minimum coverage should be used as a guideline and not a hard-and-fast rule of how little coverage you should have.
A lender's best friend, this goes toward paying any damage sustained to your RV if you were in an accident. It also doesn't matter if the accident was your fault or not, collision coverage can kick in to both repair your RV and replace the many belongings inside.
Collision coverage is a bit different for an RV than a car because RVers tend to have more personal belongings inside their rig, the RV is likely worth much more than a vehicle and they tend to not depreciate as quickly. That's why you have the choice to enroll in personal effects replacement and total loss replacement coverage.
With personal effects replacement coverage, your policy could reimburse you for personal belongings you keep inside your RV, such as TVs, computers, clothes and cooking equipment. A policy typically has $5,000 in coverage, but you can extend your coverage with some companies up to $100,000 through an endorsement.
With total loss replacement coverage, your RV is fully protected for a longer period. It's designed to pay for a new or comparable model and value RV if yours is totaled within the first four years on the road. If it's totaled between years five and seven, it will reimburse you for either the actual cash value or original purchase price. And after year seven, it will factor in depreciation and reimburse you the RV's actual cash value.
Comprehensive coverage helps with damage caused by natural disasters, such as hurricanes and tornadoes, as well as other events that are entirely out of your control, like theft and vandalism.
So if you're rolling through Florida as a hurricane arrives, sending debris and trees crashing down on your RV, comprehensive coverage can help pay for the damage they cause to your RV, such as awning damage or a sideswipe that causes water leaks. Or if you're suddenly caught in a flash flood in southern Utah, your RV's comprehensive coverage could also help for those expensive damages.
Medical Payments Coverage
This is designed to cover the medical bills of anyone in your RV if you're involved in an accident — whether you're at fault or not. So if you accidentally run your RV off the road and one of your passengers needs medical attention, your policy could pay for their bills.
Uninsured/Underinsured Motorist
This coverage is used to pay for medical bills for anyone inside your RV and any damage to your RV if you're involved in an accident that wasn't your fault and the other driver doesn't have sufficient auto insurance coverage to cover the claim.
Let's say your RV is $75,000. Many drivers will certainly not have enough property damage liability to repair your rig if it's totaled. Plus even the cosmetic damage, such as delamination of roof damage, to RVs could easily tip the scale at tens of thousands of dollars.
Let's say your $75,000 RV was hit and sustained enough damage to be considered totaled. If the other driver only has $30,000 in property damage liability (many states legally require much less), that means there's another $45,000 floating in the air. Sure, you could sue the other driver for the money, but that will take years and you may never get it.
But that's why states require this type of coverage for your RV. After their policy determined they'd pay $30,000 for the damage to your rig, you'd then file a claim against your insurance for the other $45,000. That's why you have insurance in the first place.
If you run into an emergency while on the road — one that doesn't involve getting in an accident — this optional coverage will help cover those expenses as long as the incident occurs at least 50 miles away from your primary residence. This 24-hour service can help with blown tires, empty fuel tanks, jumpstarting your rig and much more.
If your RV breaks down, hopefully not in the middle of nowhere, optional towing and labor coverage can save you a boatload of money by covering the cost of towing, labor and even short-term lodging and alternate transportation, such as a rental car.
This optional coverage provides protection for your rig if you're at a site that's being designated as a living premises, such as an RV resort or free campground — even if you're living in it full time. Your policy will typically provide up to $10,000 for damage that occurs.
How Does RV Insurance Work?
RV insurance works by protecting you from spending out-of-pocket expenses if you're involved in an accident or another incident, such as vandalism or vehicle theft. If something happens to your RV, you'll file a claim, an adjuster will meet with you and your policy, depending on its comprehensiveness, will then help pay for repairs to your RV and other vehicles, medical bills for any injured parties and even your personal belongings kept inside the RV.
After filing a claim, your policy will either pay you or reimburse you for the damage up to your policy's maximums.
Let's assume you have $50,000 in collision coverage to protect your RV, as well as $50,000 per person and $150,000 in bodily injury liability coverage to protect anyone who may have been injured. Now let's say your RV is worth $50,000 (you should always be fully insured for the value of your RV).
If you cause an accident that totals your RV and sends people to the hospital, your RV insurance should be there to help you. It will reimburse you up to $50,000 for your RV, up to $50,000 per person for medical bills and legal expenses and up to $150,000 per claim for total medical bills and legal expenses.
RV Insurance Coverage Options
RV insurance varies slightly from auto insurance because RVs can be full-time residences. Depending on your insurance carrier and your personal situation, you may be required to purchase a more specialized policy to offset the risk of living and traveling in an RV full time.
Part-Time RV Insurance: if your RV is only used part-time and you have another full-time residence, standard RV insurance should cover your rig. It'll protect your RV whether you're driving down the open road, you've set up shop at a campground or it's parked in your own driveway.
Full-Time RV Insurance: If you live in your RV full time, you're statistically more likely to file a claim since you'll be driving it more and probably have more belongings inside. In this instance, you may be required to purchase a full-time RV policy, which will likely be a bit more expensive.
How to Get an RV Insurance Quote
With Clovered, it's easy and quick to get an RV insurance policy. Simply enter some details about your rig in our online quoting form and one of our licensed, in-house agents will find a policy that meets your needs and reach out.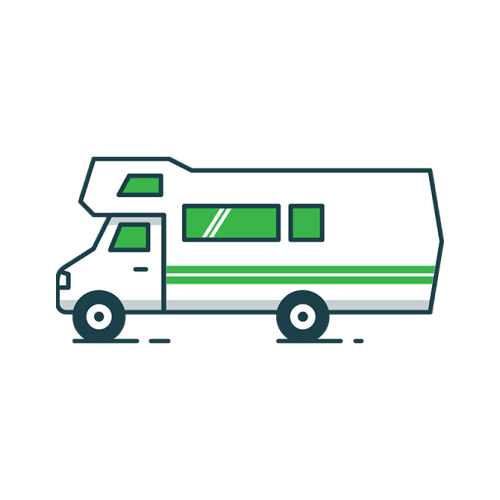 Protect Your Rig With RV Insurance
Cruise more and stress less with an all-types custom RV insurance policy that keeps you on the road longer.