Water makes up over 70% of Earth's surface. One of the best ways to take advantage of the water-covered percentage nearest you is with a boat. Cruising the open ocean or enjoying a day out on the lake is an easy and family-friendly way to relax.
There are 12 million boats registered in the United States, but with over 60% of boat owners having a household income of less than $100,000, most people may not be financially prepared to handle repairs in case of an accident or unexpected damage.
Every boat is a meaningful investment. To properly protect your vessel, no matter the size, you need boat insurance.
What Is Boat Insurance?
Boat insurance is a type of coverage specifically designed for the value and dangers of a boat and boating activities. Depending on the policy you have, boat insurance can protect your boat from several types of damage, and your financial liability in case you cause a boating accident.
With a boat insurance policy, you pay premiums periodically (usually monthly, yearly, or quarterly) to your provider in exchange for the protection you agreed upon in your plan. Then, in case you do experience a boat-related loss, such as hurricane damage or theft, you can file a claim with your insurer to cover or recoup the costs.
Boat insurance also has a deductible. When you file a claim, you must pay your deductible before the insurance company steps in to cover the rest of the cost. Common boat insurance deductibles are $250, $500, $1,000, $2,500 and $5,000.
What Does Boat Insurance Cover?
Boat insurance typically covers your boat and its permanent features, like the motor, anchor, equipment, furnishings, and fittings from potential causes of damage. These causes, known as perils, can include fire, sinking, severe weather, theft, collisions with other boats, and more — depending on your policy.
Insurance for boats can also include many different optional coverages, like endorsements for towing, mechanical breakdown, and fuel spills. Boat insurance plans also often have liability insurance that covers damage you may cause to someone else's boat or property in an accident on the water.
It covers multiple different styles of vessels, such as sailboats, race boats and can even cover jet skis.
Agreed (Hull) Value vs Actual Cash Value
Boat insurance policies are usually given on an actual cash value basis or an agreed-upon value basis. Actual cash value usually covers your watercraft for its current market value, which can decrease as your boat gets older. Depreciation is considered.
Actual cash value coverage is often more affordable than agreed hull value or agreed-upon value protection, which covers your boat for an amount you agree to with your insurer at the time of your policy. This means you'll know exactly how much your insurer will reimburse you for damage to your boat. You won't need to factor in depreciation, and you may be able to swap old parts for new ones with agreed hull value.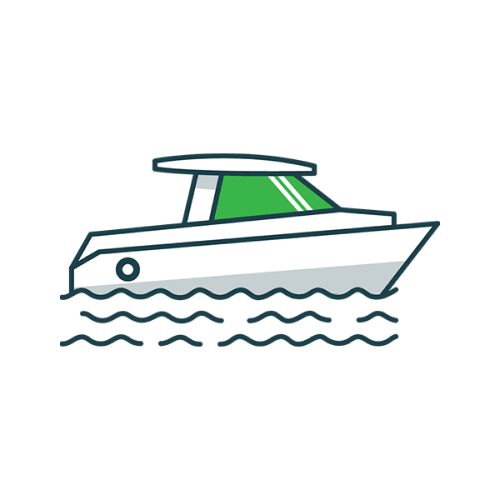 Keep Your Vessel Afloat With Boat Insurance
Don't get sunk by unexpected damages.Keep your vessel safe with a policy from one of the nation's top carriers.
How Much Is Boat Insurance?
Boat insurance will usually cost a few hundred dollars a year, regularly between $200 and $1,000. It may be more if you have a larger boat, though. The cost of boat insurance depends on many factors, and it's hard to know how much your policy may cost without knowing some specifics. Some of the most common factors that affect boat insurance include:
Vessel Age and Make
The year, make, and model of your boat form the foundation of how much it would cost to cover it. As you might expect, bigger, more expensive boats typically cost more to insure than smaller ones. Older boats may be cheaper but require more upkeep and maintenance, and they may not be up to some Coast Guard safety standards. This could influence your boat insurance rates, too.
Additionally, insurers look at how many engines your watercraft has and its top speed. More engines may mean more risk. Also, the construction of your hull is taken into account, whether it's fiberglass, aluminum, wood, or another material. Any aftermarket modifications to your boat can increase the cost to insure it as well.
At Clovered, we'll insure a pleasure boat under 10 years old for up to $500,000. For boats between 11-20 years old, we'll cover you up to $250,000. A boat over 20 years old can be covered up to $60,000 in value. You can get a boat survey as well.
Location
Insurance for boats usually costs more in coastal states. Because boats can be used year-round in a lot of coastal states, the more frequent use means more potential for accidents. Also, the risks of ocean use may be more significant than cruising around rivers or lakes.
How It Will Be Stored
Carriers will want to know where and how you'll be storing your boat. They want to know if it's at your home with you, at a secondary residence, or at a marina. Insurers may prefer if your boat is in your backyard with you than if it's at your vacation home across the country that remains unattended for half of the year.
The way you store your boat also matters. Whether it's afloat at your dock, on a lift, or on a trailer in your yard affects your premium. Insurers may look more favorably on a boat that's stored in a locked garage than in a driveway, for example. Your boat may be covered in some instances by your homeowners insurance if it's located on your property.
Policyholder Claims and Loss History
If you have a track record of boat damage, providers may charge you more to insure your boat. Also, a history of felonies, DUIs, and other tickets may raise your boat insurance rate.
When you're getting a quote, carriers may ask you if you've filed any boat claims in the past five years or received any DUIs or felonies in the last 3-5 years.
Is Boat Insurance Required?
Boat insurance is only required in three states (Arkansas, Utah and Hawaii), but some marinas require you to have liability coverage to store your boat. Also, if you're financing your watercraft with a loan, the lender typically requires you to have comprehensive boat insurance to protect the investment in case of disaster. A lender will usually want you to cover your boat for its full value.
If you live in one of the states that require boat insurance, it works in the same way as car insurance in that the state expects you to have liability coverage to safeguard against damage you may cause to others (not to your own boat) or damage that an uninsured boater causes to your vessel. How much liability protection you may need on your boat aries, but you'll have to have at least the state-mandated minimum amount.
With an investment as large and valuable as a boat, it seems like common sense to protect it from things out of your control. Even if coverage isn't required, insurance for your boat is a wise move.
Boat Insurance Quotes
At Clovered, we partner with trusted boat insurance companies to protect your vessel. We can give you a custom boat policy from the comfort of your computer. Just give us some information about you and your vessel, and you can compare quotes from some of the country's best boat insurance companies.
We're a licensed insurance agency authorized to write watercraft policies in 8 states. Our extensive experience with all types of property insurance can give you peace of mind. With Clovered, your boat is in good hands.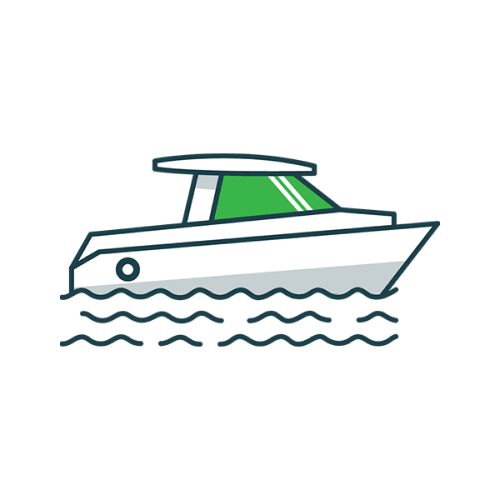 Keep Your Vessel Afloat With Boat Insurance
Don't get sunk by unexpected damages.Keep your vessel safe with a policy from one of the nation's top carriers.
Still on the fence? See what our customers have to say
about Clovered and why they trust us.
We're only the best because we're backed by the best!
Check out some of our amazing partners.
Insurance Carriers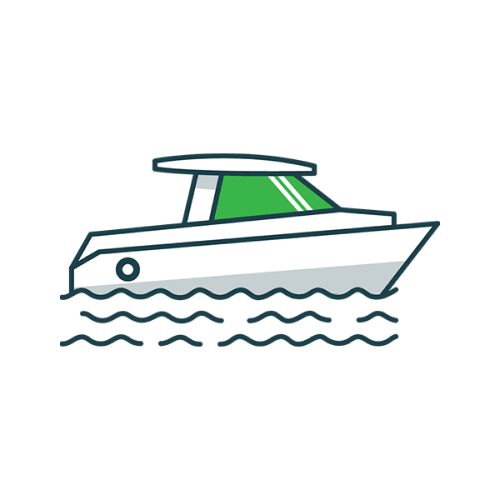 Keep Your Vessel Afloat With Boat Insurance
Don't get sunk by unexpected damages.Keep your vessel safe with a policy from one of the nation's top carriers.