We go to great lengths to protect our homes and our possessions inside. But what about protecting your home from the devastating effects of flooding? What might look like minimal water damage caused by flooding or storm surges can cost your family thousands of dollars to repair or replace.
Depending on where you live or the kinds of elemental damage your home might be susceptible to, it can be imperative to understand what's covered by flood insurance - and what's not. This guide breaks down everything you need to know about flood insurance coverage to help you understand the coverage.
What Is Flood Insurance?
Flood insurance is a type of coverage that protects your home, belongings and financial wellbeing if floodwaters seep into your home and cause damage or destruction. Contrary to popular belief, home insurance policies don't cover flood damage when the troubles begin with Mother Nature.
Since flooding is directly caused by hurricanes, snowstorms, heavy rainstorms and many other natural disasters, flooding is actually the most common, and one of the most costly, natural disasters on earth. It's estimated that just 1 inch of floodwaters can cause up to $25,000 worth of damage.
Because standard home insurance won't cover damage to your home or belongings caused by extensive water damage, a separate flood insurance policy can help protect you from heavy rains, a hurricane, or spring thaws in colder parts of the country.
What Does Flood Insurance Cover?
You can expect flood insurance to cover the vast majority of your home and its contents. Everything, from the foundation of your property to the built-in furnishings and personal possessions, is covered through various levels of homeowners flood insurance.
Just like your home insurance, your flood insurance coverage may depend on the fine print of the policy. It's important to know what your flood insurance covers from day one so there's no guessing or unexpected surprises when the time comes to file a claim.
These are just a few of the elements that may be covered by your flood insurance:
Personal Belongings
Flood insurance can help pay to repair or replace your personal belongings that were damaged or destroyed directly by flooding. This coverage extends to things like TVs, computers and other electronics to furniture and clothes. With the right coverage, things like clothing, furniture, small appliances (like microwaves), personal electronics, and other valuables may be protected with flood insurance coverage.
Home Appliances
When floodwaters enter a home, they tend to damage or destroy a handful of appliances in your home.Luckily, flood insurance can help replace many of those appliances, like your HVAC unit, water heater, dishwasher and much more. Standard kitchen appliances, including the stove, dishwasher, and the refrigerator, are also covered by Federal Flood Insurance.
What Does Flood Insurance Not Cover?
Several elements of your home and property aren't covered by flood insurance. Outside property, furniture or contents stored in the basement level of your home are specific exclusions in most flood insurance policies.
You may have the option to enroll in additional coverage to expand your family's flood protection, but many of these elements fall outside the scope of basic flood insurance coverage: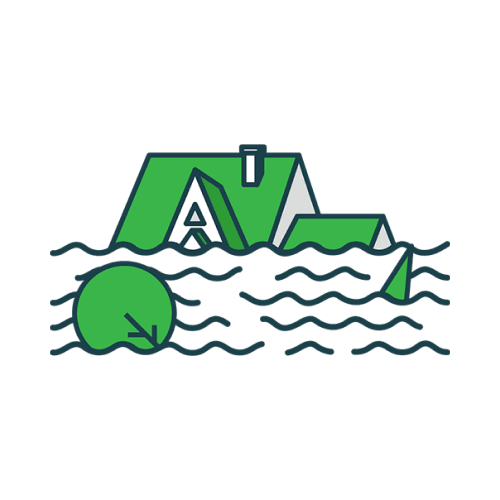 Stay Above Water With Flood Insurance
Do you want to pay for costly and common flood damage yourself or have an insurance policy pick up the tab?
Not Covered by Flood Insurance...
Outside Property: Your deck, pool, fencing, patio, and landscaping likely aren't covered under flood insurance.
Loss of Currency: Any precious metals, cash, stock certificates, or bearer bonds won't have coverage due to a flood.
Mold or Mildew: Later damage caused by molding or mildew isn't protected by flood insurance.
Temporary Housing: Unlike some other coverage options, flood insurance coverage often does not include the expense of moving into temporary housing or loss of income you might sustain as a result of the damage done to your home. That would be covered under your home insurance policy.
Basements: All living spaces below ground level are limited.Any structural damage done to below-ground or walkout basements may not be protected by your coverage.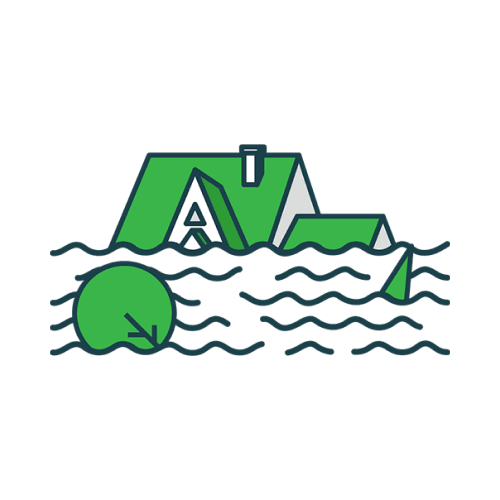 Stay Above Water With Flood Insurance
Do you want to pay for costly and common flood damage yourself or have an insurance policy pick up the tab?
Still on the fence? See what our customers have to say
about Clovered and why they trust us.