Pros and Cons of Buying Insurance Online vs Agent
Insurance 101
/
Pros and Cons of Buying Insurance Online vs Agent
Except for things that actually require someone to show up in person, advances in internet technology have opened the doors to allow people to meet many of their needs entirely online. You can buy a car online. You can become an expert on almost any topic online. You can shop for homes online. And you can buy all your insurance policies online.
The online insurance market is still in its infancy, but it's growing quickly and expanding worldwide. While Millennials and Gen Zers are more than happy to indulge in the convenience of online insurance shopping — whether it's for home, auto or flood — Baby Boomers and Traditionalists are more likely to pick up the phone and call their trusty agent.
But is there really a difference in the quality of insurance someone receives when they buy online vs buy through an agent? Whether you're in the market for homeowners, condo, landlord, renters, auto or flood insurance, we're here for you. Let's take a look at the pros and cons of each before you decide which is right for you.
The Process of Buying Insurance Online
Buying insurance online is extremely simple and, compared to its personal agent counterpart, often takes far less time to get through the quoting process and bind a policy. All you need to do is find an online quoting engine, such as the one at Clovered, plug in your information and you'll get a personalized quote within minutes.
You may be wondering if it's safe to put all your personal information into the quoting engine. Yes, it's 100 percent safe. All websites that require personal information, such as a social security number and credit card number, are required to work off a secure sockets layer (SSL), which is the standard security technology that establishes an encrypted link between the web server and your browser.
In addition to the encrypted technology used to transmit your personal information, each company operating in the United States must abide by cyber-security laws that are some of the most strict and robust in the world.
Your information is safe with us. And your secrets, too, if you'd like to share them with one of our on-demand agents ready to answer any question you have. Yes, that's right. You can buy insurance online from Clovered and talk to a real-life agent whenever you need to. Talk about the best of both worlds.
How Does Buying Insurance Online Work?
Buying insurance online is a simple process that doesn't require too much work on the user's end. For a site like Clovered, we have a dedicated team that builds and monitors our online quoting engine.
Once you begin inputting your information, our technology stays one step ahead to tailor a personalized quote directly to your needs — something insurance agents can't always do and typically don't do as quickly as an online quoting engine.
After all your information is in the system and you've finished answering all the qualifying questions, our quoting engine's algorithm dissects your needs and displays a few quotes that are perfect matches for you.
Pros of Buying Insurance Online
Life is busy. We all know that. If you're filling out the online quoting process, you can stop to answer a phone call or take care of an emergency, and then pick it back up at a time that's more convenient for you. In addition to that, here are a few more benefits of buying insurance online:
Easy process that you're in control of

Start and finish the quote on your own time

Quicker than buying from an agent

Policy is more tailored to your needs
Cons of Buying Insurance Online
Convenience is obviously the main factor drawing people into the online insurance purchasing marketplace, but what about the downfalls? To be honest, there aren't many and they don't even begin to overtake the benefits. But here are a few:
Communicating with a person can be more challenging (But not for Clovered since we have a dedicated team of agents always available to answer your questions)

It may be tougher to understand the ins and outs of your policy (which is one of the reasons we established Clovered to help you understand your policy in depth through hundreds of articles)

Prices at the door aren't always the prices you can get
The Process of Buying Insurance Through an Agent
To clear some things up here, Clovered (and many other online insurance carriers) are actually insurance agencies. They just operate online to provide better prices and more convenience for their customers.
You may either go through an independent or captive agent. An independent agent, such as Clovered, has the ability to carry and sell insurance from multiple carriers, ultimately ensuring you get the best price in the end. A captive agent exclusively represents one insurance carrier, which means you may not get the best deal out there.
How Does Buying Insurance Through an Agent Work?
To buy insurance through an agent, you'll need to call them at a time that works for both parties and work through some personal questions on the phone with someone you've probably never met. While it's not a bad way to get insurance, it'll likely take much longer to bind a policy through an agent than it would online.
While you're on the phone answering questions, the agent you're talking to is inputting your answers into a system that's eerily similar to an online quoting engine like Clovered's.
When you get to the end of the process, the agent lists prices or emails you a copy of all the insurance quotes that have been tailored to your needs. Then you decide what budget you have and make your purchase. Like purchasing online, your policy can go into effect as soon as the first payment is made.
Pros of Buying Insurance Through an Agent
With an actual agent, you can easily call them throughout the week when you have questions, but they might not always be there to give you an answer — and you typically must call them during business hours, which may not be convenient for you. Some benefits of buying insurance through an agent are as follows:
Ability to build a relationship with an individual agent

You can ask questions and get an answer right away

Can oftentimes be easier to get them on the phone
Cons of Buying Insurance Through an Agent
Buying insurance online is quicker, easier and more convenient than its agent counterpart. Here are some of the main downfalls of buying insurance through an agent:
Must shop for insurance during business hours (Monday through Friday from 9 a.m. to 5 p.m.)

Must start and finish on the agent's time

You're not in control over the process or policy

Can take days or weeks to bind a policy, depending on mismatch of schedules
Which Is Better, Buying Insurance Online vs Agent?
Local insurance agent vs online, there's no difference in the policies whatsoever, only the interactions and experience. Each party, whether they purchase online or through an agent, can get the same exact insurance policy in either situation.
While buying insurance online is quicker, oftentimes easier and more convenient, it's always good to know your options. Clovered is setting the bar high as an online insurance agency that operates with multiple carriers, so you can rest easy knowing you have the best policy at the best price.
We also have a dedicated team of agents and support personnel who are always ready and willing to help you and answer any questions you may have — during the quoting process and beyond!
In fact, Clovered (and many other companies that offer insurance online) are actually classified as agencies. They offer the ability to purchase online to give customers better prices and provide more convenience. Now that you know there's absolutely no difference between buying online and through an agent, you're qualified to make your purchase.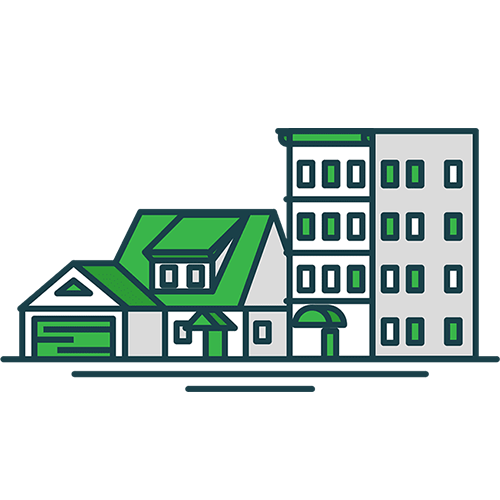 Home Protection Is Just a Click Away
We partner with the nation's top home insurance companies so you can get an excellent policy at an affordable price.
The editorial content on Clovered's website is meant to be informational material and should not be considered legal advice.
Similar Articles