What's the Difference Between Car vs Truck Insurance?
Auto
/
What's the Difference Between Car vs Truck Insurance?
It's hard to give a straightforward answer if pickup truck insurance is cheaper than car insurance since there are so many variables at play. In fact, the type of vehicle you have is rarely the most significant factor in determining your car insurance rates.
But, there are some things to keep in mind when insuring cars vs. trucks. What we can do is explain those variables that impact premiums for both vehicle types and tell you potential ways to save money on auto insurance no matter your vehicle.
Is There a Difference Between Car and Truck Insurance?
While you don't need a different type of insurance for a car or a truck – "car/auto insurance" covers any typical vehicle for personal use – there are some slight differences that can make covering one more expensive than covering the other.
Most drivers have collision and comprehensive coverage on their vehicle, often called full coverage. In that case, your insurance company will cover damage to your vehicle after an accident, regardless if you were at fault or not.
List Price and Repair Costs
Sometimes a truck will cost more to repair than a car will. Trucks have more powerful engines and drivetrains, including bigger frames, stronger brakes, and potentially different transmissions. These aspects also drive retail truck prices higher.
And even though the list price isn't a direct determinant of rates, more expensive cars typically either cost more to rebuild or are more dangerous, so they require more insurance.
The average truck costs more than the average sedan. For instance, on cars.com, the cheapest 2020 and 2021 sedans are the Nissan Versas, which have a suggested retail price of $14,830-$14,980 at the time of writing this article. But, the cheapest pickup truck is the Ford Maverick, which has an MSRP of $19,995.
The Maverick is bigger, has an all-wheel drive, and has more trim options. Thus, when looking at it this way, a new average truck may cost more to insure than a new average car when accounting for vehicle type alone.
But, it depends on the model you get. For example, a brand new Ford F-350 would probably have higher insurance rates than a brand new Ford Fiesta, their subcompact. But, a new BMW or Mercedes would probably cost more to insure than a baseline F-150 since the F-150 would almost certainly be easier to fix.
When Are Trucks More Expensive to Insure Than Cars?
Trucks can be more expensive to insure than cars when repairing the truck costs more, when a truck is used for business, or when a truck has the potential to cause much more damage in an accident. Here are more details on these scenarios:
When truck repairs cost more: Bigger, more expensive trucks often cost more to repair than cars. V8 engines, extended cabs, bigger wheels, larger frames, and more can make large trucks more costly to fix after damage. If this is the case, you might pay more for pickup truck coverage.
When trucks cause more damage: Since trucks are usually larger than sedans, subcompacts, and crossovers, they can cause more damage to others in an accident. Although trucks often have higher safety ratings than cars, which means you may be safer in a truck, this doesn't help your liability insurance.
The property damage and bodily injuries you can cause to others while driving a truck are higher, so you may need to pay more for liability coverage.
When trucks are used for business: Due to their hauling and storing capabilities, trucks are used for business purposes more often than sedans. A truck regularly towing equipment or a trailer may need extra insurance coverage that can raise rates.
Your provider will likely want to know if your profession will require you to tow something behind your truck for business often, like landscapers or contractors.
When Is Truck Insurance Cheaper Than Car Insurance?
There is no definitive time when truck insurance is always cheaper than car insurance. Still, truck insurance rates may be lower than car insurance rates when the truck is easier to repair or when it's substantially safer than a car.
When repairs are less expensive: a domestic baseline pickup truck can be cheaper to fix than a luxury car or a foreign car. Think an F150 or a GMC Canyon versus a BMW or Mercedes. Basic trucks can have fewer hard-to-fix features since half of the truck is a flat bed of metal.
And, a basic truck has fewer doors, windows, electronics, and more that would need to be repaired. When it's cheaper to fix, it should be cheaper to insure (not accounting for the many other variables).
When trucks are safer than cars: trucks can have certain safety features that can reduce premiums, such as anti-lock brakes, blind spot warnings, and additional airbags. Also, trucks tend to have traction control systems which insurers like. Traction control makes driving in dangerous weather conditions safer, and many companies factor this in when determining premiums.
Having the best safety features in your truck may be counterintuitive at times since the best safety features may only come on the most expensive, upgraded models. But, they're still factored into premiums nevertheless.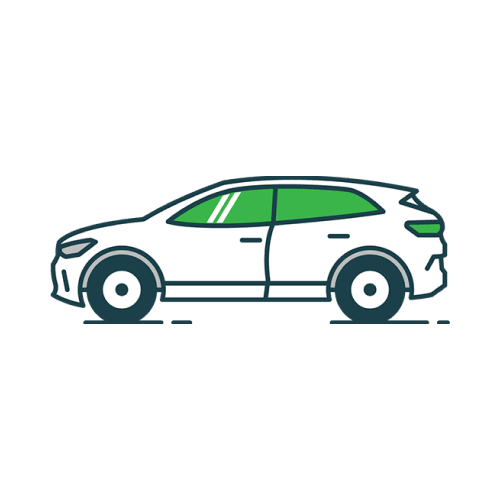 Ready to Save Money on Auto Insurance?
Rethink your auto insurance premium with a free quote from the nation's top companies.
The editorial content on Clovered's website is meant to be informational material and should not be considered legal advice.
Similar Articles