Travel Trailer Insurance: Coverage, Requirements & More
RV
/
Travel Trailer Insurance: Coverage, Requirements & More
Travel trailers can oftentimes be more mobile and easier to take a vacation in than their motorhome counterparts. Plus if you're staying at free campsites throughout the country, you can secure your spot and get much better gas mileage while exploring the places you really enjoy.
But even though you're enjoying the great sights, what happens if another vehicle hits your travel trailer? Or worse, you accidentally back into someone else? You'll need some sort of insurance, so let's take a look at what you need to know about travel trailer insurance.
Do You Have to Have Insurance on a Travel Trailer?
Since travel trailers aren't driven, you're not required by law to maintain any kind of RV insurance on them. However, you are required to have liability coverage on the vehicle towing it (in every state except New Hampshire and Virginia), and that coverage will transfer over to your travel trailer as long as it's hooked up.
So if you accidentally back into someone else's vehicle or RV with your travel trailer, the liability coverage on your vehicle's auto insurance policy will help pay damages to the other vehicle and medical expenses if anyone in the other vehicle is injured.
However, that coverage doesn't transfer over if your travel trailer is unhooked from the vehicle towing it. So if your travel trailer is unhooked and slides down a hill, crashing into another vehicle, you may be stuck paying for the damages out of your own pocket.
In either scenario, you only have coverage for damage your travel trailer causes to other vehicles and property, and coverage for medical bills if your travel trailer injures someone. You won't be covered for any damage that your travel trailer sustains. For that, you'd have to invest in RV insurance.
However, if you took out a loan on your travel trailer and you still owe some money on that loan, your lender will likely require you to purchase full coverage RV insurance anyway. That's because, while you still owe money, they still hold the title and, technically, still own the travel trailer. They want to assure they can recoup as much money as possible if it's totaled, so they can require you to purchase coverage.
What Does Travel Trailer Insurance Cover?
Travel trailer insurance (which is actually just RV insurance) can cover the same things as an auto insurance policy. It can have bodily injury liability, property damage liability, collision, comprehensive and personal effects replacement coverage. Having all of those would be considered full coverage and would cover damage to your travel trailer, damage caused by your travel trailer and injuries that are associated with accidents that you may or may not have caused.
While only a portion is required by law, we're going to break down all of those coverages — because we always recommend that you protect your vehicles with full coverage insurance.
Travel Trailer Insurance Requirements
As we mentioned earlier, you're not legally required to have RV insurance on travel trailers. The towing vehicle's liability portion of its auto insurance policy will cover some instances of damage that your travel trailer causes. Let's take a look.
Bodily Injury Liability Coverage
Bodily injury liability coverage is required by law in most states and can be transferred from the auto insurance of the vehicle towing your travel trailer. It can also be purchased as a standalone policy or combined with full coverage on your travel trailer's RV insurance.
If you cause an accident with your travel trailer, it can cover medical bills for people that have been injured and lawsuits if they decide to sue you. However, it only covers injuries to people outside of your vehicle.
Property Damage Liability Coverage
Property damage liability is another coverage that can also be purchased as a standalone policy, combined with full coverage on your travel trailer's RV insurance or transferred over from the vehicle towing it.
It's designed to cover damage you cause to someone else's vehicle, RV or property if you're in an accident and deemed to be at fault. It never covers damage to your travel trailer or vehicle, though.
Travel Trailer Insurance Coverage That May Not Be Required
The best travel trailer insurance isn't required by law, but it may be required only by your lender and your own self-judgment. We highly recommend investing in full coverage RV insurance that protects your travel trailer against a multitude of scenarios, including the previously mentioned bodily injury and property damage liability coverage. Let's take a look at what you can expect.
Collision coverage on an RV insurance policy can help pay to repair damage to your travel trailer. Your coverage should kick in whether you're at fault or not in an accident. So even if you didn't cause the accident, your coverage can kick in to pay for all or part of the damage.
This coverage can help pay for roof damage if you accidentally scrape a low-hanging bridge or awning damage if you forget to roll your travel trailer's awning back in before hitting the road.
Comprehensive coverage protects your travel trailer from damage caused by incidents that are out of your control, such as natural disasters like flooding, hurricanes and tornadoes, as well as vandalism to or theft of your travel trailer.
Personal Effects Replacement Coverage
The only coverage found in an RV insurance policy but not in an auto insurance policy is the personal effects replacement coverage. Since you likely store personal belongings in your travel trailer while on the road, this coverage can help reimburse you for damages they sustain.
If you get into an accident and your personal belongings inside the rig, such as cooking materials, food, clothes or computers are damaged, this coverage can reimburse you up to $5,000 to replace them. Depending on your insurer, you may also be able to add an endorsement to your policy for up to $100,000 in coverage.
Travel Trailer Insurance Cost
Many factors go into determining the question or sequence of how much does travel trailer insurance cost, which could cost from a few hundred to a few thousand dollars per year. Those factors are similar to auto insurance, taking into account your driving and claims history, your age, which state you have your travel trailer registered with and the coverage amounts you enroll in.
How to Get Travel Trailer Insurance Quotes
Getting travel trailer insurance quotes is easier than ever when you use Clovered's simple and quick online quoting form. Simply answer a few questions about the make, model, year and some driving info and one of our in-house licensed agents will find the perfect policy at the perfect price that's customized specifically for you.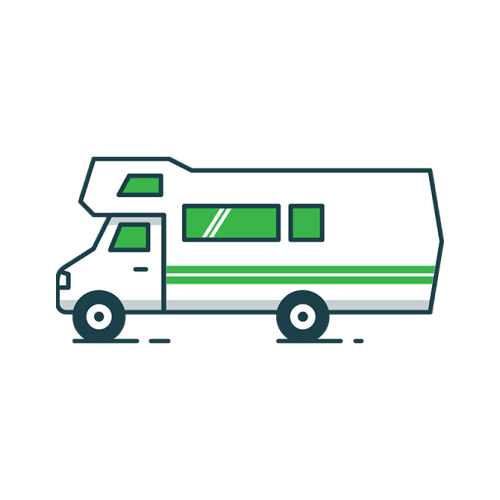 Protect Your Rig With RV Insurance
Cruise more and stress less with an all-types custom RV insurance policy that keeps you on the road longer.
The editorial content on Clovered's website is meant to be informational material and should not be considered legal advice.