Do I Need Commercial Auto Insurance?
Auto
/
Do I Need Commercial Auto Insurance?
Since the advent of ride-sharing technologies and task-based work has created millions of jobs for individuals who utilize their own vehicles to make a living — or just make some extra money on the side — many people may be wondering if they need commercial auto insurance to be properly protected.
But each commercial and personal auto insurance is used for entirely different purposes. Let's take a look at whether you need commercial auto insurance or if you can get by simply enrolling in personal auto coverage.
Do I Need Commercial Auto Insurance?
If you operate a commercial business that utilizes vehicles for a portion of the business, such as a contracting company that has a work truck or cleaning company that drives from home to home in a vehicle, you'll need commercial auto insurance to protect your vehicles.
Simply put, if you own a business where vehicles are used in any sort of capacity to complete a job or transport employees to work sites, you likely need commercial auto insurance.
For instance, if your contracting company owns two work trucks that go to the job sites, you'll need commercial auto insurance on both vehicles. But if your employees arrive at the job sites in their own vehicles, they don't need commercial auto insurance on their vehicles.
If you're engaged in ride-sharing services, you likely don't need commercial auto insurance because the vehicle you're using is also delegated for personal use.
However, if this describes you, you may want to look into purchasing extra ridesharing insurance because your personal auto policy likely doesn't cover the other individuals you're transporting from place to place.
On the flip side, if you're a delivery driver for a restaurant or food business, including one of the many task-related food delivery services, you likely don't need commercial auto insurance either.
We know determining whether or not you actually need commercial auto insurance can become pretty tricky, especially in certain circumstances, so it's best to consult your auto insurance agent to find out if you need to purchase a commercial policy for your specific needs.
What Is Included in Commercial Vehicle Insurance?
Of course, you can go above and beyond and treat your commercial insurance the same way as your personal insurance, adding roadside assistance, gap coverage, rental reimbursement, medical payments coverage and many other additions that are designed to help you when you need it.
Property Damage Liability
If you're at-fault in an accident, property damage liability will kick in and pay for the repairs to the other vehicle or the piece of property, such as a fence or a home, that you hit. The minimum amount of property damage liability is typically $10,000 per accident, but you can get up to $100,000 in some instances.
Bodily injury liability helps to pay for any medical bills, legal expenses and lost wages to the people in the other vehicle who were injured in an accident if you're at fault. This also applies if you accidentally hit pedestrians and are deemed liable.
This coverage works differently than property damage because there are numbers associated with the coverage (typically displayed like 100/300). In that case, the 100 would represent $100,000 in coverage for each person in the accident, 300 would represent $300,000 in total coverage for the accident and 50 would represent $50,000 would represent the total property damage coverage for the accident.
Collision coverage helps to pay for repairs to your vehicle if you're at fault. So if you hit another car and caused $20,000 in damages to their car and $15,000 in damages to your car, your collision coverage would foot the bill for the damages to your car up to your policy's maximum and property damage liability would foot the bill for the damages to their car up to your policy's maximum.
Comprehensive coverage is known as parked-car coverage because it helps to pay for damages to your vehicle if it wasn't involved in an accident. So if a hurricane caused a tree to fall on your car or if hail battered your car's roof, comprehensive coverage would be the coverage picking up the repair bill up to your policy's maximum.
Uninsured & Underinsured Motorist Coverage
Uninsured and underinsured motorist coverage helps pay for the repairs to your vehicle if you're not at fault for an accident and the other driver either doesn't have auto insurance at all or doesn't have sufficient coverage to pay for the damages to your vehicle.
How Much Does Commercial Auto Insurance Cost?
The cost of commercial auto insurance depends on how much insurance you need and how much your vehicle costs. Work trucks that are customized to fit all the tools of the trade are typically more expensive than a car that hauls cleaning supplies from home to home, so contractors will likely pay more for commercial auto insurance than other commercial businesses.
But you can expect commercial auto insurance to cost a similar amount as personal auto insurance because the risk factors and coverage amounts are very similar. It's not uncommon to pay a bit more for commercial auto insurance due to the fact that you may be driving your commercial vehicle much more than a personal vehicle.
Does Commercial Auto Insurance Cover Personal Use?
Yes, personal use of a company-owned vehicle intended for work purposes is typically covered by commercial auto insurance under certain circumstances because you're using the vehicle primarily for work purposes.
However, you'll want to check with your agent first to make sure you're covered before you start cruising around town or taking vacations in your work vehicle.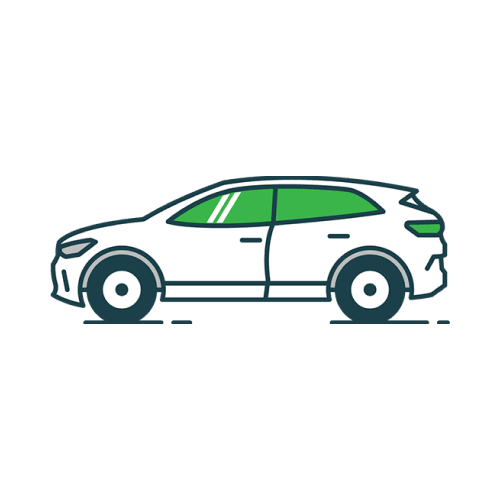 Ready to Save Money on Auto Insurance?
Rethink your auto insurance premium with a free quote from the nation's top companies.
The editorial content on Clovered's website is meant to be informational material and should not be considered legal advice.
Similar Articles