Does Homeowners Insurance Cover Asbestos?
Homeowner
/
Does Homeowners Insurance Cover Asbestos?
Asbestos was a popular building material in the early to mid-1900s. It can be found in the roof, exterior siding, insulation, walls, and vinyl floor tiles in older homes. Unfortunately, home insurance companies don't always like asbestos building materials. If these materials get damaged or broken, and the asbestos dust is released into the air, it can pose serious health issues.
However, "the mere presence of asbestos in a home or a building is not hazardous," as stated by the Consumer Product Safety Commission. Even many homeowners with asbestos components in their house will tell you it's a great and sturdy insulant that's very fire-resistant.
Some insurance companies would like to avoid this potential hassle altogether by not offering coverage to houses with asbestos. Below, we'll go over when homeowners insurance can cover asbestos and asbestos removal.
Does Homeowners Insurance Cover Asbestos Removal?
Asbestos removal is covered by homeowners insurance only if asbestos materials were directly damaged by a covered peril. For example, if the asbestos fibers from building construction were released into the air after the building was damaged by wind, fire, fallen trees, or another covered peril, the removal and remediation of the asbestos would likely be covered as part of the home repairs.
For instance, your insurer would cover the costs of removing the debris of a destroyed asbestos wall if a hurricane or tornado destroyed the wall.
But, generally, if you want asbestos removal insurance coverage, your carrier won't help you. When not directly affected by a covered loss, asbestos is usually excluded from policies through language regarding pollution or ordinance and law.
Asbestos Exclusions in Insurance Policies
A common exclusion in most home insurance plans is coverage for pollutants. Your policy may read that the "discharge, dispersal, seepage, migration, release or escape of pollutants" isn't covered unless, as we mentioned earlier, "the… release or escape is itself caused by a Peril Insured Against."
Insurers commonly define pollutants as "any solid, liquid, gaseous or thermal irritant or contaminant, including smoke, vapor, soot, fumes, acids, alkalis, chemicals and waste." Carcinogenic asbestos dust falls under this exclusion.
Sometimes, after an inspection by your insurance company or elsewhere, you may be ordered to remove asbestos construction materials in your house to comply with the latest building and safety codes. Insurance companies won't cover asbestos removal in this scenario, either, due to ordinance or law exclusions.
Many policies specifically exclude loss caused by "enforcement of any ordinance or law regulating the construction, repair, or demolition of a building or other structure, unless specifically provided under this policy."
Can You Get Home Insurance With Asbestos Siding?
Despite some existing exclusions, you can get home insurance with asbestos siding. Some carriers won't cover old houses with asbestos siding. Old homes overall are much riskier to insure, and many companies will want a home inspection done on an old house before writing or renewing a policy.
The definition of an "old house" can vary by state. In Florida, homes older than 20 years may be subject to inspections before renewals or underwriting, while in other states it may be 40 years or more.
Let's say an inspection reveals asbestos that a provider doesn't want to deal with. In that case, they will notify you in writing that you either need to remove the asbestos or seek coverage with another carrier.
If you're having trouble finding asbestos insurance coverage, an independent insurance agency may be able to help. An independent insurance agent partners with several providers, and their industry insight can help you find a policy.
What Insurance Companies Will Cover Asbestos Siding?
Many insurance companies, including big-name providers, will cover homes with asbestos and asbestos siding, although it will vary by region and company. If you can't find one on your own, you should consult an independent insurance agent.
At Clovered, we partner with some of the top insurance companies in the country, and we can help you get homeowners insurance with asbestos siding or other materials.
We offer the perks of an independent insurance agency with the added convenience of being able to bind a policy entirely online. Whether you go through our quoting platform or speak with one of our licensed agents, we will present you with coverage options for your home.
Tips for Dealing with Asbestos Insurance Claims
To avoid asbestos insurance claims, don't try to modify it or remove it yourself. Although it's expensive, it's strongly recommended to hire a professional to remove asbestos from your house. Some local governments regulate DIY asbestos removal, too, and they will likely require proper permits and disposal.
Even modifying the asbestos components in your home can be dangerous. For instance, covering asbestos siding with another type of siding, like vinyl, may eventually lead to fractures in the asbestos siding. Don't try to break it up or remove it yourself. And don't power wash asbestos siding. Sometimes, the safest thing to do with it may be to seal it with the proper paint.
It's hard to tell if something is made from or with asbestos just by looking at it. If you suspect that areas of your house were built with asbestos, you should contact a local asbestos professional who can do testing and will likely explain remediation options if you want. Asbestos insurance policies for homeowners are hard to come by. Detection, remediation, and removal are typically left to the experts.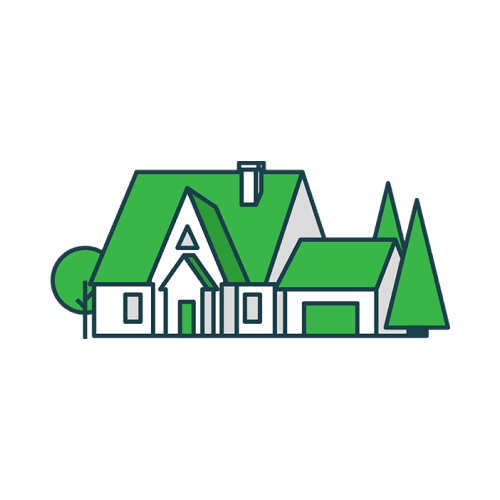 It's Time to Switch Your Homeowners Insurance
We partner with the nation's top homeowners insurance companies so you can get a custom policy at an affordable price.
The editorial content on Clovered's website is meant to be informational material and should not be considered legal advice.
Similar Articles