What Does a Condo Association Insurance Policy Cover?
Condo
/
What Does a Condo Association Insurance Policy Cover?
With lower overhead and less responsibility to maintain your property, opting for a condo over a traditional home can be an easy decision for some people.
What's sometimes less straightforward is your insurance needs in a condo. Dealing with the condo board or homeowners association master policy and what it covers can be unclear. You might be wondering what your HOA covers, and if your condo fees include insurance at all.
Your HOA likely has something that's called a master insurance policy. But, it doesn't safeguard everything in your unit. So what does the HOA cover, and when is it important to add a personal condo insurance policy to the mix? Let's take a look.
What Does a Condo Association Insurance Policy Cover?
A condo association insurance policy, also called an HOA master policy, protects the complex and its residents against property damage and liability claims. It covers damage to the exterior of the property caused by natural disasters, such as hurricanes or windstorms, and it covers medical expenses and legal bills associated with liability claims in the common areas.
Most condo or townhome associations have an elected homeowners association, also called a condo board, that is in charge of the premises. And, because condos are a shared-space environment, the board must look after the common areas, such as the lobby, elevators, hallways, and amenities. The HOA protects these areas through the master insurance policy.
Does a Condo HOA Include Insurance?
You help pay for this condo master insurance policy with your townhome or condo fees and dues. So, while your condo fees include insurance, it's not insurance for your unit. You're paying for the protection of the exteriors and common areas of your complex.
In most cases, these policies end where your entryway threshold begins. Often, these are referred to as "walls-out" or "studs-out" policies, meaning they cover everything outside of the walls or studs of your unit. Simply put, while extensive, your HOA only covers damages or losses to the condo building excluding most of your actual home.
When it comes to the walls, ceilings, cabinetry, floors and personal belongings of a unit, it's usually up to the unit owner to get appropriate coverage. Your HOA typically doesn't cover you for things like burglaries or fire damage that you cause or that start inside your unit, either.
What Does Condo Insurance Cover?
A condo insurance policy offers coverage to protect the property inside your unit from several forms of damage. It also can further protect your financial wellbeing with liability, loss of use, and loss assessment coverage.
Here are a few things you can expect condo insurance to cover:
Smoke or fire damage

Theft

Vandalism

Damage caused by a windstorm or hail

Liability expenses for accidents or injuries if someone gets hurt in your unit

Identity theft
Two more very useful aspects of condo insurance are loss assessment coverage and loss of use, also called additional living expenses, coverage. Loss assessment coverage will allow your insurer to pay for potentially unexpected assessments your HOA springs on you that you weren't prepared for. Loss of use coverage enables your insurance company to cover your expenses temporarily if you're forced to move out of your unit after damage from a covered peril.
HOA Insurance Requirements
Like with standard homeowners insurance, it's important to understand the full coverage offered by the HOA master policy before considering how much you should invest in condo insurance.
Keep in mind that each complex likely has different coverages in its condo master insurance policy. Once you understand the full extent to which your HOA policy does or doesn't cover the structures and assets inside your unit or home, you can decide how much additional coverage to invest in. If your complex has walls-out coverage, you may want to get more personal condo coverage to protect the fixtures and features in your unit.
If you have HOA walls-in coverage, which usually protects the surfaces and features in your unit like the floor and appliances, you might need a smaller amount of condo insurance. HOA dues in a complex with walls-in coverage could be higher than a property with walls-out or studs-out coverage.
The HOA generally covers the common areas and exteriors of buildings no matter what. But, the interior of your unit could still be at risk for fire damage, water damage, and theft, just to name some common causes of concern
When assessing the maximum value of protection, make sure to include any upgrades or renovations you've done to your condo, too. In many cases, the HOA master insurance policy will only cover the original value of finishes or appliances.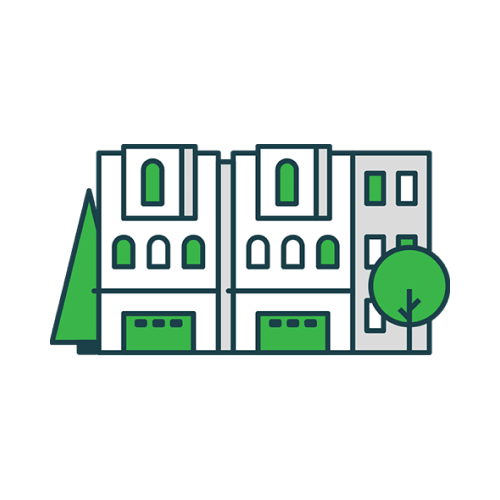 A Simpler Way to Get Condo Insurance
Protect everything your condo association doesn't with a custom condo insurance policy at an affordable price.
The editorial content on Clovered's website is meant to be informational material and should not be considered legal advice.
Similar Articles
3 Min Read