Does Home Insurance Cover Tornado Damage?
Insurance 101
/
Does Home Insurance Cover Tornado Damage?
Tornadoes are quick-hitters, lasting about five minutes per incident, but they swirl as speeds of nearly double that of hurricanes.
When you consider the amount of damage caused by tornado's winds and projectiles caught up in its spinning funnel, and you couple that with hail and torrential rainfall, tornadoes can be devastating to people's lives and their homes.
You're probably wondering does home insurance cover tornado damage? And what kind of tornado coverage can you expect from your home insurance? Let's take a look at those questions and more as we break down the damage and recovery.
Does Home Insurance Cover Tornado Damage?
Tornado damage is often classified as either wind or hail damage, which is among the 10 named perils under many homeowners insurance policies, so your home insurance policy should cover the following things. However, it's always a good idea to consult your agent if you sustain damage and need to file a claim.
Dwelling Damage Caused by Tornadoes
If a tornado indirectly impacts your home, such as knocking a tree onto your home or throwing a projectile through your roof, or directly impacts your home, such as destroying your home's roof or siding, the dwelling portion of your homeowners insurance policy will likely kick in and help pay for the damages up to your policy's maximum.
Dwelling coverage helps pay for damage sustained to your home's structure and many other things that make it, like the roof, ceiling, flooring, windows and doors. If your home is completely destroyed by a tornado, your homeowners insurance policy will enact either its replacement cost or market value coverage to help pay to rebuild your home.
Personal Property Damage Caused by Tornadoes
Your personal property is also covered by tornado damage if one of the former scenarios apply for direct or indirect damage. This portion of your home insurance policy is called Coverage C or personal property insurance. 
Personal property coverage protects your personal belongings like TVs, clothes, furniture, electronics and many other things if tornadoes damage or destroy them. It's found in all home insurance policies, so it's extremely wise to keep a home inventory and make sure you have enough insurance to protect all your belongings.
Similar to dwelling coverage, personal property converge pays out on a basis of actual cash value or replacement cost coverage. The former takes depreciation into account while the latter coverage will reimburse you the exact cost you paid for your items.
Loss of Use Tornado Coverage
One of the most underrated portions of home insurance is loss of use coverage. If your home (whether it's owned or rented) is damaged or destroyed by a tornado or many other perils and you're forced to temporarily move out while repairs are being made or the home is being rebuilt, loss of use coverage can reimburse you for additional living expenses you wouldn't have otherwise incurred.
These expenses are things like renting a home or booking a hotel of equivalent value and size, food expenses due to the need to eat out, gas costs from longer commutes, storage fees to house your personal belongings that weren't damaged and even pet boarding expenses if your furry friends can't come to your temporary home.
Flood Damage Caused by Tornadoes
Flood insurance is relatively affordable for the amount of coverage you get. Although it's not required by law, many homes in the United States are now located inside designated flood zones, which means they're likely to sustain at least one flood every 100 years — but many homes sustain way more than that.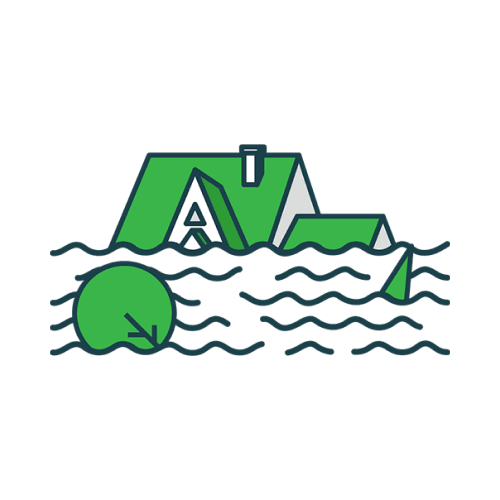 Stay Above Water With Flood Insurance
Do you want to pay for costly and common flood damage yourself or have an insurance policy pick up the tab?
Understanding Your Tornado Coverage Limits and Deductibles
As with any home insurance policy, it's imperative that you maintain sufficient coverage to protect your home, personal belongings and financial wellbeing in the event of a disaster. If you're a homeowner who has a $250,000 home, you'll need to have $250,000 worth of dwelling coverage.
If you have $30,000 in personal belongings, you'll need to have $30,000 worth of personal property coverage to protect your belongings. It's also crucial that you understand your home insurance deductible, which is the amount of money you must pay toward a claim before your home insurance kicks in and picks up the remaining amount up to your policy's maximum.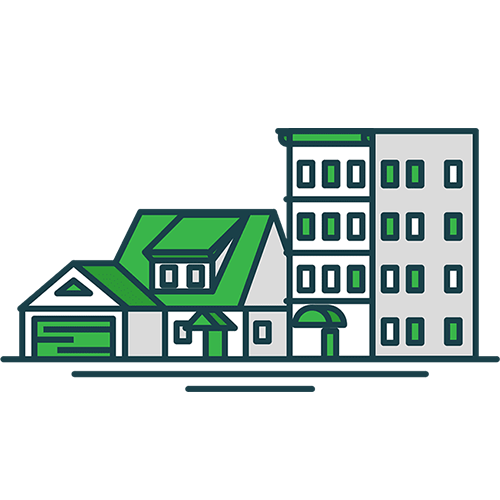 Home Protection Is Just a Click Away
We partner with the nation's top home insurance companies so you can get an excellent policy at an affordable price.
The editorial content on Clovered's website is meant to be informational material and should not be considered legal advice.
Similar Articles