Does Homeowners Insurance Cover Pet Damage?
Homeowner
/
Does Homeowners Insurance Cover Pet Damage?
If you've come home to discover your furry friend has chewed through the carpet and scratched through the walls, you may be wondering if your homeowners insurance will cover the damage. That's a tricky question with a trickier answer. And depending on the unique situation, that answer could either be yes and no. Let's take a deep dive into what is and isn't covered when it comes to pet damage.
Does Home Insurance Cover Pet Damage?
Damage to your home caused by your pet is not covered. But damage to your home caused by another person's pet may be covered by their insurance. Likewise, damage to another person's home caused by your pet may be covered under the liability portion of your homeowners insurance. And if your pet bites someone on or off your property, liability insurance will also kick in and pick up a portion of the bill as well.
Got all that? Don't worry, we'll dive deeper.
Pet Liability Insurance for Owners
Within your homeowners insurance policy resides protection called liability coverage. This is the mainstay protection for all things pets. When it comes to pet coverage, your policy's liability coverage can help pay for damage your pet causes to someone else's property and dog bites that occur on or off your property.
Each homeowners insurance policy typically comes standard with $100,000 worth of personal liability coverage. For pet damage, this amount is utilized to help pay for medical bills if your pet injures someone, pay to repair property they may have damaged, and any lawsuits that arise from either situation.
In either instance stated above, your policy would cover you up to $100,000 for each liability claim. So if the medical bills from a dog bite total $60,000 and the injured party sues you, racking up $35,000 in legal fees, your policy would cover all of it because the damages total $95,000.
If the damages were to exceed $100,000 for a single claim, you'd have to pay the remaining amount out of your own pocket. Now let's break down which scenarios are covered and when it may make sense to increase your liability coverage.
Damage Caused by
Your Own Pet
For the following scenarios, let's say you have a dog, cat or any domestic animal such as a chicken, pig or horse — yes, pet damage liability coverage may also extend to barn animals — and its name is Baxter. First, you'll want to make sure Baxter, especially if they're a dog, is not on your insurer's list of restricted breeds and is also named on your policy.
What happens if Baxter chews a hole in the carpet or your clothes, scratches through the drywall, stains the floor after they've been locked in the house for 12 hours, knocks over and breaks your TV due to excitement upon first glance of you after said 12 hours, runs through and destroys a fence on your property, or eats your diamond ring?
Unfortunately, you wouldn't be covered for any of those scenarios. You'd be personally responsible for repairing or replacing those items, if you so choose, because your policy doesn't cover any damage your pet causes to your own property.
However, let's say that you have fish and they live in an underwater ecosystem that resides within a 50-gallon tank. That's a lot of water. In fact, it's 417 pounds of water encased in glass within your home. What happens if the tank breaks and causes water damage throughout your home?
Negligence, such as improper upkeep or overflowing the tank, is typically not covered under any policy. Also, if there's a malfunction with the tank that's believed to be a factory or user error, you likely wouldn't have any coverage for the damage it causes.
Damage to Someone Else's Property
If you take Baxter over to a friend's house, or he sneaks into the neighbor's place through the doggy door, you're liable for any damage he may cause to that person's property. So if Baxter damages someone else's property or belongings, such as chewing through the carpet or eating a diamond ring, the property owner can file a claim through your insurance to seek damages.
If the claim is accepted, it will tap into your policy's liability coverage. With an average policy, you will have at least $100,000 in liability coverage that will help pay for damages, and this will likely be enough since pets may not be able to cause that much property damage.
It doesn't matter if you're on your property, your neighbor's property, public or private property, you're responsible for any damages resulting from your pet biting a person. Medical bills and court costs are paid by the liability portion of your coverage, and they can add up quickly.
The minimum liability coverage is $100,000, so insurance will pay up to that amount for a single incident. If medical bills and legal expenses exceed that amount, you're responsible to pay the remaining costs. If you have a dog, we recommend having at least $300,000 to $500,000 worth of liability coverage.
With the average claim costing $50,245 in 2020, due to surgeries that occur and lawsuits, it's better to be overinsured in this instance than to be underinsured and potentially have to fork over a few hundred thousand dollars out of your own pocket after a claim.
Damage Caused by
Someone Else's Pet
While some damage caused by your pets isn't covered, most of the scenarios involving other people's pets should be covered by their insurance. And, if they don't have insurance, your liability coverage can typically come in to save the day.
Let's say your neighbor's dog, Riley, goes on a rampage and destroys your carpet, electrical wires and furniture. Well, your neighbors are liable for their dog and would be responsible for replacing or repairing your property and belongings. If they have homeowners insurance, it would kick in and pay for the damages.
You'd have to file a claim against their insurance. Since homeowners insurance policies typically have a minimum of $100,000 in liability coverage, that amount would be used to repair or replace your property and belongings. If it cost more, they'd be financially responsible for paying the damages.
However, if they don't have home insurance, you may be able to file a claim with your insurer to pay for the damages. If your neighbor doesn't have enough coverage, filing a claim with your insurer may result in the extended coverage amount.
If you're bitten by someone else's pet, their liability insurance would pay all medical bills and legal expenses associated with the bite. If the pet owner doesn't have coverage, or fails to meet the threshold amount, the owner is responsible for all the remaining expenses.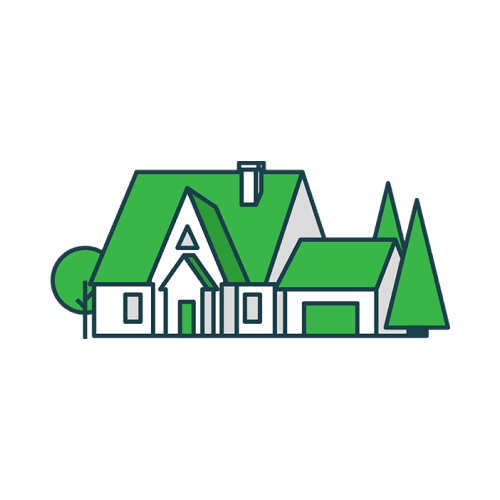 It's Time to Switch Your Homeowners Insurance
We partner with the nation's top homeowners insurance companies so you can get a custom policy at an affordable price.
The editorial content on Clovered's website is meant to be informational material and should not be considered legal advice.
Similar Articles
3 Min Read