Does Homeowners Insurance Cover Foundation Repairs?
Homeowner
/
Does Homeowners Insurance Cover Foundation Repairs?
Foundational problems needing repair are the things of homeowners' nightmares. And that statement is tenfold for new homeowners who didn't do the proper due diligence to figure out their dream is far less dreamy than they had originally thought.
But while foundational problems seem like such a huge burden, some issues and repairs can actually be covered by your homeowners insurance policy. They don't always break the bank, either. Foundational repairs can cost as little as a couple of hundred dollars for minor repairs.
However, when you're facing a foundational problem with the ability to break the bank, shelling out thousands of dollars may not be in your best interest. Let's take a look at some of the most common causes and coverages of foundation repair.
Does Homeowners Insurance Cover Foundation Issues & Repairs?
Since your home's foundation is a pivotal piece of your home, homeowners insurance covers foundation repair to homes in many instances under the dwelling coverage portion of your policy. Like any other issue with your home, the root of the problem must be caused by one of the many covered perils in your policy.
Foundational Repairs That Are Covered
Similar to the way dwelling coverage protects your roof, this coverage also extends to your home's foundation. Foundational issues that are derived from a covered peril, such as a fire or hurricane, can become very expensive very fast.
But that's why you have homeowners insurance in the first place: to protect your biggest investment in times of need. Some of the most commonly covered perils are as follows:
Damage caused by vehicles

Damage caused by aircraft

Rioting or civil disturbances

Fire or smoke damage

Lightning

Windstorm or hail, such as a hurricane or tornado

Explosions

Volcanic Eruptions

Damage caused by heating, air conditioning or plumbing

Damage due to snow, ice or sleet

Damage from water heater, including cracks, burns or tears

Damage from electrical current, such as downed powerlines
Of course, the type of policy you have determines which perils are covered. If you have an HO-1 basic form policy, you'll have coverage for the first eight perils listed. If you have an >HO-2 broad form policy, which is also a named-peril policy, you'll have coverage for all the perils listed.
So let's break down an example of a few foundational issues and repairs that are covered. If an accidental fire breaks out in your home, causing damage to the kitchen and affecting your foundation before the local firemen put it out, that would likely be covered by your homeowners insurance.
Even if the fire doesn't directly damage your home's foundation but smoke damage does, that would likely be covered as well.
If you live in a cold-weather environment that gets a lot of snow and ice, those could also have a devastating impact on your home's foundation after a massive winter storm. If snow and ice pack tightly on your home's foundation, causing it to crack or break apart, that would likely be covered as well.
Foundational Repairs That Aren't Covered
Two natural disasters that have the likelihood of causing the most damage to your home's foundation are floods and earthquakes. Unfortunately, those two perils aren't covered by your homeowners insurance policy.
Floods and earthquakes are never covered by homeowners insurance, so it's not just foundational issues that apply. In addition to those uncovered perils, there are a few other situations that aren't covered.
If your home's foundational issues are derived from normal wear-and-tear, solid fluctuations, extreme heat or cold, tree root growth or the shifting, settling and cracking of your home's foundation, none of those things are covered.
Additionally, if the foundational issues were caused when the home was built and either weren't caught by you or your home inspector, those issues aren't covered either. That's why it's always imperative to enlist the help of a home inspector before you purchase a home. They can help you avoid many issues down the road.
How to Prevent Damage to Your Home's Foundation
There are plenty of measures you can take to prevent foundational issues from striking your home. Since the most common cause of foundational issues can be attributed to the shifting of soil, it's imperative that you take the proper measures to keep the soil in good condition throughout the year.
Seal Cracks Quickly: If you spot a crack in your foundation, no matter how small, it's crucial that you seal it immediately. Whether you can do it yourself or call in a professional, this will stop the issue at the source and prevent it from becoming a larger problem.
Conduct a Home Inspection: Home inspections are one of the most important things you can do before buying a home. A home inspector can not only spot any faults in your foundation, but they can spot a slew of issues before you put down all your cold-hard cash for that new home.
Watch Your Trees: Tree roots are tough to contain. They go wherever they want — including into your home's foundation. That's why it's important to plant larger trees a safe distance from your home and cut them down if you notice the roots are pushing up against your home.
Maintain the Soil Around Your Home: Whether it's through regular maintenance, ensuring the ground isn't too wet or dry or some other form of soil duty, maintaining the soil directly around your home is extremely important.
Mulch Near the Foundation: One of the best ways to ensure the soil around your home isn't too wet or dry is to lay mulch around your home's foundation. Mulch helps maintain the moisture levels and temperatures of the soil directly surrounding your home.
Clean Your Gutters: You may wonder how your gutters impact your home's foundation, and that's common. But if your gutters are clogged during a heavy rainstorm, it will overflow the gutters and make its way into the soil touching your foundation. If too much water builds up, it could leak into your home's foundation and cause it to break from the inside out.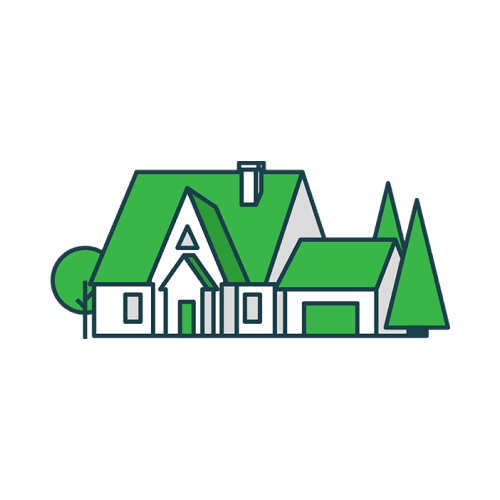 It's Time to Switch Your Homeowners Insurance
We partner with the nation's top homeowners insurance companies so you can get a custom policy at an affordable price.
The editorial content on Clovered's website is meant to be informational material and should not be considered legal advice.
Similar Articles