Earthquake Insurance 101: How It Works, What It Costs & More
Insurance 101
/
Earthquake Insurance 101: How It Works, What It Costs & More
When you think about the value of your homeowners insurance, catastrophic natural disasters may be the first thing that comes to mind.
You may have a few days notice to prepare for some storms (like hurricanes), and absolutely no time at all to prepare for other disasters (like earthquakes). 
When it comes to protecting your home against seismic activity, earthquake insurance may not be required by law, but that doesn't mean you should consider taking out a policy for it anyway.
Depending on where you live, you might be wondering how does earthquake insurance work, how much does it cost, and do I really need it? Let's explore below.
How Does Earthquake Insurance Work?
The damage caused by an earthquake or any form of seismic activity isn't covered by your traditional homeowners insurance policy. Because earthquake insurance is its own, separate policy, coverage falls into three distinct categories. 
Damage to your house or property caused by an earthquake. 

Damage to your personal belongings as a result of earthquake activity 

Additional Living Expense (ALE) coverage to protect against the cost of relocating when your home is being repaired.
As with most insurance policies, earthquake insurance asks you to select your policy limits based on the cost of your repair, for completely replacing your home and your belongings, and a deductible you would be required to pay out of pocket before your coverage kicks in. 
When you're setting your policy limits and deductibles, consider the same parameters you used for your standard homeowners insurance policy. You'll want to ensure your policy limits offer an adequate amount of coverage from the beginning.
When you're setting policy limits for your personal expenses, it's recommended that you take as accurate an inventory as possible of all of your possessions.  
Do I Need Earthquake Insurance?
Earthquake insurance isn't legally required regardless of where you live, but your mortgage lender may require it based on location if your home is in a high-risk area where earthquakes are more prevalent. 
Even if you aren't required to enroll in earthquake coverage, you may still want to consider enrolling in a policy that protects your home from seismic activity.
In addition to the West Coast, where earthquakes are the most common, you could experience seismic activity as far north as New York and Maine and as far south as Mississippi or Florida. 
Even if an earthquake isn't likely in your area, it's important to remember in the unlikely event that your home or your possessions are damaged by one, your standard homeowners insurance won't cover the cost of damage. 
How Much Does Earthquake Insurance Cost?
The average premiums for earthquake insurance range between $800 and $2,000 annually with deductibles between 10 percent and 20 percent of the total policy cost.
In high-risk cities like San Francisco, where home prices are well above the national average, earthquake insurance premiums can range from $2,000 to $5,000 annually.  
The actual cost of your earthquake insurance will depend on the estimated value of your home, the deductible you set for the policy and many other factors. 
Is Earthquake Insurance Worth It?
Now that you know how earthquake insurance works, you're probably asking the next obvious question: is earthquake insurance worth it?
Unfortunately, earthquake coverage isn't always cheap, and if it isn't required by your mortgage lender, it can feel like a questionable expense.
If you can afford earthquake coverage and you live in an area where seismic activity is even somewhat likely to occur, you should enroll in a policy. When it comes to your home and your possessions, it's always better to be safe than sorry!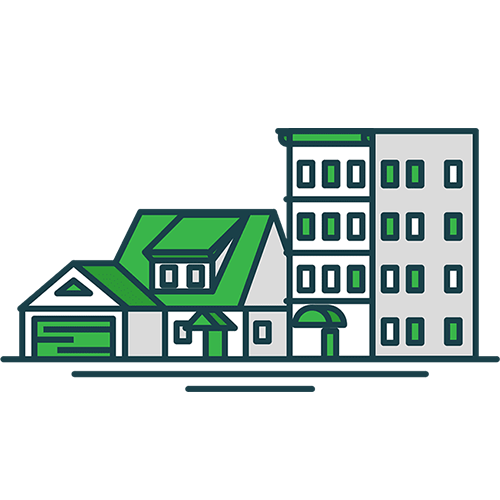 Home Protection Is Just a Click Away
We partner with the nation's top home insurance companies so you can get an excellent policy at an affordable price.
The editorial content on Clovered's website is meant to be informational material and should not be considered legal advice.
Similar Articles