Does Homeowners Insurance Cover Landscaping Damage?
Homeowner
/
Does Homeowners Insurance Cover Landscaping Damage?
Many homeowners invest a decent amount of time and money into their landscaping. Rightfully so, too. Colorful flowers blooming from the ground and freshly laid mulch or stone complementing the exterior accent of a house creates a palatable presence for a home.
Time and money spent planning, designing and building landscape around a house and throughout a property increases its value and produces a visually appealing home. However substantial any investment, people often wonder how their investment is protected. But how are theft protected?
In the case of landscape and gardens, you can breathe easy knowing that homeowners insurance can protect your landscape, garden and any supplies you use to maintain them from theft, damage or total loss.
Does Homeowners Insurance Cover Landscaping Damage?
Homeowners insurance can protect your landscaping from a number of covered perils. This includes damage to your yard, trees, shrubs, plants, surrounding structures and even the tools you use to build and maintain your landscape or garden.
Covered perils include things like theft, vandalism, fire, lightning and damage caused by natural disasters such as a hurricane, tornado or hail storm. So if you have a rare plant that someone steals, you should be covered. If vandals come by in the middle of the night and dig up your landscaping or garden, you should be covered. Or if a fire breaks out in your house and spreads to the landscape, you should be covered.
Dwelling Coverage for Landscaping
If damage to your garden or landscape was caused by a covered peril, the cost to replace or rebuild them would be protected under the dwelling coverage portion of your homeowners insurance policy.
However, insurance companies limit the amount they will pay for claims relating to gardens and landscapes, which is typically capped at 5% of your total dwelling coverage. For instance, if you have $200,000 in dwelling coverage, 5% will max out reimbursement for repairs at $10,000 per claim.
Companies also tend to cap a single replacement or removal of a tree or shrub at $500 to $1,000. If a tree or shrub was knocked down, usually $500 to $1,000 can be used to remove the tree from your property and $500 to $1,000 can then be used to replace the tree.
Trees, shrubs and plants aren't the only things covered due to damage or loss caused by a covered peril. Structures that surround the landscape or garden are also covered. So if you have expensive potters that were cracked by a hurricane's winds, or the bricks used to outline your landscaping were split in half, your insurance would likely cover these as well.
If your neighbor's tree does the damage, don't worry. You're covered for that, too. Your insurance company may attempt to collect from your neighbor's insurance company through subrogation, which is a way to recoup debt for damage.
Personal Property Coverage for Landscaping
Stolen or damaged items, such as tools and equipment that you use for your landscape or garden, are also covered. Personal property coverage is usually limited to 50% to 75% of your dwelling coverage, but you only need as much coverage as your belongings are worth.
The easiest way to figure out exactly how much coverage you need is to create a contents list that conveys what you own and how much you bought them for. Things like gardening tools, trimmers and even lawnmowers are covered under the personal property portion of your policy.
Personal property coverage will reimburse you for either the replacement cost or actual cash value of the item. Replacement cost coverage reimburses you the exact dollar amount you paid for an item, while actual cash value takes depreciation into account to reimburse you for the item's current market value.
Does Homeowners Insurance Cover Landscaping Damage Due to Freeze?
Damage due to freezing is a grey area because freezing isn't a covered peril under many homeowners insurance policies. You likely won't have coverage if a sudden freeze damages or destroys your landscape or garden, but you'll want to check with your insurer to make sure.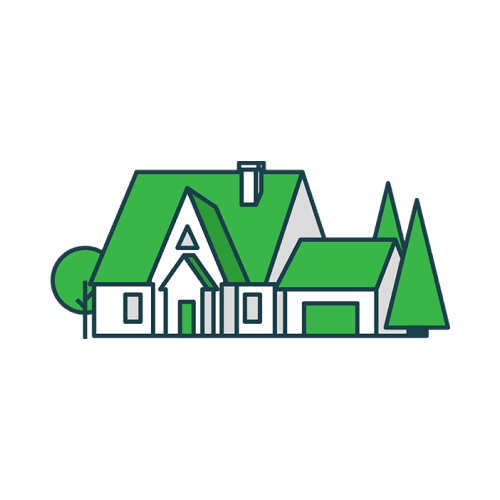 It's Time to Switch Your Homeowners Insurance
We partner with the nation's top homeowners insurance companies so you can get a custom policy at an affordable price.
The editorial content on Clovered's website is meant to be informational material and should not be considered legal advice.
Similar Articles