72 Important Home Insurance Terms to Know
Insurance 101
/
72 Important Home Insurance Terms to Know
Insurance is great for protecting you in times of need — it's just hard to understand sometimes. That's why we broke down legal jargon into layman's terms for some of the most important home insurance terms you need to know!
All of these important insurance terms are crucial to each and every policy, but they don't do any good when they're laced with jargon. So without further adieu, here are the terms you should know for comprehensively understanding insurance.
1. Actual Cash Value (ACV)
This is how much it would cost to replace an item, minus the amount of money that item has decreased due to depreciation.
2. Additional Living Expenses
It's coverage, typically within your homeowners policy, that helps pay extra costs when you're unable to live in your home due to a loss or claim that is covered in your policy.
In homeowners insurance, adjusted basis refers to the original cost of the property, increased by home improvements or decreased by depreciation, which gives you a valuation of your home.
They are insurance professionals who investigate claims and determine the extent to which the insurance company will pay for damages or loss. Either in-house or independent, adjusters are also known as a claims adjuster, claims handler, claims examiner or field adjuster.
They are licensed insurance professionals who are employed by insurance companies to sell policies that offer protection to the consumer.
6. All Other Perils Not Enumerated
Refers to hazards, events and all other causes that lead to loss and are not mentioned within the insurance policy.
A type of homeowners insurance policy that covers you in the case of all losses that aren't specifically mentioned in the policy. These forms of coverage are typically more expensive but ensure you're covered in a wider variety of situations.
The most common occurrence appraisals are called for is when there's a disagreement between the homeowner and adjuster about the value of an insurance claim. An appraisal is an alternative method for the two parties involved to come to common ground and agree on a value for a loss that's covered within a policy.
Can be another way of saying the terms "policyholder" or "insured," and typically means the individual insured on a policy.
This means you're getting just enough to get covered and is usually the cheapest and least comprehensive plan.
It refers to improvements to your condo after you move in and have already paid for a condo policy. Those improvements aren't typically covered by the condo association, so be sure to ask your agent about betterment within your policy.
This represents the written agreement between you and your insurance company. After written documents have been signed, a binder, which is temporary in nature, is given to prove to the lender that you have obtained insurance on the property.
It provides insurance coverage for multiple properties under a single policy, or more than one type of coverage for a single property.
14. Bodily Injury Liability Coverage
This part of your insurance policy pays for costs associated with injuries that are covered within your policy. This may be an injury to yourself, someone living on the property or a person who does not live on your property but sustained an injury on your property.
A term used to describe a broad category of coverage for loss, damage and other liabilities that may fall within the coverage of a policy.
Is a policy that does not cover the full value of your home. For instance, if your home is worth $100,000 and you insure it for 80%, you'd only receive 80% of the overall value for a claim. If your $100,000 home is declared a total loss, the insurance company would pay you $80,000 (80%). If your home sustains $20,000 worth of damage, the insurance company would pay you $16,000 (80%). The remainder usually comes out of the homeowners' pocket.
This refers to the ground, amenities and buildings outside your unit in a condo or homeowners association area that are owned by those entities and not owned by you.
18. Comprehensive Loss Underwriting Exchange (CLUE) Report
CLUE is a consumer-reporting database you can tap into to see every claim filed by people who have lived on your property for the past seven years.
This is coverage you have that offers added protection to your condo and your belongings that aren't covered by the condo association.
Consequential loss is an extended portion of your policy that covers the loss of non-covered items due to a covered event. For instance, if a storm downs a tree and cuts power to your house, causing food in your refrigerator to spoil, the food would be covered by consequential loss.
Also known as personal property coverage, this protects your possessions if they are destroyed or damaged due to a covered event. We recommend creating an inventory of everything in your home, with pictures and receipts, just in case a qualifying event happens.
22. Covered Loss (Covered Peril)
Replacement of your home and personal properties due to a qualifying event that causes damage or a total loss.
It's the front page of an insurance form that specifies information such as policy period, coverage and limits.
An amount of money the insured must pay before the insurance company pays a claim, which is agreed upon before a contract is signed.
A type of policy, or a part of your homeowners insurance, that helps pay for the repair or rebuilding of your home if it's damaged by a covered event.
Estimated age of a structure based on physical and utility wear and tear. A home's effective age can be younger or older than the actual age.
It's a clause within an insurance policy that details a change or an exemption in coverage, which adds, deletes or revises provisions of the policy.
These are situations, events and things your policy doesn't cover. Many people don't realize earthquakes, flooding and wars are typically exclusions in homeowners insurance policies.
29. Extended Replacement Cost
This makes sure you're covered for qualifying events if you have items, such as jewelry or high-end art, that exceed the value within the personal property limit within your homeowners insurance policy.
If a rental property is damaged and uninhabitable, this home insurance benefit ensures the rentor will be paid for the loss of income due to not being able to rent the property.
This is an addition to your policy that covers items that are easily movable and damaged or lost off the property which is covered under your homeowners insurance.
32. Force Placed Insurance
If you have a mortgage on your home and are unable or unwilling to get homeowners insurance, your mortgage lender will buy an insurance policy to cover your home and then send you the bill. This insurance typically provides less coverage than what you actually need.
An amount of time you can go without paying your insurance premium before it gets canceled.
This pertains to multiple items that fall within a distinct category that relate to one another. For instance, jewelry can be grouped into one category. So if you're insured for $5,000 in jewelry coverage, but you own four watches worth $1,000 each and four necklaces worth $500 each, you're only covered for $5,000 of the $6,000 worth of jewelry.
35. Guest Medical Protection
If someone is accidentally injured on your property, this addition to your homeowners policy can help pay medical bills and other expenses that directly result from the injury.
Hazard insurance is oftentimes used to describe certain risks that are covered by a homeowners insurance policy. It's also used as another name for homeowners insurance.
Although this business is run out of the main address on your homeowners insurance policy, your home-based business may not be covered under the same policy. This addition to your policy covers items such as printers and office equipment that aren't covered under your existing homeowners insurance policy.
This is a list of all your important personal property. It's a good idea to create a list with receipts and pictures of all items.
A policy that protects a person's home and personal belongings against damage and total loss due to a qualifying event or circumstance. There are many add-ons to your policy that ensure liability coverage in case you or other people are injured on your property.
A policy for people who own a home, which coverage for the dwelling, other structures, your personal belongings, liability, loss of use and medical payments to others.
41. Identity Restoration Coverage
This is typically an affordable add-on to your homeowners insurance policy and covers expenses and incidents due to identity theft or identity fraud.
The value of your property typically goes up over time and can leave a gap between the actual value of your home and the insured value of your home. If a qualifying event happens and you need to rebuild your home, inflation protection covers the value of your home plus inflation.
This is the amount of coverage you have on your home compared to your home's actual value – without factoring in appreciation or improvements. This does not reflect your home's actual market value. It's vital in figuring out how much it would cost to replace your home compared to how much you're actually covered. If your home is covered for a $100,000 policy and you've done $25,000 in improvements, you aren't covered for the actual value of your home.
A policy purchased by property owners that covers risks and financial losses associated with rental properties.
Is a type of policy that covers you against damages that occur to other people or their property, which you're legally responsible to pay.
46. Loss Assessment Coverage
Used in addition to condo or homeowners association policies, this coverage is used when the amount exceeds the previous two policies and occurs in common areas. It also helps pay for major assessments to the building due to qualifying events.
This is the record of insurance losses associated with your home. It pertains to the claims filed by you in other properties and all claims filed by other people in the property you wish to insure. It's tracked in a comprehensive loss underwriting exchange (CLUE).
If your property is uninhabitable due to a qualifying event, it ensures you're covered for additional expenses you may incur while your home is being repaired or replaced. These expenses include hotel fees or rent and additional money for things such as eating out instead of being able to cook at home.
49. Material Misrepresentation
Lying, hiding or fabricating anything to the insurance company that alters a contract. This could lead to the rightful cancellation of your policy by your insurance company.
50. Medical Payments Coverage
Liability insurance that covers any medical bills you incur due to people being injured on your property by a qualifying event.
It's a provision within a homeowners insurance policy that grants special protection of a mortgage company or any mortgagee that's named in the policy.
52. Mysterious Disappearance
Is typically a covered peril within your homeowners insurance that protects your stolen personal belongings while you're away from your covered property.
Failing to take proper care while doing something, which directly results in the damage to property or injury of a person. Many times liability coverage within your homeowners insurance protects you against negligence.
Present value of the premium, minus expenses, profit or other related things.
A type of homeowners insurance policy that covers your losses caused by anything except those specifically named in your policy.
56. Other Structures Coverage
An additional part of a homeowners policy that covers any structures or buildings such as sheds, fences and pools from qualifying events. The limit for all other structures is usually 10% of your policy. For instance, if your policy covers $200,000, your other structures coverage would pay up to $20,000 in damage or loss.
Combining two or more policies into one, such as getting a policy for property, theft and liability coverage.
This can either be when you make a claim for less than the limit on your policy, or when your home or personal belongings are damaged but not destroyed completely.
59. Peril (Qualifying Event)
Any qualifying event, circumstance or hazard that causes damage or complete loss to your property or personal belongings. Perils most commonly associated with claims are lightning strikes, hurricanes, theft and vandalism.
The contract between you and a company, which is written for insurance based on your unique needs.
The property where the policyholder lives the majority of the year.
Is a statement signed, and sworn to, by the policyholder that states the amount of money being requested for the policyholder's home and/or personal belongings.
The restoration of a person's policy after a premium has been missed and the grace period has lapsed. To be reinstated, you typically have to pay the unpaid premiums and any additional charges associated with the policy.
A policy for people who rent an apartment, home or condo that oftentimes includes liability coverage and protection for your personal belongings.
Refers to the amount of money an insurance policy pays to cover replacement or repair costs for an item, usually minus wear and tear.
66. Scheduled Personal Property Coverage
This is additional or extended coverage that can be added to homeowners, condo or renters insurance policies and protects high-value items that don't fall within typical policy limits.
67. Single Interest Insurance
If a property is co-owned, single interest insurance only covers one of the two parties.
Is the state of a person's primary residence or company's home office.
When an insurance company seeks payment from a third party for damage or injury. For instance, if your neighbor's tree falls onto your house, you can file a claim with your insurance company to get funds to repair your property quickly. Your insurance company will then go through subrogation to get back your money and deductible.
When it costs more to repair your personal belongings or your home than it would to replace them.
Commonly referred to as umbrella insurance, this is additional liability coverage above the limit on your policy.
72. Unscheduled Personal Property Coverage
Items and possessions that are moveable and aren't specifically listed in a homeowners, renters or condo insurance policy. Items such as clothes, art and appliances are typically categorized within unscheduled personal property coverage.
Hopefully this list helps you figure out your policy a little better!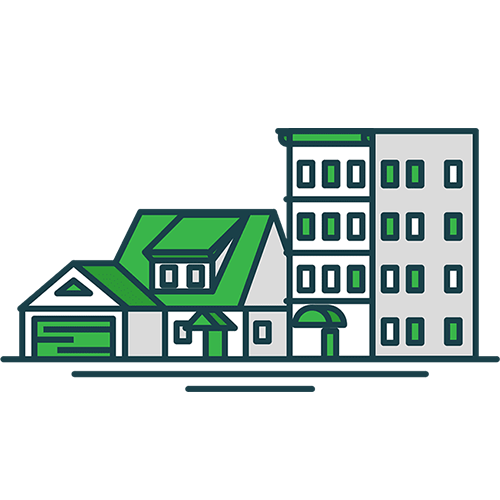 Home Protection Is Just a Click Away
We partner with the nation's top home insurance companies so you can get an excellent policy at an affordable price.
The editorial content on Clovered's website is meant to be informational material and should not be considered legal advice.