Maryland Homeowners Insurance
Homeowner
/
Maryland Homeowners Insurance
From crab cakes to Old Bay everything, Maryland holds a unique place in American history, folklore and kitchens across the country. Whether you like boiled crabs, steamed crabs or don't like crabs at all, every homeowner in Little America has one thing in common — they all need a sufficient Maryland homeowners insurance policy to protect their house and their belongings.
The best homeowners insurance rates in Maryland can be found using our online multi-rater quoting engine, which compares prices of policies from many of the best homeowners insurance companies in Maryland to provide you with a policy that meets your coverage needs and your budget.
What's Covered With a Maryland Homeowners Insurance Policy?
Homeowners insurance in Maryland covers the structure of your house, your personal belongings and much more, including unexpected incidents that could occur on your property. While you get to choose the amount of coverage you enroll in, the following six coverages come standard in every homeowners insurance policy.
Coverage A: Dwelling
This covers the actual structure of your home and the components that make it, such as the roof, siding, windows, countertops and flooring. Since it protects the actual home itself, the amount of Coverage A on your policy should be the equivalent, or slightly more, than your home's value.
Coverage B: Other Structures
Structures on your property that aren't connected to your househouse fall under this coverage. It includes things like fences, sheds and even satellite dishes. Coverage for these structures is typically up to 10% of the policy's dwelling maximum.
Coverage C: Personal Belongings
Coverage C is designed to protect the policyholder's personal belongings that are kept within the home. For homeowners, this coverage can pay to replace things like furniture, electronics, clothes and even items kept on the property, like lawnmowers.
Coverage D: Loss of Use
Arguably the most underrated part of every homeowners insurance policy, loss of use helps to pay for things like equivalent housing and extra everyday expenses if the policyholder's home is unable to live in after being damaged or destroyed.
Coverage E: Personal Liability
This coverage can provide financial protection for accidents that occur on the policyholder's property, damage to other people's property and dog bites. It can help pay for medical expenses, legal fees and property damage if the policyholder is deemed liable.
Coverage F: Medical Payments
Similar to personal liability, medical payments to others covers minor injuries that occur on the policyholder's property — whether or not they're found liable for the incident. Policies usually have between $1,000 and $5,000 worth of MedPay coverage.
Which Perils Are Covered by Homeowners Insurance in Maryland?
From Ocean City to Baltimore and everywhere in between, the Old Line State faces some of Mother Nature's distinct perils. Having the proper Maryland homeowners insurance policy in place ensures you're protected if the following events occur and damage your home or belongings.
10 Named Perils Under HO-1:
Vandalism

Theft

Damage caused by vehicles

Damage caused by aircraft

Rioting or civil disturbances

Smoke damage

Fire or lightning

Windstorm or hail, such as a hurricane or tornado

Explosions

Volcanic eruptions
16 Named Perils Under HO-2:
(All 10 named perils under HO-1, plus the following)
Frozen pipes

Falling objects

Damage caused by heating, air conditioning or plumbing

Damage due to snow, ice or sleet

Damage from water heater, including cracks, burns or tears

Damage from electrical currents, such as downed powerlines
How Much Is Homeowners Insurance in Maryland?
The average cost of homeowners insurance in Maryland is just over $1,100 per year. That's about $100 less than the national average. Given the policy averages $200,000 worth of dwelling coverage, $100,000 of liability coverage and $30,000 of personal property coverage, it's worth every penny of the — oh, several hundred crab cakes you may have to trade — price to protect your home.
Average Cost of Homeowners Insurance in Maryland

: $1,100 per year
How to Get the Best Homeowners Insurance in Maryland
To get the best homeowners insurance rates in Maryland, all you need to do is get a homeowners insurance quote from Clovered's online multi-rater tool. Our proprietary quoting engine compares prices from many companies in Maryland to set you up with the best coverage at the best price.
What's even better is that getting a quote online can be done in minutes. After you've purchased your policy, we'll put it into effect right away so you can ride off into the sunset — or out to Ocean City — with sufficient coverage and peace of mind.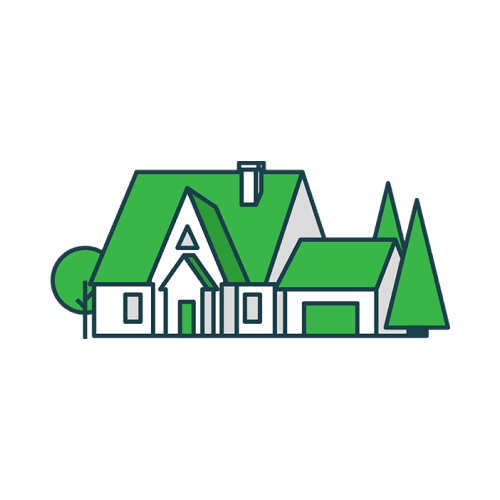 It's Time to Switch Your Homeowners Insurance
We partner with the nation's top homeowners insurance companies so you can get a custom policy at an affordable price.
The editorial content on Clovered's website is meant to be informational material and should not be considered legal advice.