PENNSYLVANIA
HOMEOWNERS
INSURANCE
Pennsylvania Homeowners Insurance
With borders along Lake Erie, two booming cities of Pittsburgh and Philadelphia, the birth of the American Revolution, cheesesteak sandwiches and so much more, residing in the great state of Pennsylvania is a treat. Whether you're a fan of the Steeler or Eagles, Penguins or Flyers, Pirates of Phillies, or your roots run deep at one of the many outstanding colleges in the state, owning a house in the Keystone State means you'll have to protect your investment with Pennsylvania homeowners insurance.
With Clovered, getting sufficient homeowners insurance in Pennsylvania is easy, affordable and quick. Our online multi-rater tool compares policies from some of the best homeowners insurance companies in Pennsylvania to provide you an affordable policy with adequate coverage quicker than you can answer whether you'd like Cheez Whiz or provolone on that sauteed ribeye sandwich.
What's Covered With a Pennsylvania Homeowners Insurance Policy?

Coverage A – Dwelling
☘ This covers the actual structure of your home and the components that make it, such as the roof, siding, windows, countertops and flooring. Since it protects the actual home itself, the amount of Coverage A on your policy should be the equivalent, or slightly more, than your home's value.

Coverage B – Other Structures
☘ Everything from a white picket fence to a shed — and even a treehouse — are considered other structures. The structures must be on the homeowner's property, though, and is typically up to 10 percent of the policy's dwelling limit.

Coverage C – Personal Belongings
☘ Coverage C is designed to protect the policyholder's personal belongings that are kept within the home. For homeowners, this coverage can extend to items kept on the property, such as a lawnmower.

Coverage D – Loss of Use
☘ Arguably the most underrated part of every homeowners insurance policy, loss of use helps to pay for things like equivalent housing and extra everyday expenses if the policyholder's home is unable to live in after being damaged or destroyed.

Coverage E – Personal Liability
☘ Protection against accidents that occur on the policyholder's property, personal liability can provide money for medical bills and legal expenses for incidents when the policyholder is found liable. Coverage extends to incidents like dog bites, major injuries and accidental death.

Coverage F – Medical Payments
☘ Similar to personal liability, medical payments to others (also called MedPay) covers minor injuries that occur on the policyholder's property — whether or not they're found liable for the incident. Policies usually have between $1,000 and $5,000 worth of MedPay coverage.
What are the common covered perils
Which Perils Are Most Commonly Covered by Homeowners Insurance in Pennsylvania?
From snowstorms that barrel into homes and freeze pipes in the winter to those pristine summer days that may be filled with bright lightning, your house is covered by Pennsylvania homeowners insurance for all of life's unexpected — but covered — perils.

☘ Vandalism
☘ Theft
☘ Damage caused by vehicles
☘ Damage caused by aircraft
☘ Rioting or civil disturbances
☘ Smoke damage
☘ Fire or lightning
☘ Windstorm or hail, such as a hurricane or tornado
☘ Explosions

☘ Volcanic eruptions
☘ Frozen pipes
☘ Falling objects
☘ Damage caused by heating, air conditioning or plumbing
☘ Damage due to snow, ice or sleet
☘ Damage from water heater, including cracks, burns or tears
☘ Damage from electrical currents, such as downed powerlines
How Much Does Homeowners Insurance Cost in Pennsylvania?
The average cost of homeowners insurance in Pennsylvania tips the scale at around $900 per year for $200,000 of dwelling coverage, $30,000 of personal property protection and $100,000 of liability coverage — plus some other vital coverages that you may need.
The price of premiums you pay will differ drastically based on your location and other factors. So homeowners in Lancaster may pay a different price than those in Allentown, York, Scranton, Bethlehem or Kittanning. And those in Pittsburgh will likely pay a different price than those in Philadelphia.
Average Cost of Homeowners Insurance in Pennsylvania

: $900 per year
How to Get the Best Homeowners Insurance in Pennsylvania
For an affordable Pennsylvania homeowners insurance policy accompanied by best-in-class customer service, Clovered has your back — and your house covered. We protect your house, personal belongings and many other unexpected factors from covered perils.
With our online quoting engine, we're able to compare policies from the best homeowners insurance companies in Pennsylvania to provide you a policy in minutes that fits your coverage needs and meets your budget.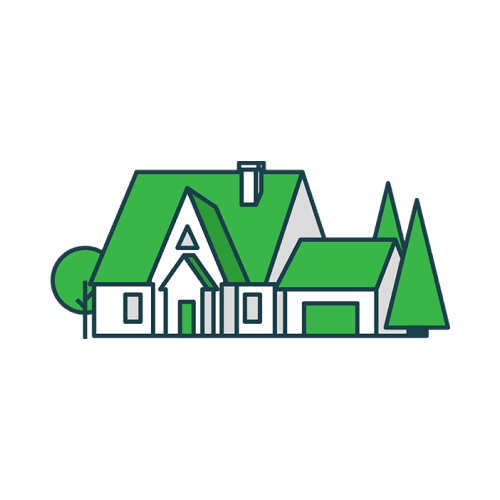 It's Time to Switch Your Homeowners Insurance
We partner with the nation's top homeowners insurance companies so you can get a custom policy at an affordable price.