Massachusetts Homeowners Insurance
Homeowner
/
Massachusetts Homeowners Insurance
From vicious snowstorms to freezing temperatures in the winter and the threat of hurricanes and harsh weather in the fall, Massachusetts faces a unique number of different perils that could quickly and unexpectedly damage or destroy your home and belongings. If you don't have a Massachusetts homeowners insurance policy in place to take care of things, you could be stuck paying repair costs out of your own pocket.
Since the Massachusetts homeowners insurance laws are pretty lenient, homeowners insurance isn't required in the state. Although, just because it's not legally required doesn't mean you shouldn't have a policy. If you owe money on your mortgage, your lender will likely require you to keep an adequate policy up to date until you make your last payment.
Even if you've paid off your home in full, it's always a good idea to invest in the best homeowners insurance in Massachusetts, which Clovered can help you get at the best prices. That's because we've partnered with some of the best homeowners insurance companies in Massachusetts so we can get every resident in The Bay State protected with adequate coverage at a great price.
What's Covered With a Massachusetts Homeowners Insurance Policy?
Homeowners insurance in Massachusetts covers the structure of your house, your personal belongings and much more, including unexpected incidents that could occur on your property. While you get to choose the amount of coverage you enroll in, the following six coverages come standard in every homeowners insurance policy.
Coverage A: Dwelling
This covers the actual structure of your home and the components that make it, such as the roof, siding, windows, countertops and flooring. Since it protects the actual home itself, the amount of Coverage A on your policy should be the equivalent, or slightly more, than your home's value.
Coverage B: Other Structures
Structures on your property that aren't connected to your househouse fall under this coverage. It includes things like fences, sheds and even satellite dishes. Coverage for these structures is typically up to 10% of the policy's dwelling maximum.
Coverage C: Personal Belongings
Coverage C is designed to protect the policyholder's personal belongings that are kept within the home. For homeowners, this coverage can pay to replace things like furniture, electronics, clothes and even items kept on the property, like lawnmowers.
Coverage D: Loss of Use
Arguably the most underrated part of every homeowners insurance policy, loss of use helps to pay for things like equivalent housing and extra everyday expenses if the policyholder's home is unable to live in after being damaged or destroyed.
Coverage E: Personal Liability
This coverage can provide financial protection for accidents that occur on the policyholder's property, damage to other people's property and dog bites. It can help pay for medical expenses, legal fees and property damage if the policyholder is deemed liable.
Coverage F: Medical Payments
Similar to personal liability, medical payments to others covers minor injuries that occur on the policyholder's property — whether or not they're found liable for the incident. Policies usually have between $1,000 and $5,000 worth of MedPay coverage.
Which Perils Are Covered by Homeowners Insurance in Massachusetts?
Since every house in The Bay State is at risk of things like frozen pipes in the winters, home fires year-round and many other unexpected events that could damage or destroy your home in an instant, knowing what your Massachusetts homeowners insurance policy covers and doesn't cover is crucial.
10 Named Perils Under HO-1:
Vandalism

Theft

Damage caused by vehicles

Damage caused by aircraft

Rioting or civil disturbances

Smoke damage

Fire or lightning

Windstorm or hail, such as a hurricane or tornado

Explosions

Volcanic eruptions
16 Named Perils Under HO-2:
(All 10 named perils under HO-1, plus the following)
Frozen pipes

Falling objects

Damage caused by heating, air conditioning or plumbing

Damage due to snow, ice or sleet

Damage from water heater, including cracks, burns or tears

Damage from electrical currents, such as downed powerlines
How Much Does Homeowners Insurance Cost in Massachusetts?
Average homeowners insurance in Massachusetts costs about $1,400 per year, depending heavily on where your home is located, how much coverage you need and your history of claims. Although that's a few hundred dollars above the national average, that doesn't mean you'll have to pay that much.
Houses along the Cape Region tend to drive up the average costs simply because they're on the ocean and need way more insurance than the average home in the rest of the state. From Boston to Springfield to Pittsfield, you can easily reduce your Massachusetts homeowners insurance policy by enlisting Clovered for a free, fast quote in minutes.
Average Cost of Homeowners Insurance in Massachusetts

: $1,400 per year
Is Homeowners Insurance Mandatory in Massachusetts?
No, homeowners insurance in Massachusetts isn't mandatory or legally required by law. However, homeowners that still owe money on their mortgage may be required by their lender to purchase adequate homeowners insurance so its investment is protected.
Whether you owe money on your home or not, you never know what lies around the next bend. Mother Nature, or your neighbors, may throw a curveball your way in the form of a nasty hurricane or costly house fire. If either of these events occur, why should you be left picking up the pieces — and paying for it too?
How to Get the Best Homeowners Insurance in Massachusetts
Getting the best policy from the best homeowners insurance companies in Massachusetts is easier than you may imagine. At Clovered, we work alongside these companies to provide the best policies at the best prices so every Massachusetts resident has access to fair coverage.
All you need to do is get a fast, free quote, which can be completed in minutes. Then you'll pick the price that's within your budget and your Massachusetts homeowners insurance policy will go into effect right away.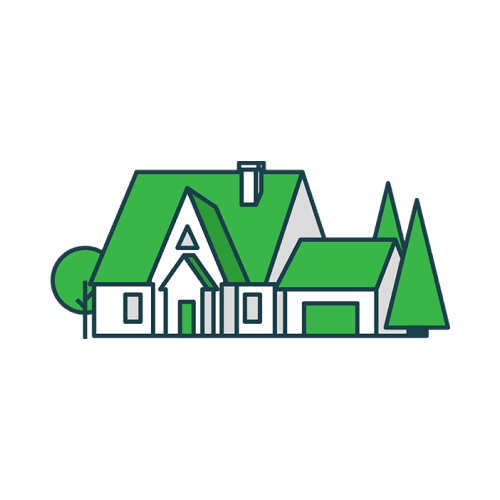 It's Time to Switch Your Homeowners Insurance
We partner with the nation's top homeowners insurance companies so you can get a custom policy at an affordable price.
The editorial content on Clovered's website is meant to be informational material and should not be considered legal advice.