What Is Boat Liability Insurance?
Boat
/
What Is Boat Liability Insurance?
Enjoying a day out on the water is supposed to be relaxing and carefree. But, the tides can quickly turn after an unexpected accident. Thousands of boating accidents occur every year, and the costs associated with them can pile up quickly.
The best way to protect yourself financially from boat accidents is with liability insurance for boats. Below, we'll go over what you need to know about boat liability insurance, including what it covers and how much it costs.
What Is Boat Liability Insurance?
Boat liability insurance is meant to limit your exposure to costs related to an accident on the water that you may have caused. If you injure someone or damage someone's property with your watercraft, the affected party may pursue you for damages. Boat liability insurance allows your provider to step in and cover these costs.
Boat liability insurance usually contains the following coverages:
Bodily injury coverage in boat liability insurance provides compensation in case you injure someone with your vessel, or someone gets hurt on your vessel. Your insurer could pay for the injured person's medical expenses and lost income if you're found liable.
Liability insurance for boats also can cover legal fees if an injured person tries to sue you. Usually, the costs of defense don't count towards your liability limit but double-check with your provider to be sure.
The other primary part of boat liability insurance is property damage coverage. This protection comes into play if you've damaged someone else's property, such as crashing into their boat or dock.
Causes of watercraft property damage usually stem from going too fast or just not paying attention. No matter the cause, your liability insurance can step in and pay for damages that you've caused.
You'll also want to double-check if your liability insurance covers when another driver was using your boat at the time of the accident, and if your coverage follows you when you drive other boats. This can vary based on your carrier, and you'll want to know when you're covered or not.
Medical Payments Coverage
While bodily injury and property damage coverage usually only come into play when you're found liable for damage to someone else, medical payments can be distributed even when there is no fault.
Medical payments coverage is designed to pay for relatively smaller medical expenses no matter who is at fault after an accident. Since the limit is much smaller than the overall liability limit, med pay can usually cover x-ray costs, ambulance costs, or other smaller hospital bills.
Medical payments coverage may be available on a per-person or per-accident basis. Common limits $1,000, $2,500, $5,000, $10,000, or $25,000.
Wreckage and Pollution Coverage
Some policies may include coverage for wreckage removal and cleanup in their liability plans. If you're required to remove your damaged or sunken boat after an accident, some insurers will cover these costs if it's in your policy.
This may include the removal and towing of your damaged boat, as well as clean-up of any accidental fuel spillage after the incident. Adding a wreckage safeguard to your boat liability insurance may cost extra, so ask your provider about it.
Boat Liability Insurance Cost
The cost of boat liability insurance varies based on several factors, such as your location, your boat operation history, your claims history, and the make and model of your vessel. With no red flags, you may be able to get boat liability insurance only for under $100 a year.
Typically, the minimum amount of boat liability insurance carriers will offer is $100,000, and they may go up to $500,000 or $1,00,000.
Liability-Only Boat Insurance (Basic Boat Insurance)
Some marinas or yacht clubs may require you to have a minimum amount of liability insurance before they allow you to dock your boat there. If you just need this basic protection for your boat, you'll keep your bill down. But, don't expect coverage from many types of damage.
It's important to remember that liability insurance for boats isn't necessarily there to reimburse you for damage to your vessel after an accident. It's there to protect other boaters on the water by providing you the financial means to cover accidents you may cause. Boat liability insurance doesn't recoup you for damage you've sustained to your watercraft, only to pay others for damage you've caused them.
Liability-only boat insurance may be considered basic protection. If you want to be covered beyond potential accidents you're legally responsible for, you should look into comprehensive boat insurance. Watercraft coverage comes with all sorts of potential add-ons so you can always choose a plan you like.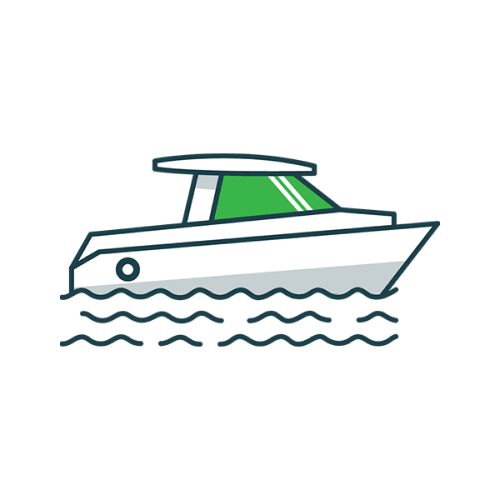 Keep Your Vessel Afloat With Boat Insurance
Don't get sunk by unexpected damages.Keep your vessel safe with a policy from one of the nation's top carriers.
The editorial content on Clovered's website is meant to be informational material and should not be considered legal advice.
Similar Articles