What Is Loss of Use Coverage?
Insurance 101
/
What Is Loss of Use Coverage?
Loss of use coverage, also known as Coverage D within a home insurance policy, reimburses you for additional living expenses — like a hotel of equivalent value, storage, and gas — if your home is damaged or destroyed by a covered peril and you're forced to temporarily and unexpectedly move out while it's being repaired or rebuilt.
Since an unexpected loss can occur to anyone at any time, causing someone to temporarily move out of a home they own or rent, loss of use coverage is found in every type of home insurance policy — homeowners, renters, condo and sometimes landlord and flood insurance, although coverage for the latter two policies may look quite different.
Life can get overwhelming if this occurs. But loss of use insurance coverage helps make unbearable events a little more bearable. What would happen if an unforeseen event forced you and your family out of your home? Would you be prepared? Let's take a look at exactly how loss of use coverage can be your helping hand.

What Does Loss of Use Insurance Cover?
Loss of use coverage mainly applies to two categories: additional living expenses and fair rental value. Additional living expenses are basic expenses that you wouldn't have otherwise needed to pay if you were still living in your home. Fair rental value is the reimbursement of monthly rent or hotel fees while your home is being repaired or rebuilt.
The following things are the most commonly covered expenses paid out by your policy's loss of use coverage.
Fair Rental Value

for a

hotel

or

rental property

that's an equivalent size and cost as the one you were forced to leave.

Food

at the grocery store or restaurants, as well as any food that perished during the disaster.

Gas

due to your commutes and errands being a longer distance than usual.

Parking

and

transportation fees

that you wouldn't have paid had you been in your home.

Pet boarding

due to a hotel or home not accepting them or someone having to care for them.

Moving costs

and

temporary storage fees

to protect your personal belongings while your home is being repaired or rebuilt.
If you're forced to temporarily move out of your home due to a covered peril, loss of use coverage would reimburse you for the allotted expenses mentioned above. So it's important to keep the receipts for any expense you may deem necessary so you can give them to your insurer for reimbursement.
The loss must've occurred due to a covered peril, though, and have been deemed to be covered by your insurer. Some of the most commonly covered perils that force people to unexpectedly move out of their homes are burst pipes, house fires, hurricane damage and other water damage from covered sources.
Some additional living expenses (ALE) that are covered are gas money for a longer commute, additional food expenses because your temporary hotel doesn't have a kitchen and pet boarding because your pets aren't allowed in your new place. But ALE will only cover the difference between what you used to spend and what you're spending while displaced.
So if you typically spend $100 per month in gas while commuting to and from work and now you're spending $200 because you're further away from work, your kid's activities and your everyday haunts, ALE would only reimburse you $100 because you were already spending $100 before the disaster.
Additionally, Coverage D loss of use helps you maintain your current standard of living by providing reimbursements for a fair rental value that's comparable to the size of home or apartment you resided in before the disaster. So if you're renting a house for $1,500 per month and find a temporary rental for $2,000 per month, your insurer may only cover the first $1,500 because it's more in line with the place you were previously living.
How Much Loss of Use Coverage Do I Need?
How much loss of use coverage you need is unique to your individual life. While some people have enough savings to get them through a few months of life, others may be living paycheck to paycheck with little to no savings. It's always a good idea to match your coverage amounts with at least three months' worth of living expenses. So if you spend $3,000 per month, it's a wise idea to carry at least $9,000 in loss of use coverage.
You'll be transferring what's left of your belongings from your uninhabitable home to the temporary one, replacing perished food, paying upfront for a rental of equivalent value and much more. Since your insurer reimburses you for your expenses, you'll need to have some money saved up beforehand. However, if you can't cover the expenses, your insurer may be willing to provide you with an advance on your claim.
Coverage amounts are vastly different for each person's unique situation, including whether you own or rent your home. Let's take a look at a brief comparison of the two different living situations.
Homeowners Insurance Loss of Use Examples
Homeowners insurance loss of use coverage is typically up to 20% of your dwelling limit, but it can be increased or reduced based on your unique needs. If the dwelling portion (the coverage for the structure of your home) of your policy is set for $150,000, your loss of use insurance coverage will max out at $30,000 per claim ($150,000 x 0.20 = $30,000).
Loss of use coverage has a maximum dollar amount it can pay out per claim, which would be the $30,000 mentioned above, as well as a maximum time frame your insurance company will pay for, which could be as short as six months. You'll also want to check with your insurance agent to figure out the timeframe on your policy.
Depending on how severe the damage to your home and how long it takes to repair it, this may or may not be enough. If you're out of your home for a year because it needs to be rebuilt due to something like a house fire, foundation repair or significant water damage from your plumbing system, you may max out your loss of use coverage before your home is repaired. In that case, you'd have to pay out of pocket for the remaining expenses you incur.
Loss of Use Renters Insurance Examples
That makes it unique because it means you must select the dollar amount you'd like to have for your loss of use coverage. This amount can be from $1,000 and extend to more than $200,000 per claim. Although renters typically don't need as much loss of use coverage as homeowners do since they're living on a lease that eventually expires. If your lease expires, your coverage ends.
How Does Loss of Use Insurance Work?
Loss of use coverage works by reimbursing you for any unexpected expenses, instead of cutting you a check upfront, if you're forced to temporarily move out of your home due to a covered peril. Once you file a loss of use claim, you'll keep all your receipts for things like a hotel or rental home of equivalent value, grocery or restaurant bills, gas charges and storage fees. You'll submit the receipts with your claim and your insurance company will reimburse you for any expenses they deem to be necessary.
It's important to note that homeowners, who are still paying mortgage payments on their property that's damaged or destroyed and deemed uninhabitable, will still be expected to produce monthly mortgage payments while their home is uninhabitable, so you may request an advance payment from your insurance company.
Can I Use My Loss of Use If I Have to Be Evacuated?
It depends on the type of evacuation. You may be able to implement loss of use coverage if you must evacuate your premises because civil authority prohibits the use of your residence. Unfortunately, you cannot use your coverage D if you must evacuate your premises due to an event such as a hurricane, unless the hurricane causes direct damage that makes your home uninhabitable.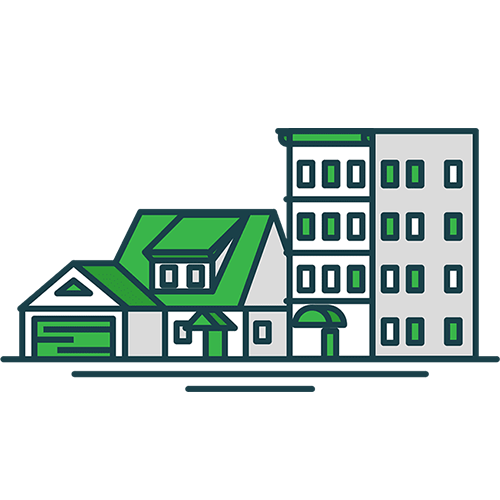 Home Protection Is Just a Click Away
We partner with the nation's top home insurance companies so you can get an excellent policy at an affordable price.
The editorial content on Clovered's website is meant to be informational material and should not be considered legal advice.
Similar Articles