Flood Insurance in Michigan
Flood
/
Flood Insurance in Michigan
Michigan comprises two peninsulas, meaning water bodies hug both parts of the state. Even if you don't live near the Great Lakes or one of the many rivers in Michigan, your property can still flood.
Floods are the nation's most common and costly natural disaster, affecting almost every county in every state. Unfortunately, most people don't realize the danger of flooding until it's too late.
You should proactively protect your home and belongings with flood insurance in Michigan. Keep reading for tips on getting the best coverage.
How Much Is Flood Insurance in Michigan?
The average cost of flood insurance in Michigan is $1,068 annually under the National Flood Insurance Program's new rating methodology. Average rates from the NFIP were $811 statewide before 2021, but all new and about 50% of existing policyholders will see rate increases.
The NFIP is the largest flood insurer in the nation by far, with over 5 million active policies in total. But, it isn't your traditional insurance company.
The NFIP is a government entity managed by the Federal Emergency Management Agency (FEMA). There are over 11,00 single-family home NFIP flood insurance policies active in Michigan.
The NFIP overhauled its rate calculation method for all policies in 2021. Unfortunately, under this new system, called Risk Rating 2.0, the average cost of flood insurance in Michigan increased in every county except one.
The table below shows average flood insurance rates in Michigan before and after RR 2.0.
Average Cost of Flood Insurance in Michigan
County
Alcona
Alger
Allegan
Alpena
Antrim
Arenac
Baraga
Barry
Bay
Benzie
Berrien
Branch
Calhoun
Cass
Charlevoix
Cheboygan
Chippewa
Clare
Clinton
Crawford
Delta
Dickinson
Eaton
Emmet
Genesee
Gladwin
Gogebic
Grand Traverse
Gratiot
Hillsdale
Houghton
Huron
Ingham
Ionia
Iosco
Isabella
Jackson
Kalamazoo
Kalkaska
Kent
Lake
Lapeer
Leelanau
Lenawee
Livingston
Mackinac
Macomb
Manistee
Marquette
Mason
Mecosta
Menominee
Midland
Monroe
Montcalm
Muskegon
Newaygo
Oakland
Oceana
Ontonagon
Osceola
Ottawa
Roscommon
Saginaw
Sanilac
Shiawassee
St. Clair
St. Joseph
Tuscola
Van Buren
Washtenaw
Wayne
Wexford
Policies in Force
26
9
45
49
16
92
128
135
391
28
186
53
98
26
21
47
45
25
60
16
33
7
108
31
207
18
10
61
34
12
10
134
375
54
126
74
98
102
128
272
13
27
32
41
151
29
927
21
24
29
39
40
224
638
11
63
64
726
29
7
20
217
128
549
23
123
912
47
86
39
255
2,350
19
Current Cost
$786
$783
$710
$927
$610
$885
$698
$896
$865
$838
$917
$883
$839
$674
$711
$868
$711
$629
$816
$809
$868
$797
$1,124
$856
$788
$626
$617
$696
$1,254
$864
$751
$873
$1,038
$1,281
$661
$859
$708
$849
$698
$952
$983
$760
$816
$988
$785
$755
$764
$942
$799
$675
$1,024
$961
$831
$1,137
$1,698
$945
$1,164
$602
$1,226
$695
$853
$974
$698
$891
$734
$763
$765
$1,179
$943
$580
$716
$675
$656
Risk-Based Cost
$1,100
$844
$1,403
$1,625
$981
$1,273
$759
$1,047
$1,064
$1,298
$1,636
$1,034
$1,024
$851
$927
$1,347
$887
$854
$1,294
$1,237
$1,270
$797
$1,799
$1,080
$979
$855
$686
$1,285
$1,699
$885
$1,943
$1,112
$1,236
$1,752
$897
$1,126
$810
$950
$759
$1,337
$1,993
$949
$1,069
$1,292
$934
$940
$1,007
$1,497
$1,329
$1,022
$3,139
$1,445
$1,296
$1,945
$2,123
$1,225
$2,166
$654
$1,635
$1,054
$2,101
$1,634
$759
$1,036
$2,136
$856
$913
$1,882
$1,536
$918
$818
$725
$834
RR 2.0 rates went live for all new policyholders starting October 1, 2021. Existing policyholders have been phased into the new risk-based premiums beginning April 1, 2022. It may take some time for existing policyholders to realize their RR 2.0 premiums, depending on the size of the increase. The NFIP capped the max increase you can experience at 18% annually.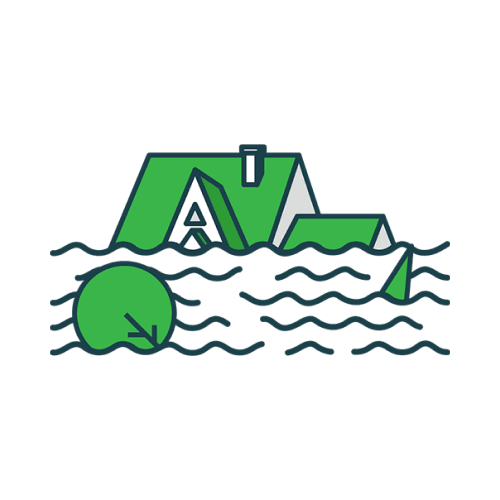 Stay Above Water With Flood Insurance
Do you want to pay for costly and common flood damage yourself or have an insurance policy pick up the tab?
Counties With Cheap Flood Insurance in Michigan
The counties with the cheapest flood insurance in Michigan annually under RR 2.0 are:
Oakland ($654)

Gogebic ($686)

Wayne ($725)

Dickinson ($797)
Dickinson County was the only county not to experience a rate increase under RR 2.0, although FEMA reports it only has seven single-family policies in the whole county.
Three counties (Baraga, Kalkaska, and Roscommon) were tied at $759 per year under RR 20, but all are reporting identical numbers of policies and current cost of insurance, so it seems there could be a reporting error there, although they may have cheap flood insurance in these counties.
The most significant average increases occurred in Sanilac, Osceola, Newaygo, and Mecosta counties.
What Does Flood Insurance in Michigan Cover?
Flood insurance in Michigan covers your home and belongings from flooding damage. FEMA defines a flood as a "condition of partial or complete inundation of 2 or more acres of normally dry land area." Commonly covered causes of flood include storm surges, mudslides, coastal erosion, and sometimes the accumulation of heavy rains (like a flash flood).
Flood insurance in Michigan covers two main components of your property:
Building Coverage
Building coverage in flood insurance covers structural damage to your home and its permanent fixtures. Building coverage covers your walls, flooring, ceiling, HVAC, plumbing, built-in appliances, and more.
Contents Coverage
Contents coverage in flood insurance covers personal belongings like furniture, clothes, electronics, tools, jewelry, and more.
Flood insurance policies from the NFIP limit coverage for basements. Fixtures and furniture in finished basements typically aren't covered.
How to Get the Best Flood Insurance in Michigan
Consider NFIP and private flood insurance policies to find the best flood insurance in Michigan. While the NFIP is the largest flood insurer in the nation, it has standardized rates and limited coverage. Private companies may offer higher limits at competitive rates.
FEMA Flood Insurance in Michigan
As a government program, FEMA tries to make the NFIP available to everyone at a fairly affordable price. Making a profit isn't the program's primary goal. As a result, it loses money every year and is hundreds of millions in debt.
Due to its financial constraints, the NFIP can't afford to cover all policyholders fully. Every NFIP policy has a strict maximum of $250,000 in building coverage and $100,00 in contents coverage for single-family homes. You can't get more than this, meaning homes worth over $250,000 are underinsured with FEMA flood insurance in Michigan.
Private Flood Insurance in Michigan
Depending on the carrier, private Michigan flood insurance companies can offer higher limits, sometimes over a million dollars for both building and contents coverage. They also can have shorter waiting periods for policy activation and additional protections like loss of use and replacement cost coverage.
The downside of private flood coverage is that it can be more expensive and unavailable in some places. Since the NFIP is subsidized, it'll likely be more affordable in the most flood-prone areas where private companies will have to charge top dollar to be exposed to extreme flood risks, if they even write policies in such an area.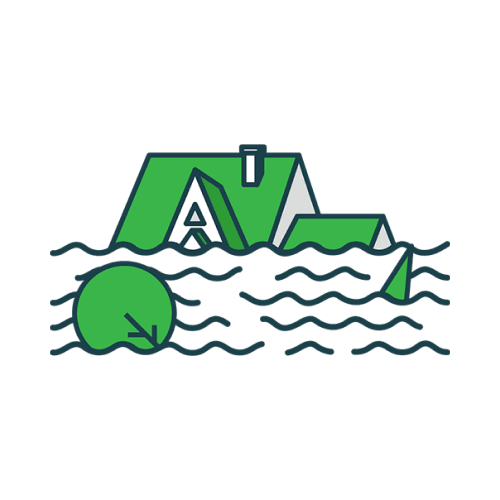 Stay Above Water With Flood Insurance
Do you want to pay for costly and common flood damage yourself or have an insurance policy pick up the tab?
Factors That Affect the Average Cost of Flood Insurance in Michigan
The average cost of flood insurance in Michigan is rising from about $811 annually to $1,068, about a 32% increase. Although this sounds drastic, premiums aren't increasing for everyone. It depends on a few factors that influence the average cost of flood insurance in Michigan, such as:
Location

Elevation

Home features

Policy details
Your home's location is crucial in determining flood insurance rates in Michigan. Homes closer to possible flood sources, such as rivers and lakes, often have higher premiums. Additionally, your premium is dependent on your flood zone.
FEMA created flood maps that determine flood zones for all homes. Homes in high-risk zones, called Special Flood Hazard Areas, are typically near water and normally have the highest flood insurance rates.
Historically, the NFIP emphasized location and elevation when deciding premiums, but the program reports it's now taking more variables into serious consideration, such as your home's characteristics.
Your home's building materials, first-floor height, foundation style, and more can influence premiums. For example, masonry houses made of brick or concrete tend to withstand floodwaters better than wooden frame homes and may have lower premiums.
Your policy details also directly influence your premiums. Higher policy limits come with higher rates, for instance. Naturally, larger, more costly homes tend to have higher premiums.
Is Flood Insurance Required in Michigan?
If you own or want to buy a house with a mortgage in a SFHA, you'll need flood insurance for the duration of the loan. Just like lenders require homeowners insurance to protect their investments, they'll also require flood insurance in high-risk flood zones (since homeowners insurance doesn't cover flooding damage).
Lenders accept private and NFIP coverage as long as the policy limits satisfy the home's value.
How to Get a Flood Insurance Quote in Michigan
You should compare flood insurance quotes in Michigan from the NFIP and private flood carriers when looking for coverage. For help navigating the comparison process, turn to Clovered. As an independent insurance agency, we can help you get quotes from some of the top Michigan flood insurance companies quickly and easily.
You can quote entirely online with our flood insurance quote form. It only takes a few minutes to fill out with some information about yourself and your property. Once you've submitted it, one of our licensed agents will get back to you with your flood insurance options as soon as possible.
If you're more comfortable speaking with an agent directly, you can quote over the phone by calling 833-255-4117 during business hours. Feel free to email us, also, at agent@clovered.com with any questions you may have.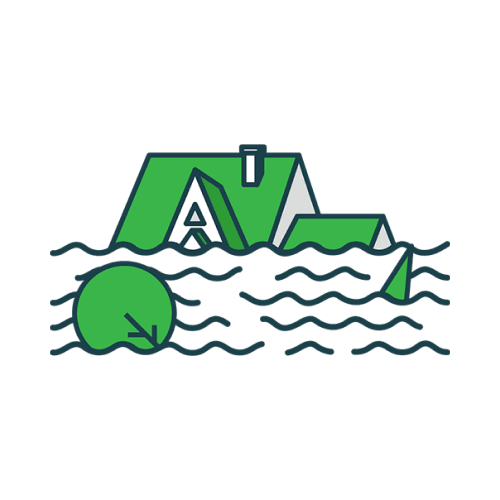 Stay Above Water With Flood Insurance
Do you want to pay for costly and common flood damage yourself or have an insurance policy pick up the tab?
The editorial content on Clovered's website is meant to be informational material and should not be considered legal advice.