Private Flood Insurance vs. FEMA's NFIP
Flood
/
Private Flood Insurance vs. FEMA's NFIP
Hazardous flooding can happen almost anywhere in the country, and it's important to know which options are available to protect your family in the event of an emergency. A recent study found as many as 41 million Americans could be at risk from flooding along rivers, and those residents may not be protected by federal insurance options.
Flood insurance is offered by private insurers and the government, through the Federal Emergency Management Agency's (FEMA) National Flood Insurance Program (NFIP). It's typically only mandatory for homeowners who carry a mortgage and live in high-risk zones identified as Special Flood Hazard Areas (SFHA) by FEMA. In these parts of the country, there's a 1-in-4 chance you will experience flooding at some point throughout a standard 30-year mortgage.
For people living in moderate- or low-risk areas, flood insurance may not be mandatory, but it can be an important layer of protection in the event of catastrophic damages. Depending on where you live and what coverage you want, you'll either choose between an NFIP policy or private flood insurance. Let's take a deep dive into the similarities and differences between private flood insurance vs NFIP policies.
What Is the National Flood Insurance Program (NFIP)?
The most popular flood insurance provider in the United States is the National Flood Insurance Program. The NFIP is backed, managed, and administered by the government under FEMA. But, the program partners with many of the nation's leading insurance providers, so you can get an NFIP policy through many private insurance agents — like us here at Clovered. While agents may handle the customer service, the government will provide the money for claims.
Everyone can get an NFIP policy. This is good for those who may be hard to insure, but the NFIP's standardized coverage imposes strict limits that max out at $250,000 for residential properties and $500,000 for commercial properties. Furthermore, government flood insurance has strict contents limits. A homeowner is usually only allowed $100,000 of personal property coverage.
What Is Private Flood Insurance?
Historically, private flood insurance was hard to come by as a result of the high cost of damages caused by flash floods and hurricanes. However, as technology has advanced, private flood insurers have found ways to be profitable while being able to provide more comprehensive coverage than the NFIP.
Private insurers offer higher-value policies that may include living expenses and customization to include elements of your home not protected under the NFIP. Private flood insurance companies can cover more of your property with higher limits, although this likely means you'll pay more for coverage.
For a more direct comparison, here are some advantages and disadvantages of FEMA flood insurance vs. private flood insurance companies: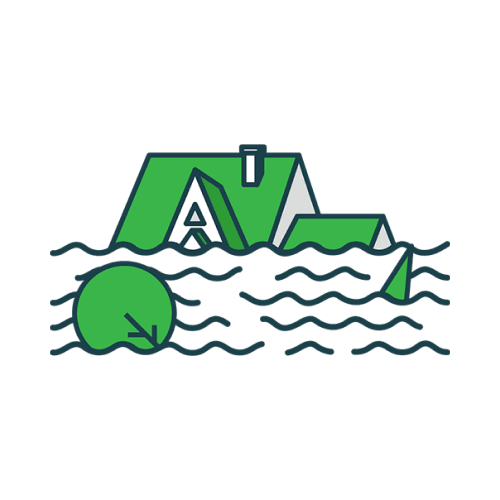 Stay Above Water With Flood Insurance
Do you want to pay for costly and common flood damage yourself or have an insurance policy pick up the tab?
Everyone can get an NFIP policy. Since the program is not profit-seeking, no one looking for an NFIP policy will get turned down because their property is too risky.
Payouts are backed by the government. The possibility exists that a private insurance company may simply not have enough money to pay claims if a serious, large-scale flood occurred and too many policyholders filed claims. The company could fold. The NFIP can't go bankrupt (unless the government shuts down altogether) since it's sourced from taxpayer money and runs at a loss.
Disadvantages of the NFIP
Coverage and payout limits. The $250,000 building and $100,000 personal property coverage limits for homeowners are a major drawback of the NFIP. Also, government flood insurance typically only reimburses you for the actual cash value of your belongings, not their replacement cost. NFIP policies often don't cover other structures or loss of use, either, as we mentioned earlier.
30-day waiting period. NFIP policies have a waiting period of 30 days before they become active. So, if you're planning on getting flood insurance right after you hear a large hurricane is coming your way in a week, you may be out of luck. Most private insurers offer shorter waiting periods before policies kick in.
There's no way around the waiting period on an NFIP policy unless the plan is part of the closing documents for a home purchase. For instance, let's say you just closed on a new home, and your mortgage lender required flood insurance. If a hurricane comes the next week, your NFIP policy would cover you for flood damage. You wouldn't need to wait 30 days for it to kick in.
Potentially outdated flood maps. FEMA is responsible for determining and monitoring flood zones in the whole country. They designate which areas are more at risk of serious flood damage than others, and this decision influences the premiums of their policies.
As you might imagine, maintaining accurate flood maps for the whole country is a tremendous task. As a result, flood zones are changing fairly regularly. Some of their maps may be out-of-date completely, which could cause you to pay unnecessarily high rates for their flood insurance if you're mistakenly in a high-risk zone.
Private flood insurance companies may be able to more accurately assess the flood risk of your property on an individual basis instead of relying on a possibly old map. You may also possibly forgo the need for an elevation certificate when getting a flood policy from a private company.
Advantages of Private Flood Insurance
Higher coverage limits. Private flood insurance companies can write policies with much higher coverage limits. If you have a million-dollar home, for instance, an NFIP policy would only reimburse you for a quarter of what it's worth. Private insurers can offer more coverage with greater specialization, including the replacement cost of your belongings.
Simpler and more intuitive quote process. Many private flood insurers can quote you completely online, and you can easily adjust your building and contents coverage while seeing how it affects your premium in real-time. These companies may place a greater emphasis on user experience and intuitiveness on their website than the NFIP direct portal. Simply put, it may be easier and quicker to get a flood insurance quote from a private company.
Disadvantages of Private Flood Insurance
No guarantee of a policy or renewal. Private insurance companies don't always offer coverage everywhere. They don't cover everyone who wants it because, unlike the NFIP, they can't operate at a loss. You're only eligible for coverage if they decide you are, and while the number of people they give policies to is expanding over time, the NFIP always accepts everyone.
Also, a private insurer could remove coverage from your area or determine your property, in particular, is too risky to insure in the middle of your policy. If this happens, they could elect to not renew your policy come renewal time.
A newer, untested product. It's very unlikely, but it's possible that, as a private company, a private flood insurer won't have enough money to pay out a claim if the ultimate flood strikes and sends the firm into bankruptcy. At least with the NFIP, there would always be some sort of payout available. Plus, if you drop FEMA flood insurance in favor of private insurance, you could face even steeper rates should you attempt to return to government coverage.
Do I Need Private Flood Insurance or NFIP Flood Insurance?
Cost and coverage limits are the two main priorities when deciding if you need private flood insurance or an NFIP policy. If your property is valued at over $250,000, or you have more than $100,000 worth of belongings, an NFIP policy won't protect you completely. It will likely be the cheaper option, though.
If you do end up choosing a private flood insurer, it's crucial to compare rates like you would with any other type of insurance. The only way to know you're getting the best deal is by seeing what many carriers have to offer. With Clovered, you can get in touch with a licensed expert that will tell you about your flood options. All you need to provide is some basic information about yourself and your home.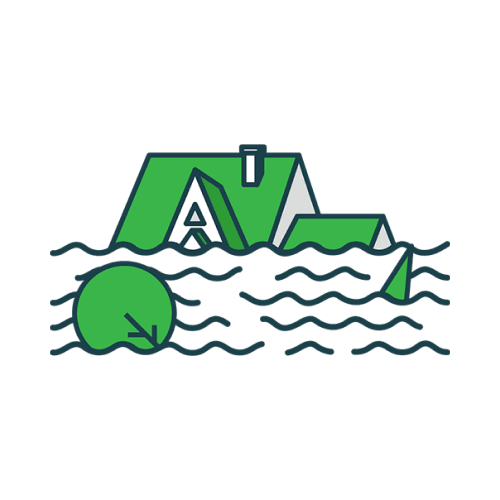 Stay Above Water With Flood Insurance
Do you want to pay for costly and common flood damage yourself or have an insurance policy pick up the tab?
The editorial content on Clovered's website is meant to be informational material and should not be considered legal advice.
Similar Articles