Flood
/
Michigan Flood Insurance
Of all the states in the Midwest, Michigan sees nearly the most snow and the biggest temperature fluctuations of any. That snow must melt, right? When it does, it tends to overflow rivers, lakes, ponds and streams, forcing the water into nearby homes. Michigan flood insurance may be the only thing that could help pay for flood damage if it occurs to your home.
Flood insurance in Michigan provides coverage that home insurance simply doesn't. Many people are unaware that home insurance doesn't cover flooding by many of Mother Nature's unpredictable events. So Michigan flood insurance can help to pay for repairs to your home and belongings if either is damaged or destroyed by a flood.
Flood insurance in Michigan takes 30 days after purchase to go into effect, so you'll want to get a policy as soon as possible to ensure you're protected from the snowmelt and subsequent rains that follow.
What Flood Insurance Covers in Michigan
incidents like overflowing rivers or bodies of water, torrential rains are covered by your Michigan flood insurance policy, but let's take a look at exactly what's covered — from your home to your belongings.
☘ Your home's physical structure and its foundation, meaning the essential pieces that make up your home, are covered by flood insurance. This can be anything from flooring and drywall to built-in cabinets and electrical wiring.
☘ Flood insurance can help pay to repair or replace your personal belongings that were damaged or destroyed directly by flooding. This coverage extends to things like TVs, computers and other electronics to furniture and clothes.
☘ When floodwaters enter a home, they tend to damage or destroy a handful of appliances in your home. Luckily, flood insurance can help replace many of those appliances, like your HVAC unit, water heater, dishwasher and much more.
What's the Average Cost of Flood Insurance in Michigan?
The cost of flood insurance in Michigan is about $700 per year. The premium price you pay depends on a number of factors, though, including where your home is located in FEMA's 100-year floodplain, how much coverage you need and which company you secure a policy through.
Do I Need Flood Insurance in Michigan?
Yes, you should protect your home and belongings with adequate flood insurance coverage at all times. However, flood insurance isn't required by law. If you owe money on your mortgage, your lender will likely require you to purchase flood insurance in Michigan anyway.
How to Get Cheap Flood Insurance in Michigan
To get cheap flood insurance in Michigan, all you need to do is call one of our many licensed agents at Clovered. We've partnered with some of the best flood insurance companies in Michigan to help you get prices for multiple policies at the same time. Call us and we can have you paired with a flood policy in minutes.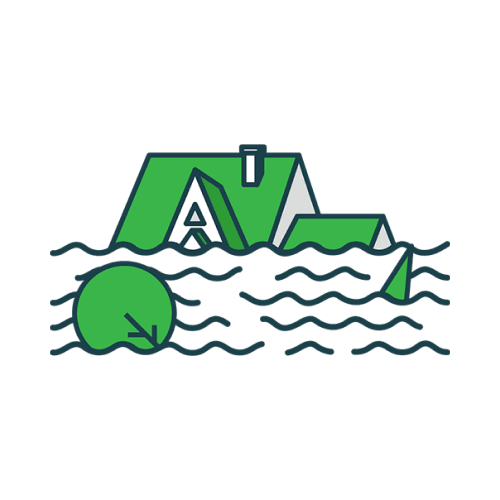 Stay Above Water With Flood Insurance
Do you want to pay for costly and common flood damage yourself or have an insurance policy pick up the tab?
The editorial content on Clovered's website is meant to be informational material and should not be considered legal advice.