Flood Insurance in New York
Flood
/
Flood Insurance in New York
No property in New York is immune to flooding. The National Flood Insurance Program reports that over one in five flood claims it receives come from homes in low or moderate-risk flood zones.
Coastal areas near New York City have experienced flooding events from tropical storms, hurricanes, and nor'easters in the past. And, northern and western regions of the state can experience flooding from heavy rains.
Homeowners in New York should consider flood insurance to protect their property. This guide details the important information you need to know to find the best flood insurance in New York.
How Much Is Flood Insurance in New York?
The average cost of flood insurance in New York is $2,197 annually under the National Flood Insurance Program, but rates vary throughout the state depending on location, elevation, and more.
Flood insurance costs are on the rise in New York. The NFIP changed how it calculates rates nationwide around 2021. Prior to 2021, the average price of a flood insurance policy in New York was $1,184 per year. Under the new methodology, called Risk Rating 2.0, average premiums nearly doubled to $2,197 annually, an 85% increase.
The NFIP is the largest flood insurance provider in the country by far, but it's not a standard insurance company. The NFIP is a government offering managed by the Federal Emergency Management Agency (FEMA). Historically, flooding was too costly and unpredictable to insure, so the government created a public option in an attempt to subsidize coverage for as many people as possible.
FEMA undertook RR 2.0 to factor in and evaluate the flood risk for all properties more accurately. Unfortunately, RR 2.0 increased premiums in just about every state. The table below shows flood insurance rates in New York by county before and after RR 2.0.
Average Cost of Flood Insurance in New York
County
Albany
Allegany
Bronx
Broome
Cattaraugus
Cayuga
Chautauqua
Chemung
Chenango
Clinton
Columbia
Cortland
Delaware
Dutchess
Erie
Essex
Franklin
Fulton
Genesee
Greene
Hamilton
Herkimer
Jefferson
Kings
Lewis
Livingston
Madison
Monroe
Montgomery
Nassau
New York
Newport
Niagara
Oneida
Onondaga
Ontario
Orange
Orleans
Oswego
Otsego
Putnam
Queens
Rensselaer
Richmond
Rockland
San Juan Municipio
Saratoga
Schenectady
Schoharie
Schuyler
Seneca
St. Lawrence
Steuben
Suffolk
Sullivan
Tioga
Tompkins
Ulster
Warren
Washington
Wayne
Westchester
Wyoming
Yates
Policies in Force
268
142
755
942
228
193
280
251
233
97
116
136
322
729
958
94
43
44
152
176
46
227
164
3,049
30
117
207
650
82
23,717
169
588
336
329
663
182
668
37
203
184
153
5,481
245
3,030
686
588
324
114
169
32
85
76
350
18,377
259
370
142
552
104
91
96
4,165
54
112
Current Cost
$861
$1,048
$1,268
$919
$1,169
$1,154
$858
$759
$1,362
$1,115
$1,164
$1,154
$1,282
$1,056
$874
$1,203
$903
$1,123
$1,085
$1,338
$1,253
$1,078
$907
$931
$847
$951
$1,219
$916
$1,343
$1,309
$882
$1,344
$871
$1,045
$1,017
$1,019
$1,061
$681
$1,005
$1,214
$893
$1,108
$1,619
$871
$986
$1,344
$1,176
$1,094
$1,181
$761
$887
$1,169
$1,086
$1,257
$1,276
$1,471
$1,112
$1,319
$1,032
$1,094
$833
$1,025
$1,347
$1,155
Risk-Based Cost
$1,413
$2,374
$1,466
$2,247
$2,006
$1,765
$1,653
$1,079
$2,597
$2,221
$1,999
$1,662
$3,232
$1,735
$1,569
$3,316
$2,026
$1,653
$1,513
$2,848
$2,627
$1,826
$1,468
$1,506
$2,413
$1,634
$1,907
$1,353
$3,230
$2,320
$1,992
$2,020
$1,366
$1,615
$1,561
$1,613
$1,629
$1,061
$1,629
$2,676
$1,368
$2,174
$2,413
$1,091
$1,650
$2,020
$1,799
$1,846
$2,452
$1,293
$1,401
$1,986
$1,955
$2,790
$2,735
$2,615
$2,628
$2,510
$2,151
$2,137
$1,331
$1,289
$2,553
$2,134
RR 2.0 rates took effect for all new flood insurance policies starting October 1, 2021. Since many current policyholders are facing a rate increase, the NFIP has been phasing in RR 2.0 rates for existing customers since April 1, 2022. Rate increases are capped at 18% annually, so it may take some time to realize your full RR 2.0 premium.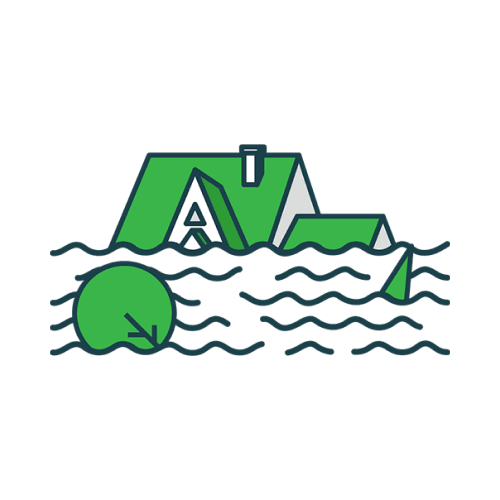 Stay Above Water With Flood Insurance
Do you want to pay for costly and common flood damage yourself or have an insurance policy pick up the tab?
Where Is the Cheapest Flood Insurance in New York?
Under RR 2.0, the counties with the cheapest flood insurance in New York annually are:
Orleans ($1,061)

Chemung ($1,079)

Richmond ($1,091)

Westchester ($1,289)

Schuyler ($1,293)
Under RR 2.0, no counties have premiums under $1,000 per year, and over 80,000 will see their premiums increase to some extent as the RR 2.0 rates become active.
But, it's not all bad news. Over 32,00 policyholders will see a decrease under the new methodology, with over 11,000 of those policyholders experiencing reductions of over $100 per month.
What Does Flood Insurance in New York Cover?
Flood insurance in New York reimburses you if a flood damages your home. FEMA officially defines a flood as "A general and temporary condition of partial or complete inundation… of normally dry land area." Commonly covered flood instances are:
Storm surges

Coastal erosion

Mudslides

Flash floods from heavy rains
Flood insurance policies normally have two sections of coverage:
Building Coverage
Building coverage in flood insurance covers the physical structure of your home, such as the foundation, walls, flooring, wiring, plumbing, and more.
Contents Coverage
Contents coverage in flood insurance financially protects your belongings, like furniture, clothing, electronics, bicycles, tools, art, and more.
How to Get the Best Flood Insurance in New York
Depending on your coverage needs and budget, the best flood insurance in New York for your circumstances may not come from the NFIP, but rather from a private flood insurance company.
NFIP Flood Insurance in New York
As a government program, the NFIP isn't profit-seeking. Its objective is to provide and subsidize flood insurance premiums for as many people as possible. But, this practice also forces the program to abide by some financial limitations.
The NFIP can't afford to cover all policyholders fully. The program is currently hundreds of millions in debt. As a result, NFIP plans have strict limits of $250,000 in building coverage and $100,000 in contents coverage for all single-family homes. Thus, if your home is valued over $250,000, you'd be underinsured with an NFIP plan.
Private Flood Insurance in New York
Private flood insurance policies regularly have building coverage limits over $1 million and contents coverage of several hundred thousand dollars as needed. Private flood insurance companies in New York can also offer additional protection not found in NFIP policies, such as total replacement cost and loss of use coverage.
But, private plans can be more expensive in certain areas, especially high-risk flood zones. And, a private firm can non-renew your policy if your home is ever deemed too risky to cover or the company withdraws from an area. FEMA will never non-renew you, no matter what (unless you stop paying).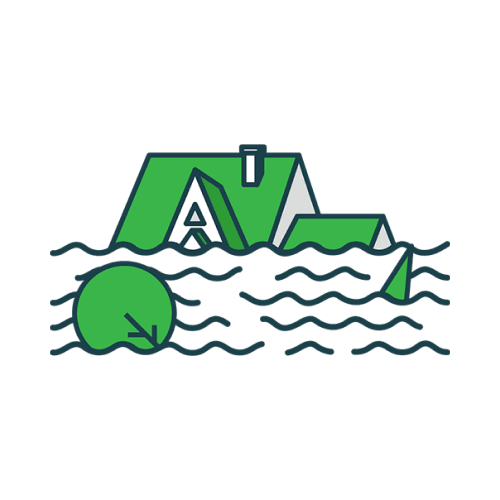 Stay Above Water With Flood Insurance
Do you want to pay for costly and common flood damage yourself or have an insurance policy pick up the tab?
Cost Factors of Flood Insurance Rates in New York
The average cost of flood insurance in New York is $2,197 annually, but many factors affect this rate. Some critical variables determining flood costs are:
Home elevation

Home location

Home features

Policy details
Insurers note your home's elevation above ground and relative to nearby water sources. Simply put, houses that are higher off the ground have slimmer chances of flooding.
Location is critical to the cost of flood insurance in New York, also. FEMA maintains flood risk maps for the country, and houses in high-risk areas are most prone to significant flood damage and agave the highest insurance premiums as a result. High-risk flood zones are called Special Flood Hazard Areas (SFHAs) and are often near bodies of water.
Homes near bodies of water have higher flooding risks than inland homes. According to FEMA, the counties with the most policies at risk of storm surge damage in New York are:
Nassau (89.7%)

Kings (85.7%)

Bronx (79.9%)

Queens (85.4%)

Suffolk (80.2%)

Richmond (76.7%)
Characteristics of your home, such as construction material, foundation type, and existing flood mitigation measures, also influence your rates. Homes with above-ground foundations may have lower premiums than below-ground ones. Also, masonry homes tend to withstand floodwaters better and have lower premiums than wooden frame homes.
Your policy details also directly impact your premiums. Having higher coverage limits will cost more money. Raising or lowering your deductible will also change your premiums.
Is Flood Insurance Required in New York?
Flood insurance isn't required in New York by law, but mortgage lenders can require some homeowners in certain areas to carry flood insurance.
Homeowners with mortgages on properties located in high-risk flood zones, FEMA-designated SFHAs, are likely to face a requirement to purchase flood insurance from their lenders. This obligation is imposed to safeguard the lender's investment in the event of flood-related damage.
Lenders accept both NFIP and private flood insurance coverage, provided that the policy limits meet the home's value. For those with an NFIP policy, this applies up to the maximum coverage limit of $250,000, if required.
How to Get a New York Flood Insurance Quote
You should compare flood insurance quotes in New York from private companies in addition to the NFIP. Checking multiple rates is the only way to know you're getting the best deal. This process can be made easier with the help of an independent insurance agent like us at Clovered.
We partner with some of the top flood insurance companies in New York to find you the coverage you need at the price you want. You can conveniently quote online or over the phone with one of our licensed agents.
To get New York flood insurance quotes online, submit our flood insurance quote form. It takes only a few minutes to fill out some basic information about yourself and your property, and our team will get back to you with your flood insurance options as soon as possible.
You can also quote with one of our licensed agents over the phone at 833-255-4117 during business hours. Shoot us an email at agent@clovered.com with any questions you may have, as well.
What to Know About Flood Insurance in New York City
The NFIP has over 12,000 active flood insurance policies for single-family homes in New York City. Staten Island has the cheapest flood insurance in New York City among the five boroughs.
Average flood insurance costs in New York City by county under the NFIP's Risk Rating 2.0 are below:
Kings (Brooklyn): $1,506

Queens (Queens): $2,174

New York (Manhattan): $1,992

Bronx (Bronx): $1,466

Richmond (Staten Island): $1,091
Accounting for all five boroughs, the average cost of flood insurance in New York City under the NFIP is about $1,646 annually, but you may pay more or less than this, depending on your property's flood zone, elevation, and more.
New York City residences are prone to flooding, especially those on or near the bays or the East River. Don't overlook the importance of flood insurance in America's largest city.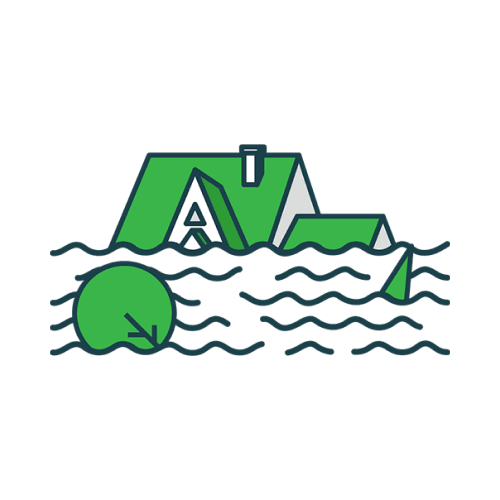 Stay Above Water With Flood Insurance
Do you want to pay for costly and common flood damage yourself or have an insurance policy pick up the tab?
The editorial content on Clovered's website is meant to be informational material and should not be considered legal advice.